Ethereum's inflation rate explained
What's the Ether (ETH) inflation rate and what does this mean for the value of ETH?
Ether (ETH) is the native token of Ethereum, a blockchain-based platform designed to help developers build and distribute decentralised applications. The world's second largest cryptocurrency by market cap after Bitcoin (BTC) at the time of this writing, ETH can be used to pay transaction fees and for computational services when using the Ethereum network.
Crypto is unregulated in the UK; there's no consumer protection; value can rise or fall; tax on profits may apply.
You can also buy and sell ETH on cryptocurrency exchanges; however, before buying any ETH, you should make sure you're aware of all the factors that could potentially affect its value. One of those factors is its rate of inflation, also known as the ETH issuance rate.
What is the Ethereum inflation rate?
Unlike BTC, which has a maximum supply capped at 21,000,000 BTC, ETH does not have an overall cap. The total supply of ETH and its rate of issuance was instead determined in the cryptocurrency's 2014 pre-sale. That sale saw 60,000,000 ETH created for contributors to the pre-sale, 12,000,000 ETH created as a development fund, and the annual issuance capped at 18,000,000 ETH per year.
This annual issuance of new ETH represents roughly one-quarter of the initial supply. Whenever a block is mined, which occurs approximately every 15 seconds, that miner receives an award in ETH. This was originally set at 5 ETH, but was reduced to 3 ETH following the Ethereum network's Byzantium update in October 2017. The Byzantium update is one half of the larger Metropolis update to the Ethereum network, which concludes with Constantinople sometime in 2018. At the time of writing it is unknown whether the Constantinople upgrade will affect the inflation rate.
Miners can also access what's known as an uncle/aunt reward, which sees a specified amount of ETH sent to a miner who was also able to find a solution but whose block wasn't included. This reward was originally 2-3 ETH, but was reduced to 0.625-2.625 following the Byzantium update.
Decreasing inflation
While the total annual issuance of ETH is fixed at 18,000,000, this means relative inflation decreases every year. For example, let's say there were hypothetically 75,000,000 ETH in existence, then an annual issuance of 18,000,000 ETH would see the supply increase by 24%. However, in one year's time the total supply would be 93,000,000 ETH, so issuing another 18,000,000 over the next year would only represent an increase of 19.35%.
As outlined in the Ethereum white paper, this will see the ETH supply growth rate tend towards zero over time.
In the white paper, Ethereum's creators also theorised that because coins are always lost over time due to carelessness, death and a number of other reasons, and due to the fact that coin loss can be modeled as a percentage of the total supply per year, the total ETH supply in circulation will eventually stabilise and reach an equilibrium.
Current supply of ETH
At the time of this writing (December 2020), CoinMarketCap listed the circulating supply of Ether at 113,888,129 ETH. The chart below shows the growth in the ETH supply over the past couple of years and is a useful tool when examining the Ethereum inflation rate.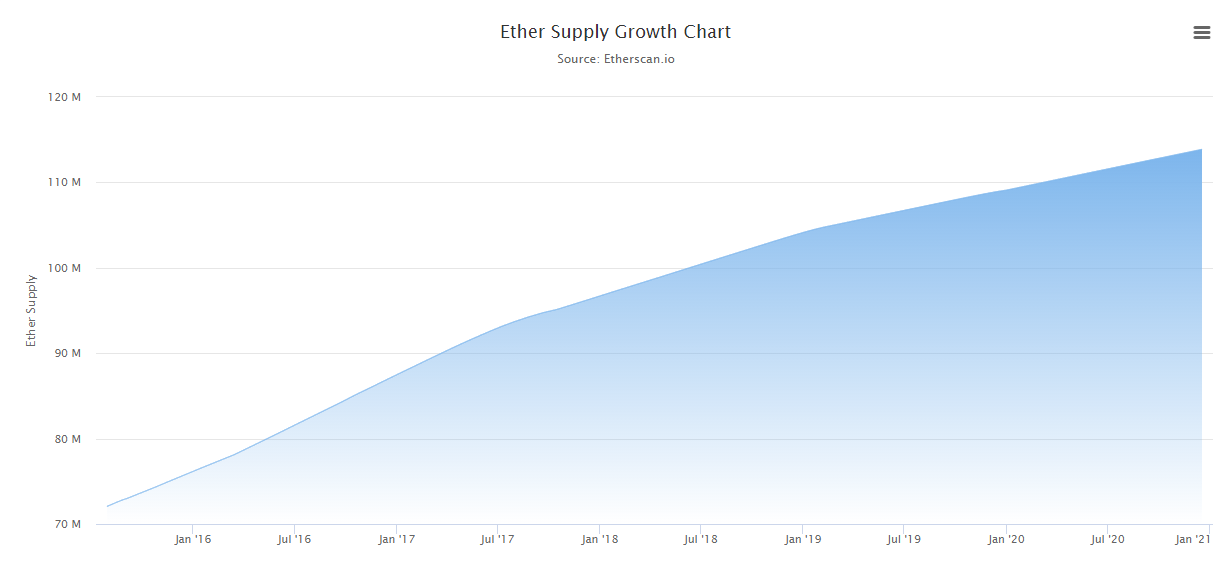 Ethereum's move to proof of stake
Now that we've run through the current Ethereum inflation rate, it's time to look to the future and realise that the goalposts will soon be moved. At some stage in 2018-2019, Ethereum will switch from a proof of work platform to a proof of stake algorithm which is still in development. This update is known as Casper and is designed to make transactions on the Ethereum network faster and cheaper.
It's not yet clear what the issuance rate will be after the Casper update, but it is expected to be much less than the current maximum cap. Ethereum co-founder Vitalik Buterin posted the following on Twitter on June 27, 2017, in response to a question about ETH inflation:
Once Casper comes out, ~0.5-2% annual seems feasible. Once we add partial tx fee burning and if fees go up, may go to 0 or lower.
It's a good idea to monitor news reports and announcements for further information about when Casper will be launched and the effect it will have on the issuance rate. This will in turn help you form a clearer picture of the influence supply will have on the value of ETH in coming times.
---
Images: Shutterstock
At the time of writing, the author holds IOTA and XLM.
Cryptocurrencies aren't regulated in the UK and there's no protection from the Financial Ombudsman or the Financial Services Compensation Scheme. Your capital is at risk. Capital gains tax on profits may apply.
Cryptocurrencies are speculative and investing in them involves significant risks - they're highly volatile, vulnerable to hacking and sensitive to secondary activity. The value of investments can fall as well as rise and you may get back less than you invested. Past performance is no guarantee of future results. This content shouldn't be interpreted as a recommendation to invest. Before you invest, you should get advice and decide whether the potential return outweighs the risks. Finder, or the author, may have holdings in the cryptocurrencies discussed.