How to choose the perfect eternity ring
Planning on surprising your partner with a sweeping, romantic gesture? We're on hand to steer you in the right direction.
If you're shopping for an eternity ring, it's fairly safe to say that you will already know your partner inside out. But, with such a massive variety of rings on the market, sometimes knowing their tastes simply isn't enough. As with any prolific purchase, it can be extremely difficult to pick a ring that symbolises just how much your special someone means to you. Don't panic. We're here to guide you through the process.
We'll take you through all the important things to take into account before you buy, the different types of rings on offer, and even the true meaning behind an eternity ring.
It looks like we don't have any coupons at the moment.
What is the meaning behind an eternity ring?
An eternity, or infinity ring is a gift that is traditionally presented to a partner after they've been married for one or more years, although more recently used to show eternal commitment to your partner before or instead of the whole marriage thing. The ring is crafted in a specific way in order to symbolise a never-ending love. It's circular shape suggests unity, as well as a complete, continuous, unbroken bond. Gifting an eternity ring to your spouse or life partner is generally regarded as an ultimate gesture of romance.
Where does the idea come from?
The history of eternity rings dates back almost 4000 years. It was the ancient Egyptians who first exchanged rings between husband and wife as a gift of love.
The marketing side of things originally arose in 1960s, and was developed by a diamond merchant named De Beers. At the time it was extremely fashionable for rings to be set with a solitary, substantial diamond, especially engagement rings. However, not all diamonds came in a substantial enough size, so avoid mass build up of small diamonds, De Beers started a campaign for the promotion of jewellery created by using a number of small diamonds, like we see in eternity rings. The campaign was targeted at older, already married ladies and popularity boomed, which is why it remains a focal tradition today.
Who sells Eternity rings?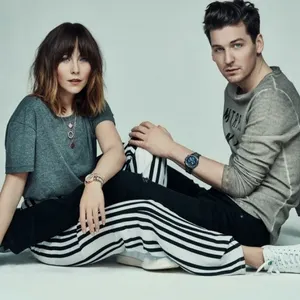 1. Goldsmiths

Shop at Goldsmiths to enjoy over 230 years of tradition and experience in the jewellery industry.
Goldsmiths is one of the UKs oldest jewellers and still operates from its original shopfront where they opened in 1778. Now they're one of the biggest jewellery retailers in the UK, stocking a range of high quality diamonds and top branded watches.
Free next day delivery
Free returns
---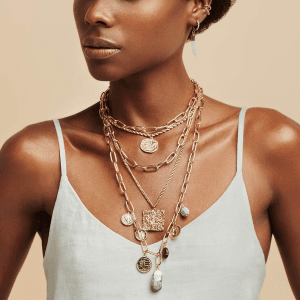 2. Lovisa

Lovisa is the fashionable on-trend Jewellery specialist.
Discover the latest styles and curated range for every bejewelled occasion you have in life.
Free returns
Free delivery on orders over £40
---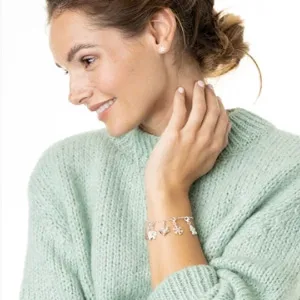 3. Lily Charmed

Shop Lily Charmed for the jewellery that will bear a meaning and a connection to your loved one.
Lily Charmed started as a family business and is known for offering its customers beautiful silver jewellery with a sentiment in each piece.
Free delivery with orders over £30.
10% off is you sign up.
Go to Lily Charmed website View discount codes for Lily Charmed
---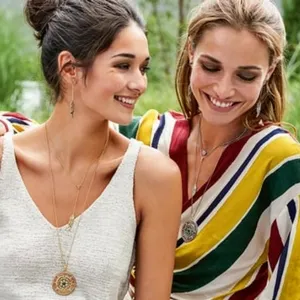 4. The Jewel Hut

Get all your favourite jewellery brands at competitive prices at The Jewel Hut.
The Jewel Hut brings all your favourite high street jewellery brands such as Pandora, Links of London, Swarovski and more to the online market place at competitive prices. The Jewel Hut is a quality, authorised stockist for all the brands they sell.
Free delivery on orders over £50
Go to The Jewel Hut website View discount codes for The Jewel Hut
---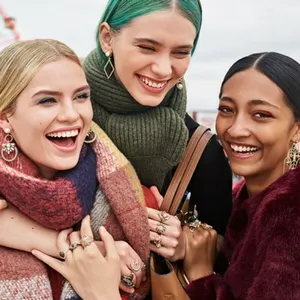 5. Accessorize

Shop for vibrant, statement-making lifestyle jewellery at Accessorize.
Accessorize is a well known high street brand offering a huge choice of on-trend jewellery of every shape and size. If you're looking for a more affordable range to stock your jewellery box or complete a new outfit, look no further than Accessorize.
Free delivery on orders over £40
Free returns
Go to Accessorize website View discount codes for Accessorize
---
What types of eternity ring are there?
Eternity rings generally come in two style options. We'll take you through the pros and cons of both types to help you decide which one would be best for your spouse or partner.
Full eternity rings
Full eternity rings feature diamonds, or gems, in a continued line all the way round the band, which is why eternity rings are often considered to be the most luxurious type of ring you can purchase.
Lots of people regard full eternity rings as more lavish than half eternity rings. This is because they have diamonds or gemstones running all the way around the band, which doubles the wow factor. When wearing them, people tend to feel enviable, luxurious and glamorous.
There are a couple of small downsides to the full eternity ring to think about, however. With diamonds or gems running all the way round the band, they can catch on your other fingers which could result in sores, and in some cases render the ring unwearable. They are also considerably higher in price than half eternity rings down to the fact that they feature double the amount of diamonds, or gems, so if you're trying to stick within a rigid budget, you might be better opting for the half style.
Half eternity rings
Half eternity rings, as the name suggests, feature diamonds or gems set only across half of the band. The top half. The majority of people agree that half eternity rings are more comfortable for day-to-day wear and practicality than full styles.
Half eternity rings are usually a more affordable option opposed to full ones. However, the price of the ring will ultimately come down to the total carat weight of the stones used, as well as whether the ring itself is crafted from gold or platinum.
Both styles represent eternity and symbolise an unbroken, never ending continuous love.
Does it have to be a diamond ring?
Although diamonds are the traditional choice for an eternity ring, not everyone regards diamonds as the be all and end all. In fact, some recipients would be much happier with an alternate precious stone.
Rubies, sapphires and emeralds are all popular choices of stones used in eternity rings. These can be alternated with diamonds, or with each other. And the available option don't stop there. Most reputable jewellers also offer eternity rings set with more unusual precious gems such as amethyst, tourmaline and even tanzanite. Whatever your beloved's favourite colour may be, you'll be able to find a stone to suit.
You'll also need to consider your choice of metal. Common choices include yellow, white and rose gold or platinum. There are also sterling silver styles available for shoppers on a more restrictive budget.
If you're shopping for gold, it's worth noting that the quality of gold is measured in carats. Gold is actually measured in 24ths. What this means is: if you buy a 24 carat ring, you'll be investing in a ring band that is genuinely crafted from 100% gold.
And so, 18 carat gold is crafted from 75% gold and 25% alloy. 14 carat gold is a combination of 58.5% pure gold and 41.5% alloy. And finally, 9 carat gold is made up of 37.5% gold and 62.5% alloy.
Rose and white gold variations are developed by combining different alloys to alter the colour. White gold is usually created by mixing gold with at least one white metal, most commonly nickel, manganese or palladium. Rose gold is created by combining gold with copper.
Eternity rings for men
If you're looking for an eternity ring to demonstrate your unwavering adoration of that special man in your life, you're in luck. Although traditionally, eternity rings used to be considered women's jewellery, modern designs ensured that they are now awesomely accessible for men too.
With male celebrities including David Beckham and Elton John leading the way, the trend of men wearing eternity rings has really caught fire. As a result, there's a mass of choice for males offered on the market right now