Hive Home | Plans, products and features
You might know a bit about Hive, but what is it and would it suit your home?

Hive is a British Gas spin-off which aims to bring smart products together. The service offers a range of plans with the same simple idea: to connect your home's heating, lighting, and appliances via a smartphone app.
You can turn dark hallways into a warm welcome, switch on the lights if you're away on holiday, make sure you've turned off the iron and lots more using the Hive app.
How does it work?
Get your hands on one of these Hive products, and away you go. The collection of products is growing, and they're all super easy to use, set up and control with the app.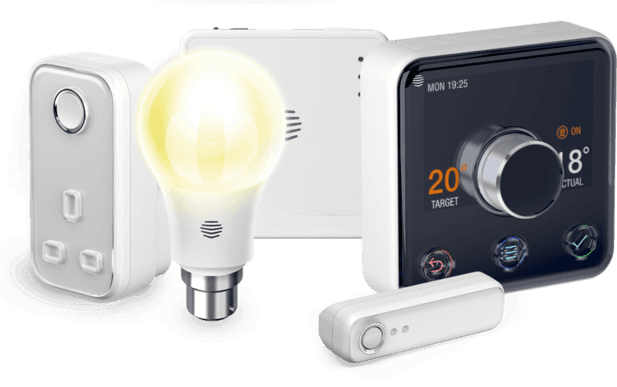 Heating. From £99, you can pick up one of Hive's smart heating products
Cameras. From £129, you can get a Hive camera which lets you keep an eye on what's happening in your home, from anywhere
Sensors. For £29 you can get your hands on a Hive Motion Sensor, which can send alerts to your phone if triggered
Lights. Hive Active Lights start at £19
Plugs. The Hive Active Plug costs £39, allowing you to adjust appliances from the Hive App
Your chosen products will connect to each other via the Hive Hub, the control centre which allows you to manage everything from the app. It's important to always keep your hub plugged in and switched on if you want your other Hive devices to function correctly.
How do I set it up?
To start using any Hive product you'll need:
A computer, tablet or smartphone with internet access
A broadband connection
A router with a spare Ethernet port
Whatever product you choose, it will need to be used with the Hive Hub, which plugs directly into a mains power socket and into your broadband router via an Ethernet cable (provided).
Once it's set up, you can use the Hive app or the online dashboard to connect to your hub and add new products to your network of smart devices.
Some products, like Hive Active Heating, require a more complicated installation. British Gas can provide an engineer to do this for you, included in the cost of your device.
What can I do with Hive?
The different Hive products all have different capabilities. Here are the main features of each.
Hive Active Heating
Control your hot water and heating at home or from your laptop, tablet or smartphone
Set schedules, so you can come home to a warm house or wake up to hot water
Hive Active Thermostat
Adjust the temperature at your home, no matter where you are
Set heating or cooling schedules
Hive Active Plug
Turn appliances on and off remotely
Synchronise with other Hive products
Schedule your appliances to switch off automatically when you don't need them
Hive Active Light
Control your lights, whether you're at home or not
Adjust brightness and warmth according to your preferences
Schedule your lights to turn on and off when needed
Hive Motion Sensor
Detects movement in your home when you're away and sends alerts to your smartphone
Synchronise with other Hive devices, like a Hive Active Light that turns on when you arrive home
Hive Window or Door Sensor
Receive smartphone notifications if a window or door is opened while you're away
Hive Camera
View a livestream of your home wherever you are, with controllable zoom and night vision
Use two-way audio to hear what's going on at home and talk back