Good Energy | Electricity, gas and dual fuel tariffs
Find out more about Good Energy with our useful guide.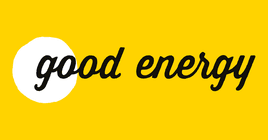 Good Energy was the first energy supplier in the UK to deliver 100% renewable electricity. That was back in 1999 and it's grown since then – but it's still pretty small compared to other energy companies. Solar, wind, biomethane and hydroelectric, it doesn't get much greener than Good Energy.
Is Good Energy cheap?
Something to remember
There is no single cheapest energy supplier out there, only the cheapest provider for you and your usage requirements. If it gets confusing, you can always come back and consult finder.com's energy pages and guides!
How do customers rate Good Energy?
Good Energy publishes statistics about its complaints performance each quarter. The most recent data shows that in the second quarter of 2017 the company received 1,014 complaints per 100,000 customers, 43% of which were resolved within one day.
Is Good Energy green?
Can I get a smart meter with Good Energy?
Yes, Good Energy has started to roll out smart meters to its customers. The supplier promises to get in touch when the technology is ready to be installed in your area.
How do I contact Good Energy?
Depending on your requirements, there's a whole load of numbers to call. Save yourself time by picking the right one, instead of getting redirected around different call centres. Here are Good Energy's contact numbers:
Existing customer care: 0800 254 0000
New customer enquiries: 0800 254 0004
How do I make a complaint to Good Energy?
It comes with the territory. If a boiler breaks or the electricity goes out, people don't tend to be too happy!
With Good Energy, you have the following options for registering a complaint:
Call the customer care team at 0800 254 0000
Email customerservices@goodenergy.co.uk
Fill in the online contact form here
Write to Good Energy Ltd, Monkton Reach, Monkton Hill, Chippenham, Wiltshire, SN15 1EE
Of course, make sure to Google around or visit Good Energy's website to see if someone might have already had the same problem you're having!
What is a 'dual fuel' tariff?
With one of these tariffs you'll get both your gas and electricity from the same supplier. This makes life a lot easier. There's one bill, one direct debit, one number to call if you need to speak to someone. A dual fuel tariff could save you money, but it's not necessarily the cheapest option.
In some cases, it's still cheaper to have your gas and electricity provided by separate suppliers.
Back to top
Read more on this topic