Electric Dreams Episode Four "Crazy Diamond" review

Never give up; be a replican, not a replicant.
Before we begin, here are two interesting facts about Philip K. Dick. 1: His fans affectionately refer to themselves as 'Dickheads'. 2: More often than not his writing process involved doing enough drugs to kill a small horse. Some of his short stories highlight this last factoid more than others. Sales Pitch, the inspiration for this episode, felt especially drug-fuelled.
That said, fans of that original work will notice a hell of a lot of variance between Dick's vision and this Tony Grisoni reimagining. In this TV version, we have a decaying, near-future society where genetic engineering has birthed synthetic beings controlled by a doodad called Quantum Consciousness (or "QCs"). Obviously we're talking about flesh-and-blood replicants here, à la Bladerunner, but you might be surprised to hear that science has also given sentience to human/pig 'chimeras'. Yeah, you read that right. Pigmen, Jerry. Pigmen.
The Electric Dreams adaptation takes place on an island nation, which is now eroding so fast whole settlements are simply toppling into the ocean on the reg. This nameless neo-Atlantis is home to Ed Morris (Steve Buscemi), a big wheel down at the QC factory who wants nothing more than to sail away from it all with his less-than-enthusiastic housewife, Sally (Julia Davis).
Both of their lives are turned upside down by the arrival of a "synthetic", Jill (Sidse Babett Knudsen), who seduces Ed and offers to be a replacement shipmate if he'll aid her in stealing some QCs to sell on the black market. As the scheme unravels, we learn that Jill also needs one of these devices to forestall her impending terminal system failure. When Ed tries to back out of the deal mid-heist by triggering the factory alarm, his boss showers him with praise and a pay increase. Later, Jill menacingly shows up at Ed's house as a life insurance salesperson. Worse, she proceeds to hit it off with the friend-less Sally.
Now, aside from the door-to-door shenanigans, that synopsis is a huge departure from what goes on in Sales Pitch. Said 1954 short story was basically a parable about the dangers of omni-present, intrusive advertising and marketing. Ed and Sally were not neo-Atlanteans, rather our hero was a space-farer who was constantly beset by long journeys filled with aggressive advertisements. At the end of the story, he's driven mad when he becomes an inter-galactic castaway with a 'fasrad' robot who can forcefully market itself and won't take no for an answer. No QCs. No replicants (who have presumably seen things us people wouldn't believe). No odd scenes where a worried Sally confides in a porcine toll booth operator who's proud to be "40% normal".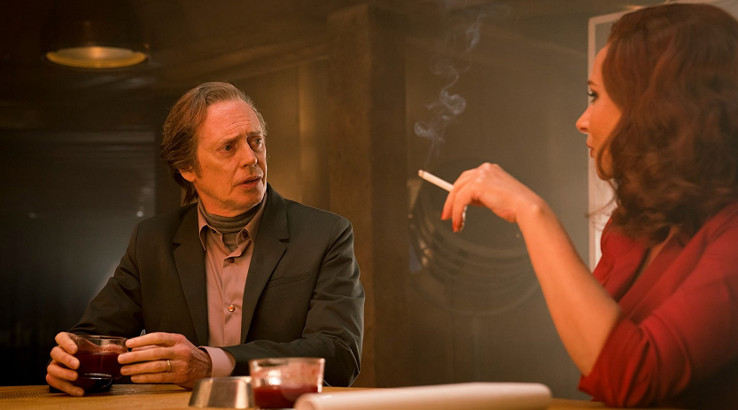 There was so much more going on in this Electric Dreams adaptation, and almost all of it felt crammed in and superfluous. The pork angle – i.e. should we really be genetically-engineering chimeras to not take offence when we treat them like second-class citizens – is not given a chance to expand into something meaningful. There's also a blink-and-you'll-miss-it plot thread involving Ed and Sally being surveilled and brow-beaten by an invasive refuse collector who delivers them food with an ever-shrinking expiry date. Oddly, he may be whisking away all organic matter to prevent anybody from using it to plant and harvest their own food – though that's going to be tough, when the soil on this "island" only goes down a few centimetres before you hit metal sheeting. Why is that the case? Couldn't say. No answers are forthcoming.
Likewise, we're given no clue as to why Jill's dodgy QC buyers are a group of forest-dwelling cowboy teddyboys. When the original deal gets back on track, they simply spawn in around Ed and Jill, talk trash about how useless replicants are and then promptly get "retired" by a gunslinging Jill after she's installed her new QC. And that's just the start of the double-crosses, folks. Ed's boss jack-in-the-boxes and reveals that he's had a hand in all this black market stuff too. He proposes they pin this unravelling mess on Jill, take the loot and live like fatcats. Ed seizes up during the decision-making process and Jill manages to off the boss with a quick-draw headshot. Unimpressed, she leaves Ed to take the rap, and as a final "screw you", she visits Sally to clue her in on his web of deceit.
With his life crumbling down around him like so many faux-futuristic houses, Ed beats a retreat to his boat. Shortly after casting off, he hears the sound of uninvited guests on the deck. Jill and Sally have decided to take him up on his offer to sail the seven seas after all. Slight problem: there's only room for two on this cruise. One short mutiny later and Ed is washing up on the shore, half-drowned and in the early stages of madness. His last remaining possession is an LP record. With watery, vacant eyes Ed gazes at the sky, spins the record in his hands, and it plays us out to the credits.
---
Latest streaming headlines