Electric Dreams Episode Five "Real Life" review

Vacay time in the desert of the real
Electric Dreams has had a 50-50 strike rate when it comes to episodes that feel truly…well, Dickish. For example, last week's offering had massive rewrites and only paid minor lip-service to the Philip K. Dick short story which supposedly served as inspiration (it was still worth a watch based on its own merits). This fifth episode, Real Life, doesn't exactly buck that trend, though it comes with a few shades of classic, mind-screwery Dick.
This is especially true if you're familiar with the Dick-inspired 80s films Total Recall and Blade Runner. Like a gushing love letter to the latter, Real Life opens with all of the tropes: close-up iris shots, futuristic supercops, cityscapes dominated by neon advertising and even a joyride in a flying police spinner. Hell, the only thing missing is some banter in Cityspeak – gutter talk, a mishmash of Japanese, Spanish, German, what have you. (Every good cop knows it.)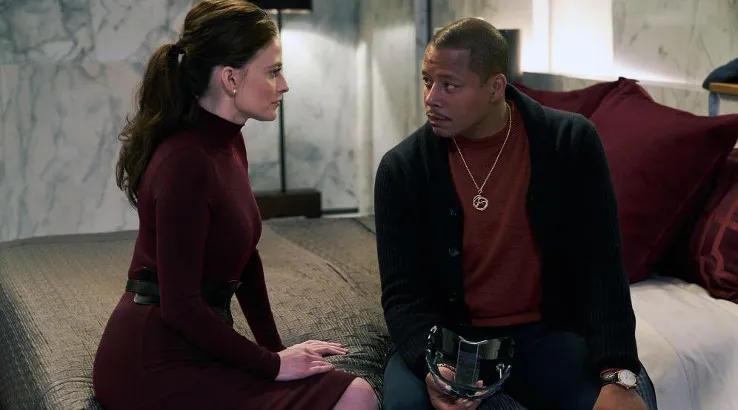 Mind you, instead of a hardened, amoral bladerunner, the hero of our tale is Sarah (Anna Paquin), a PTSD-suffering cop who may in fact be the deuteragonist (more on that in a second). She snaps out of a moment of daydreaming to find herself in an old-school diner. Her partner, Mario (Jacob Vargas), is after her fries and wants to know if she's "going to eat those fingers". A distracted Sarah absentmindedly corrects his potato-extract terminology, and he yammers on regardless. They're taking a break from chasing Colin, a terrorist mastermind who recently massacred a bunch of their colleagues. Sarah was one of the few survivors. Understandably, she's still haunted by the incident and is determined to hunt Colin down harder than Harrison Ford catching a whiff of replicant.
Off the clock, Sarah drinks heavily and gazes vacantly out of her high-rise apartment windows (which can be tuned in to different places and times of day). Her concerned wife Katie (Rachelle Lefevre) brings home a prototype device and suggests she pack her emotional baggage and take a mind vacation, a la Total Recall. A neuronic pulse map uniquely designed for her prefrontal cortex will let her live the life of someone generated from her inner-most thoughts and dreams. Desperate to escape a recurring memory of lying in a widening pool of her own blood, Sarah slaps the futuristic-looking nicotine patch on her temple and jacks into her own Matrix.
George (Terrence Howard) jolts out of a moment of daydreaming. He's lying in a pool of something and is being told to snap out of it by Chris (Sam Witwer), a loyal friend who's becoming increasingly worried about his pal's state of mind. Mental sharpness is key in a moment like this: the two of them are packing .45s and are about to corner Colin (Guy Burnet) in his lair, a derelict industrial site. Before anybody can be retired with bullets, our less-than-dynamic duo are captured and interrogated by their would-be prey. Sneering, the cockney-sounding Colin produces a knife and threatens to make either George or Chris eat somebody's fingers. Woah, wait a se–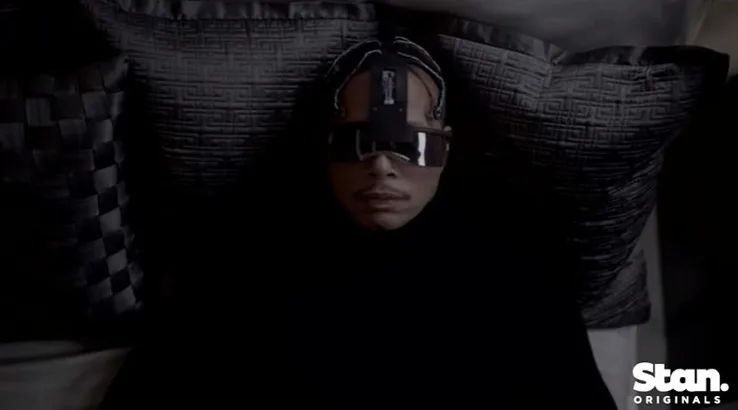 Quick as a flash, Chris manages to break free and Krav Maga the ever-loving crap out of their captors. Colin smoke bombs out of there; so Chris and our deuteragonist (or is George the hero now?) jump into a muscle car and attempt to give chase. Slight roadblock: their arch-nemesis makes a clean getaway because this 1970s car won't respond to George's gesture or voice commands. Chris, even more concerned about George's mind, seeks medical attention.
Back in George's stunning abode – the digs of a billionaire owner and founder of a successful technology company – we meet Paula (Lara Pulver). She's a medical doctor and friend of George who is committed to investigating his memory loss. It seems he's still reeling from the death of his wife, and his mind has tried to protect itself through temporary amnesia. George seeks solace from his pain and confusion in one of his own inventions, a VR device that allows him to escape into another reality. (This current reality is closer to our own time, so George's prototype device is a Johnny-Mnemonic-looking VR headset.) When he pops it on after his hard day of Bruce Wayne-esque crime-fighting – you guessed it – George opens his eyes as Sarah…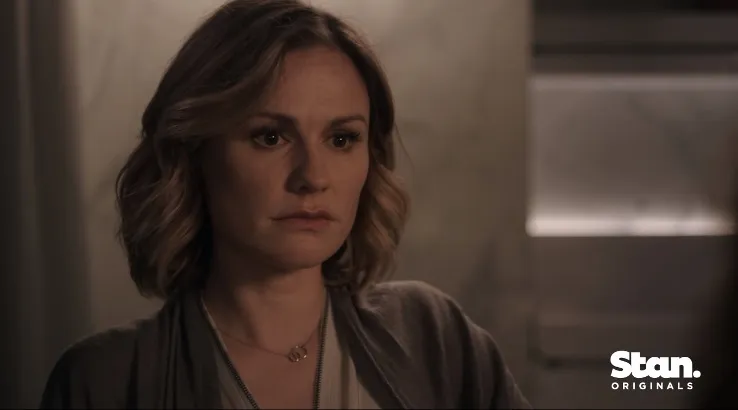 What follows is quite the mind-thriller; a game of spot-the-difference with an underlying theme of losing one's self in another's life. What we have is Dick's short story, Exhibit Piece, adapted by Ronald D Moore (of Outlander and Battlestar Galactica fame). Though radically different, the core idea of that work has been cleverly expanded out into a bigger exploration of both VR and the nature of reality itself. You think, therefore you are, but anything outside of that is open to interpretation, friend.
Worryingly, the respective journeys of George/Sarah become increasingly intertwined as Real Life approaches its climax. Places and people once thought exclusive in one reality begin cropping up in their alternate – and not always alive. The question of reality legitimacy becomes too hard to answer, no matter what rationale is applied. For example, which scenario is more telling of being somebody's fantasy vacation: a futuristic lesbian supercop hunting an international terrorist in a flying car, or a billionaire suitless-Batman hunting for his wife's killer? On the flip side, can the "real" reality be better identified by the misery and suffering contained within? Massacred work friends with a side order of survivor guilt and alcoholism versus tortured and murdered spouse, plus PTSD-induced seizures and amnesia? That sounds like a coin flip too.
I'm going to break from tradition today by not revealing the conclusion to this stellar episode. Suffice to say, it's extremely well written and worth the bandwidth to watch. Which reality was the really real one? It's a question best figured out by the individual viewer. Most likely after much head-scratching done well after the end credits have rolled.
---
Latest streaming headlines