GBP 2,000
Min. Transfer Amount
No limit
Max. Transfer Amount
Details
Product Name
Currencies Direct International Money Transfers
Min. Transfer Amount
GBP 2,000
Max. Transfer Amount
No limit
Transfer Methods
Online, Phone
Transfer Speed

Minimum transfer time

1 day
Customer Service
Phone, Email
Available Currencies
AED, AUD, CAD, CHF, CZK, DKK, EUR, GBP, HKD, HRK, HUF, ILS, JPY, NOK, NZD, PLN, SEK, SGD, THB, TRY, USD, ZAR
| | |
| --- | --- |
| Online Transfer Fee | EUR 0 |
| Branch Transfer Fee | EUR 0 |
| Phone Transfer Fee | EUR 0 |
| Exchange Rate Updates | Real time |
Currencies Direct exchange rates
Currencies Direct keeps a close eye on exchange rates to make sure you get the best outcome for your money. Its rate watch service allows you to specify your ideal exchange rate range so that you can be notified by email as soon as the rate hits, allowing you to act immediately. And it updates global exchange rates every 15 minutes for reliable, up-to-date data.
If you have the time and patience, Currencies Direct's limit orders let you set a specific rate for the amount of money you want to exchange. When that rate finally hits, simply respond to the notification with your authorization, and the exchange will proceed immediately without a hassle. Users speak highly of this service, as well as Currencies Direct's easy-to-use website. An operator will even walk you through the process by phone.
How much does Currencies Direct mark up their exchange rates?
| Amount | Percentage |
| --- | --- |
| 0-2K | 3% |
| 2 ,001 – 4,000 | 1% |
| 4k+ | 0.4% |
How much will using Currencies Direct cost me?
Currencies Direct uses a transparent percentage-based fee structure for their transfers:
| Amount sent in $ | Percentage fee |
| --- | --- |
| 0 – 2,000K | 1.4% |
| 2 ,001 – 50,000 | 0.39% |
| 50,001 – 200,000 | 0.29% |
| 200,001+ | 0.2% |
Unlike most banks, Currencies Direct doesn't require commission or any other fees. It takes a small percentage of the amount you wish to transfer, adding that amount to the cost estimate it sends you.
Let's say you're trying to send money to Hong Kong to buy a boat for your business. The price is $40,000, but your salesman will only accept it in Hong Kong dollars.
With the help of the currency converter tool, you'll see not only what the conversion will be, but also your approximate savings over using a bank. At a fee of 0.39%, you'll pay $156 in exchange fees to Currencies Direct. A bank would have added at least $500 more to send the same amount to Hong Kong.
Calculate receive amounts with Currencies Direct
Please note that rates change by the minute and the rate you see here may change once you get to the Currencies Direct site.

Disclaimer: Exchange rates change often. Confirm the total cost with the provider before transferring money.
Opening an account with Currencies Direct
To transfer money with Currencies Direct, you must open a free account as part of your initial transfer. Sending money is a two-step process, with your funds transferred first to your Currencies Direct account and then to your recipient.
To open an account, you'll need:
Your passport.
Your Social Security number
A government-issued ID — for example, your driver's license — or other proof of address
Your recipient's name, contact information and banking information, including the bank's SWIFT code.
A valid payment method.
Steps to transfer your money online
Follow these steps to set up your Currencies Direct account and transfer your money.
Click the Go to Site button.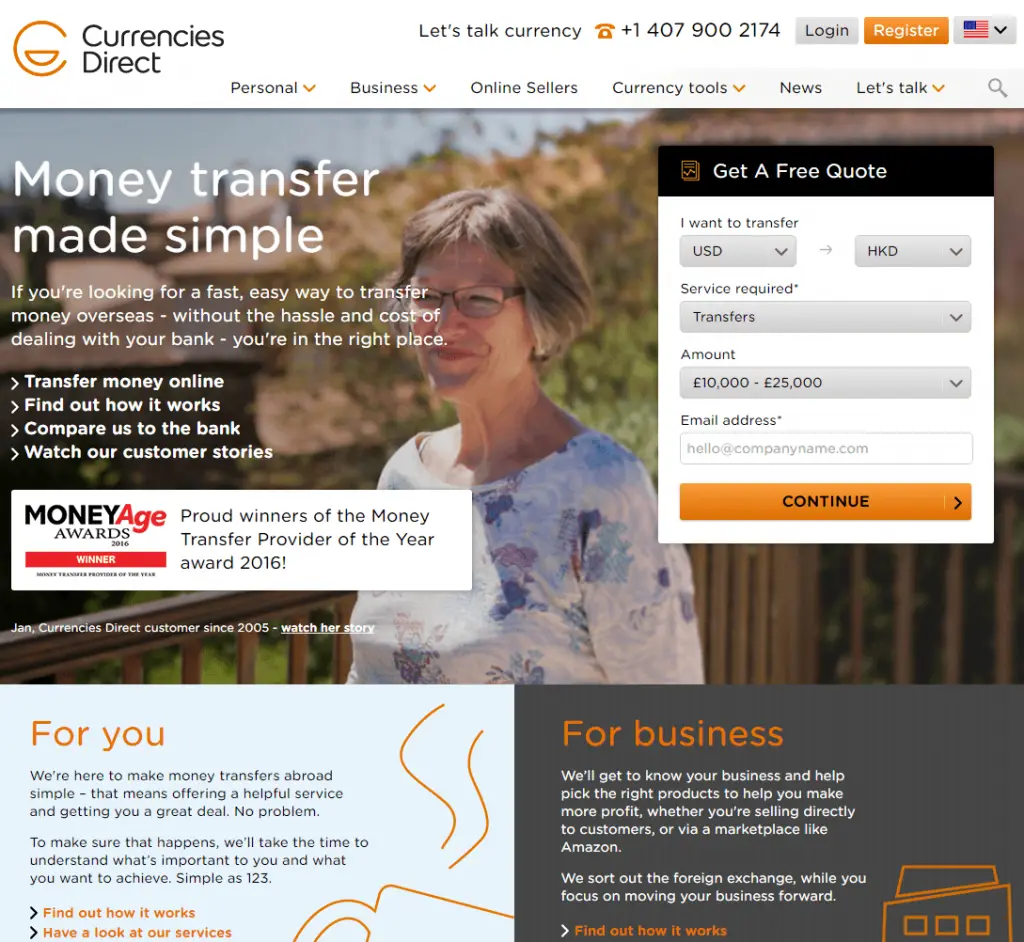 Hover over the "Personal" tab and then over "Our services." Click "Register for free."

Click "Transfers," and enter and confirm your email address. Click "Continue."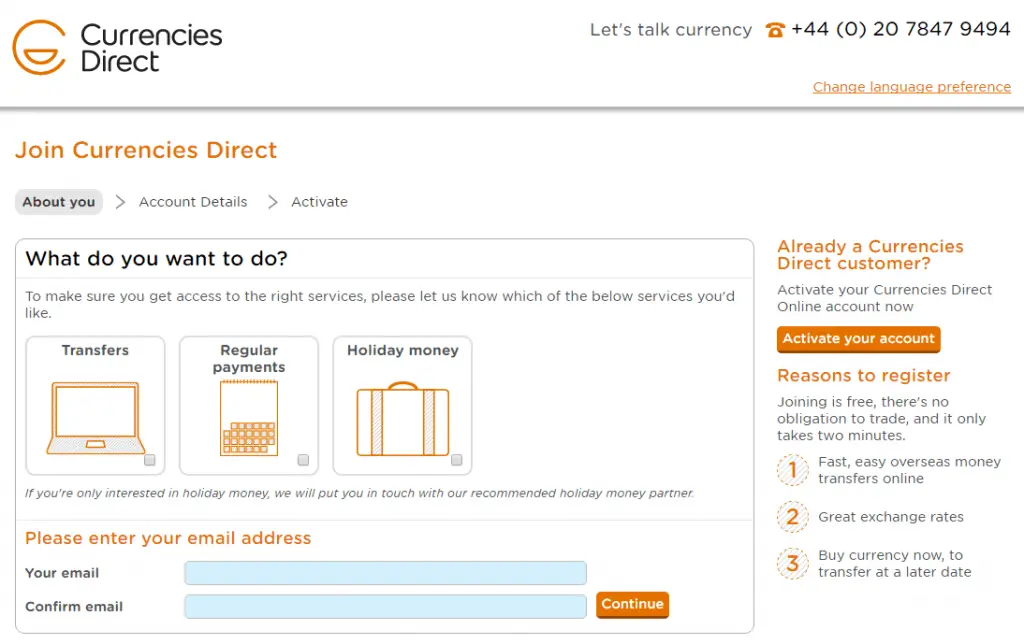 In the expanded page, enter your country and ZIP code and click "Find address."
Not all states are registered with Currencies Direct. To find out if your state is registered, go to the expanded "Contact details" section, click "select" and then click your street from the list. Or click "Enter manually" and type in your address.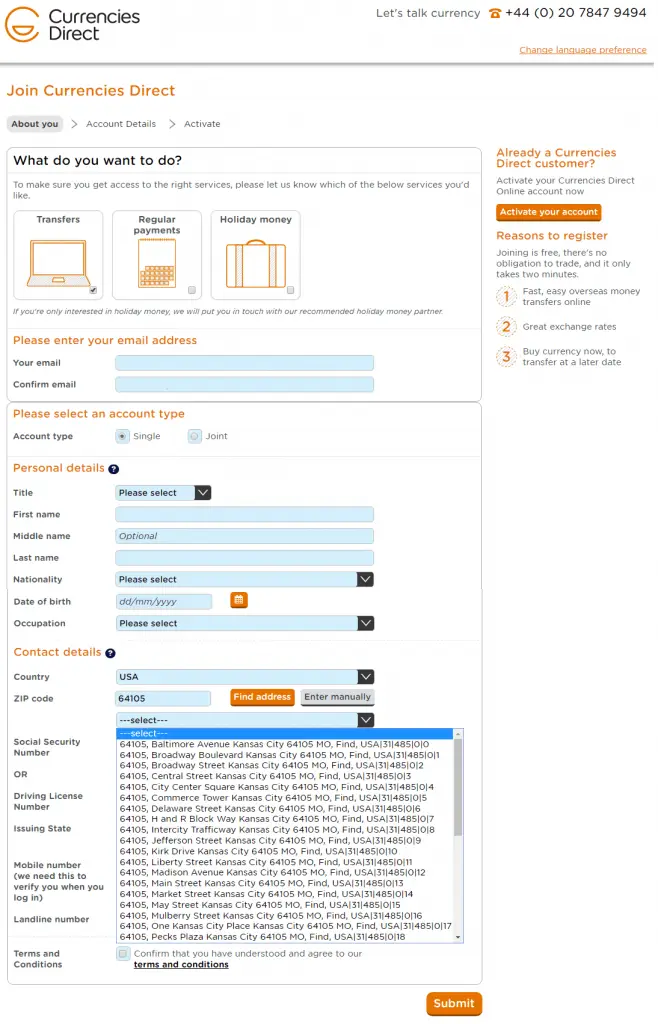 Now that you've confirmed you're in a state where Currencies Direct operates, go back and complete your personal and contact information, including your Social Security number. Read the terms and conditions and click "Submit."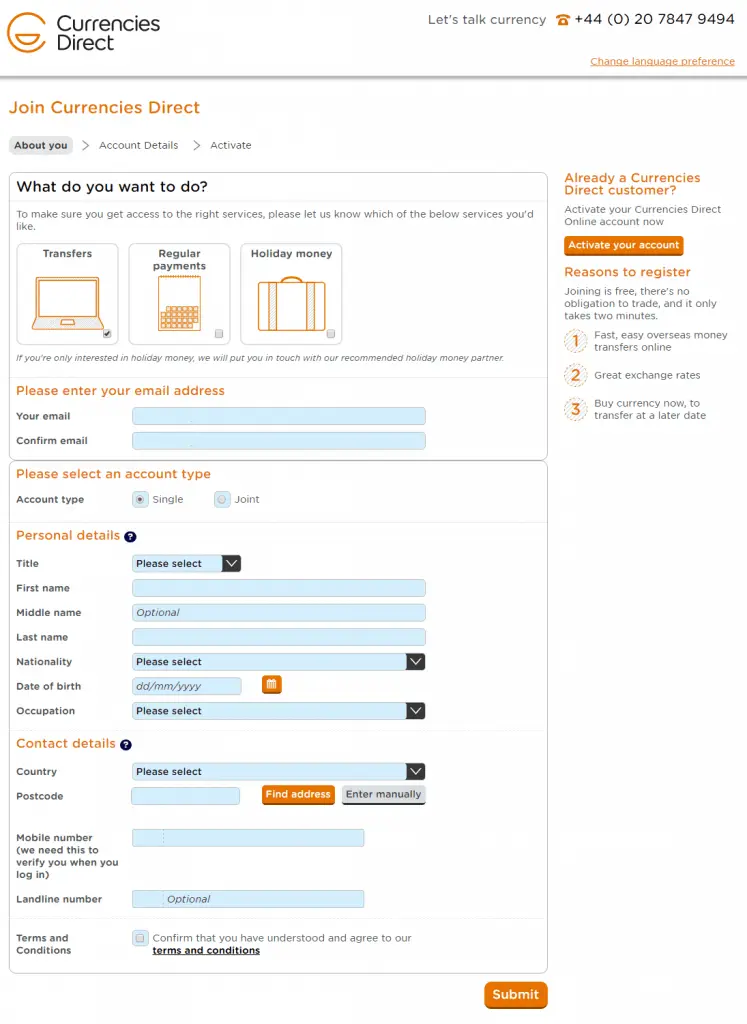 Indicate a password and two security questions. Select the currencies you're selling and buying to complete the transfer to your recipient.
Answer the following questions:

The dollar range of your transfer. From $2,000 to over $250,000.
A reason for the transfer. Select "Other" when sending money to a friend or relative).
The source of your funds.
The country you're transferring to.
How you heard about Currencies Direct. You can write in finder.com.

Check whether you'd like to get email, and click "Finish."


You'll receive an email to activate your account within two days.
Once approved, you'll need to scan and email the following documents to initiate your transfer:

Your passport.
Your driver's license with an address that matches the one on your Currencies Direct application. (If you've moved, you can use a recent utility or bill or current rental agreement to verify your address.)

When the activation email arrives, attach the required documents to a return email to Currencies Direct.
Once you're approved, you can easily make future transactions.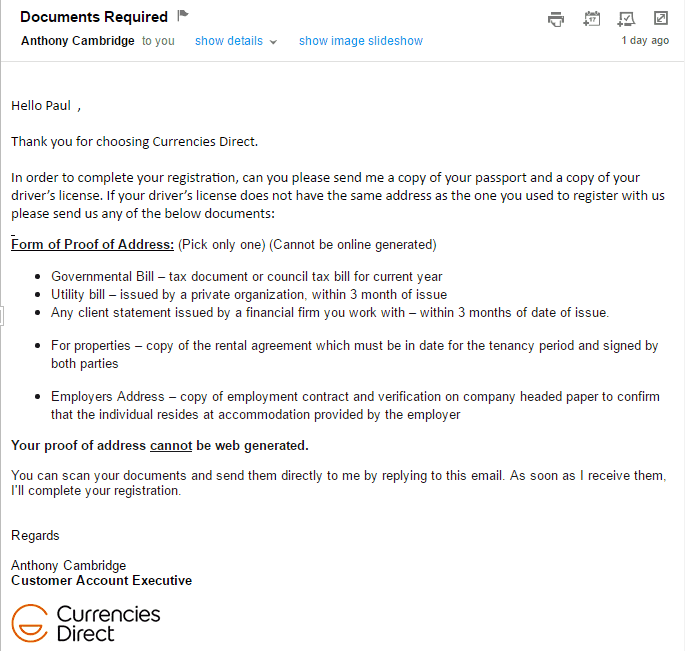 Where can I send my money?
Any location in the world. Whether it's business or personal, as long as there's a bank or account to store it in, Currencies Direct will send it. You can even hold money in a collection account, but only for euros, US dollars and British pounds. Conversion charges apply for other currencies.
What is a collection account?
A collection account is a segregated account in which you can accept payments from such marketplaces as Amazon, eBay and Fnac. You'll need to make sure that your marketplace won't convert your balance into another currency before depositing it into your collection account, or you may be charged more fees.
What type of transfers does Currencies Direct support?
Currencies Direct operates solely online. It uses a wireless transfer to send and exchange your funds to any banking account you designate. Recipients can then pick up or transfer the funds from that account. If you live in Orlando, you can speak with a representative at Currencies Direct's office. Otherwise, live chat, email, and a customer line are also available to get in touch.
How do I send or receive money through Currencies Direct?
You first need to register with the website. There's a button in the upper-right corner that you'll use to pick between business or personal accounts. From there, follow the instructions. Make sure to set up an email address for notifications.
Once that's complete, select the type of transaction or exchange you wish to enact, designate the funds and send. Each time you receive or send funds, Currencies Direct will email notifications of the status of your transaction. You can also request statements at any time online.
How safe is Currencies Direct for money transfers?
Pros and cons of using Currencies Direct?
Pros and cons
No fees for 90% of its transactions.
Worldwide service.
Competitive exchange rates.
Low minimum transfer amount.
Supports big transactions at a seemingly unlimited max.
Focused and efficient customer service.
Can keep an eye on transfer rates and alert you when your ideal rate hits.
Cons
Does not support all currencies.
No cash pickup option.
More than just international money transfers
Currencies Direct is more than just personal money transfers, offering:
Overseas property services. So that you can untangle the complexities of currency exchanges when purchasing a home in another country.
E-tailing. It offers a service geared to help online retailers.
Business services. Business owners can take advantage of a suite of services that include market views, cash and risk management and deal execution.
Frequently asked questions