Review: CRYPTOTAG backup wallet
Securely back up your private keys and cryptocurrency in heavily tested titanium.
Great for extreme temperatures
Not so great for changing keys
Crypto is unregulated in the UK; there's no consumer protection; value can rise or fall; tax on profits may apply.
Learn more about CRYPTOTAG
What is CRYPTOTAG?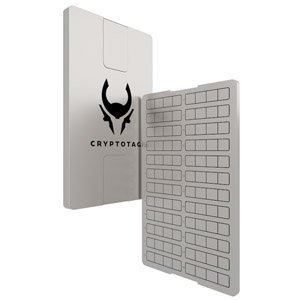 CRYPTOTAG is a device for securely backing up cryptocurrency hardware wallet recovery seeds.
The recovery seed is the string of words you are given when setting up a hardware wallet for the first time. It's like a password of last resort for accessing the cryptocurrency on that wallet. It's essential to keep it safe because these words are used to restore access in case anything happens to your wallet.
However, if you just write those words on a piece of paper, they can get lost or destroyed, and if anyone is able to see those words, they can also use them to access your funds.
Recovery seed back-up devices such as CRYPTOTAG are designed to serve as secure, near-indestructible devices for backing up private keys.
What's in the box?
In the hefty 3.6kg CRYPTOTAG box, you will find the following:
The titanium CRYPTOTAG device (silver, with CRYPTOTAG logo)
Letter stamps
A hammer
A "bit holder" (a small piece of metal with eight holes in it)
An anvil (the solid black metal device)
Earplugs
Matches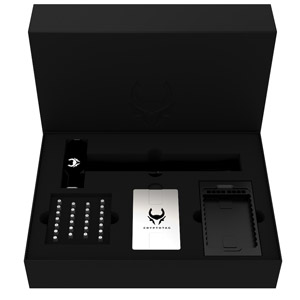 How to set up CRYPTOTAG
Find a solid base such as a strong table, with a clear workspace, and make sure you have your recovery seed handy.
Remove the clips from the top and bottom of the CRYPTOTAG device and separate the plates.
Place one of the plates into the anvil with the logo facing down. You should now be looking at a plate engraved with 24 numbered rows of boxes. Make sure it's the right way up.
Click the bit holder into position over the first row.
You are now in position to start stamping your recovery seed into the CRYPTOTAG.
Setting up your recovery seed
Prepare the first four letters of each word of your recovery seed. These will be what you stamp into each section.
Insert the stamp with the first letter of the first word of your recovery seed into the first position of the bit holder. Make sure it's the correct way around. The part with the engraving tip should be against the titanium plate.
Insert the earplugs provided.
Make sure the anvil is on a solid surface, then solidly hit the stamp with the hammer multiple times. It will probably take at least two or three strikes depending on how hard you're hitting it.
Repeat these steps for each of the letters until you've copied out the first four letters of each word in your recovery seed.
Afterwards, you can perform the same process in the space provided on the front (logo side) of the CRYPTOTAG device if you need to permanently label it in order to tell your back-up devices apart from each other.
Once you're done, and certain that it's correct, you can use the included CRYPTOTAG-branded matches provided to burn your paper recovery seed.
CRYPTOTAG vs other back-up devices
Table: shows partner brands and other brands, sorted by popularity
Compared to other recovery seed back-up devices, specifically Cryptosteel and Billfodl, CRYPTOTAG immediately stands out in several ways.
It's made of titanium instead of steel
You hammer your recovery key into the plate rather than using provided letter tiles
It's more expensive
Whether the extra cost is worth it depends on your needs, and how much danger you expect your back-up device to be in, but its titanium construction does carry some additional benefits.
Temperature resistance
CRYPTOTAG claims to be able to take temperatures up to 1,665° Celsius (3,029° Fahrenheit).
This is much higher than both grades of stainless steel used by Cryptosteel and Billfodl, which start to lose their durability at around 925° Celsius (1,700° Fahrenheit).
What this means is that all brands would be capable of withstanding an average house fire, but only the CRYPTOTAG would be able to withstand a blowtorch if someone wanted to deliberately destroy it.
Material and build quality
Both titanium and stainless steel are highly corrosion resistant, but which is more resistant depends on the exact grade of composition of each. CRYPTOTAG says it's made of "space grade" titanium, but all grades of titanium have use in the aerospace industry, so this doesn't say much.
Titanium is also lighter than stainless steel, but the CRYPTOTAG weighs in between the Cryptosteel and Billfodl.
Letter storage
Despite its higher quality materials, one area where the CRYPTOTAG falls down compared to Cryptosteel is the storage of characters other than letters.
CRYPTOTAG can only be used to store recovery seeds, while Cryptosteel can directly store private keys and passwords of other kinds.
Ultimately, the main differences between CRYPTOTAG and its competitors are its elevated price tag, its much higher temperature resistance and its energetic set-up process.
Cost and where to buy
The CRYPTOTAG starter kit costs EUR€169, while expansion sets (2 additional plates) are €99 each.
You can buy it from the CRYPTOTAG website or authorised resellers.
In a nutshell
Pros
Durable. CRYPTOTAG is a solid titanium storage device for recovery seeds.
Extreme temperature resistance. CRYPTOTAG may be the single most temperature resistant back-up device on the market.
Freebies. It comes with a hammer, earplugs and matches.
Fun set-up. The set-up could be fun if you like the idea of stamping your own recovery seed.
Cons
Expensive. The CRYPTOTAG is one of the most expensive back-up devices on the market.
Energetic set-up. The set-up process requires you to hammer in your own recovery seed.
Permanent. Unlike other back-up devices, you can't change the letters once they've been stamped in.
Letters only. The CRYPTOTAG can only record letters.
Obtrusive. The prominent logo means the CRYPTOTAG stands out where some unobtrusiveness would be more practical.
Frequently asked questions
Find cryptocurrency wallets to go with CRYPTOTAG
Table: shows partner brands and other brands, sorted by popularity
Cryptocurrencies aren't regulated in the UK and there's no protection from the Financial Ombudsman or the Financial Services Compensation Scheme. Your capital is at risk. Capital gains tax on profits may apply.
Cryptocurrencies are speculative and investing in them involves significant risks - they're highly volatile, vulnerable to hacking and sensitive to secondary activity. The value of investments can fall as well as rise and you may get back less than you invested. Past performance is no guarantee of future results. This content shouldn't be interpreted as a recommendation to invest. Before you invest, you should get advice and decide whether the potential return outweighs the risks. Finder, or the author, may have holdings in the cryptocurrencies discussed.