Coutts and Co Silk Charge Mastercard review 2023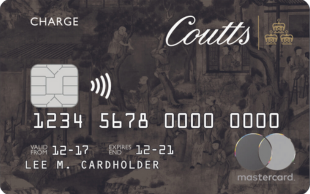 Foreign transaction charge

0

%

Minimum credit limit

£

3,000
Our verdict
A luxurious charge card with an impressive range of benefits for Coutts' high-net-worth customers.
One of the oldest banking institutions in Europe, British private bank Coutts serves wealthy and high-profile customers, including the Queen and her family. As you can imagine, joining this exclusive club isn't exactly easy, but if you are part of it, you can enjoy the perks of this VIP charge card.
Being a charge card, you're expected to pay your balance in full every month. Provided you do that, you won't pay any interest on your purchases and also get some flexibility with repayments - purchases at the start of the billing cycle are paid for at the end of the billing cycle. Unlike with most charge cards, you won't be charged any annual fees.
The benefits are mostly meant for frequent travellers. You can use the card abroad without being charged any extra fees, will get airport lounge access and will be enrolled in Thank You from Coutts - Coutts' loyalty programme that will reward you with a choice of gifts and experiences if you spend at least £25,000. Coutts also offers a 24/7 concierge service that you can consult anytime for help with a variety of needs – from hotel and dinner reservations to expert advice if you lose your passport.
As this card is on the Mastercard network, it's accepted in more than 40 million locations worldwide. You'll also be able to enjoy access to Priceless Cities experiences.
Pros
Avoid currency conversion charges when spending abroad
Airport lounge access
No annual fee
Cons
Applicants with low credit scores are unlikely to be eligible
Only available to existing customers
| | |
| --- | --- |
| Issuer | Coutts & Co |
| Network | Mastercard |
| Representative APR | N/A (this product is a charge card). |
| Annual/monthly fees | £0 |
| Additional Rewards Info | Coutts Concierge service that gives you 24/7 access to expert help and advice, from flight information, tickets, accommodation, car hire, emergency currency lost passports, messaging and interpretation services. Social and leisure arrangements, such as table reservations, chartering a yacht and tickets booking. Sourcing domestic staff. Exclusive online concierge service for bespoke discounts and money can't buy, red carpet experiences across travel, entertainment and dining. Silk membership, offering access to luxury holidays with complimentary experiences, room upgrades, late checkouts and VIP status in selected hotels and VIP shopping experiences. "Thank you from Coutts" available, select a thank you gift once you have spent a specific amount. |
| Lounge access | Access to over 700 executive airport lounges in over 300 major airports worldworld. £20 per person per visit. |
| Potential costs | ★★★★★ |
| Doing its job | ★★★★★ |
| Extras | ★★★★★ |
| Overall Finder rating | ★★★★★ |
| Overall customer rating | Not yet rated |
| | |
| --- | --- |
| Minimum monthly payment | Full outstanding balance |
| Annual/monthly fees | £0 |
| Foreign usage charge (EU) | 0% |
| Foreign usage charge (rest of world) | 0% |
| Cash advance fee | 2% (min. £1.5) |
| Late payment fee | £0 |
| Replacement card fee | £0 |
| Duplicate statement fee | £4 |
| Exceeding limit fee | £0 |
| Additional card fee | £0 |
| Dormancy fee | £0 |
| | |
| --- | --- |
| Minimum Age | 18 |
| Availability | Available to existing customers |
Compare Coutts alternatives
Table: sorted by representative APR, promoted deals first
If (as is the case for most of us) a Coutts credit card is out of your reach right now, there are plenty of cards like Coutts credit cards on the market to make you feel like a VIP. American Express offers an impressive selection of cards catering to all sorts of consumers, all with rewards attached – from lounge access to hotel upgrades.
How to apply for the Coutts and Co Silk Charge Card
Unsurprisingly, becoming a Coutts customer is quite hard. You can try with a preliminary online enquiry, but if you don't earn at least £500,000 a year or have £1 million worth of assets to invest, you'll just get a message advising you to consider alternative banking options.
Instead, if you already are a Coutts customer, you can simply give them a call or contact your personal adviser. You may want to compare Coutts' charge card and its credit card to make sure you pick the one that best suits your financial needs.
Frequently asked questions
What credit limit will I get with the Coutts and Co Silk Charge Mastercard?
If Coutts & Co is able to offer you this deal, the offer will specify a personalised credit limit based on Coutts & Co's assessment of your situation. The minimum limit offered on this card is £3,000 and Coutts & Co does not specify a maximum. Once you've had the card for a while and shown Coutts & Co that you're reliable, you may wish to apply for a credit limit increase.
Finder credit card ratings
Our experts score rewards credit cards to determine their value against similar products on the market. We look at a number of important factors, like welcome bonuses, introductory and ongoing earn-rates, any caps or restrictions on the points you can earn, plus the potential costs involved with running the card both in the short and longer term.
You can read more about our scoring criteria on our credit card methodology page.
Find the right card for you
Check a range of cards in minutes with no impact on your credit score
We show offers we can track - that's not every product on the market...yet. Unless we've said otherwise, products are in no particular order. The terms "best", "top", "cheap" (and variations of these) aren't ratings, though we always explain what's great about a product when we highlight it. This is subject to our
terms of use
. When you make major financial decisions, consider getting independent financial advice. Always consider your own circumstances when you compare products so you get what's right for you.