Coronavirus stock market crash: What happens next?
As the global economy falters and stock markets continue to drop, which stocks could fare better than others?
It's fair to say the UK stock market has endured a turbulent few weeks, and there doesn't appear to be any respite on the horizon. While most people will be tempted to look at their pension or ISA through their fingers and despair, others may see the increased volatility and market drops as a good time to buy. To complicate things further, many UK businesses are starting to close their offices or stores, and employees are now working from home or not at all. This is going to have further ramifications on most UK industries, and by extension, the FTSE 100 and the rest of the UK stock market.
As with most stock market crashes throughout history, there's likely to be some winners, and many losers, once the dust settles, but how do you know which are which? Whether you're looking at short-term trades or investing for the long term, it's important to understand how the coronavirus pandemic is likely to affect industries going forward before making predictions about how the stock market will fare in 2020.
Should I invest now?
This is the hardest question to answer, and will really depend on your current financial situation, overall investment goals and appetite for risk. Stock market crashes are often followed by periods of additional volatility, sideways price action, and eventually recovery. But it's next to impossible to predict how long these market cycles will last, and if the global economy continues to suffer, we may be faced with a years-long bear market where share prices continue to decline.
For long-term investors, it may be a good idea to start considering a dollar-cost averaging (DCA) strategy. This means investing your capital in smaller chunks over a longer period of time and can help you avoid the shock of any short-term volatility or drops.
For example, say you had £1,000 to invest. Instead of buying £1,000 immediately, you could invest £100 each week for the next 1o weeks. This has the effect of smoothing out your average trade price and giving you a better chance of investing when stocks are at their lowest. Even professional investors have a hard time calling the bottom of the market, and dollar-cost averaging is a handy tool for amateur investors looking to the long-term.
What stocks or shares should I invest in now?
The best stocks to consider will be for companies that are best placed to benefit from the coronavirus outbreak, or at least are in a good position to weather the ongoing economic effects. This could include health companies, delivery companies or tech companies that are likely to see an increase in demand as a result of the pandemic.
For example, remote conferencing services company Zoom Video Communications has seen its share price rise during the coronavirus pandemic as many offices transition to working from home.
What to invest in during coronavirus
If you've made the decision to invest during the coronavirus pandemic, it's important that you have an understanding of the ongoing economic situation around the world, and the measures various governments are taking to combat the outbreak.
You can compare the companies and stocks that have been hardest hit by the coronavirus outbreak, as well as those that may perform well, below:
Stocks that have fallen
Service or entertainment-based companies
As government policy both here and abroad shifts further towards social isolation and limiting mass gatherings, service-based companies are going to be some of the hardest hit. Businesses like cinemas, restaurant chains, bars and pubs are all likely to see business dry up over the coming weeks and months, and this is almost certainly going to be reflected in their share price. In the longer term, the coronavirus-inspired downturn may even see established service-based companies go under completely.
Cineworld, the second-largest cinema chain on the planet, has warned that a further downturn may see it breach its debt obligations, and its share price recently hit an all-time low.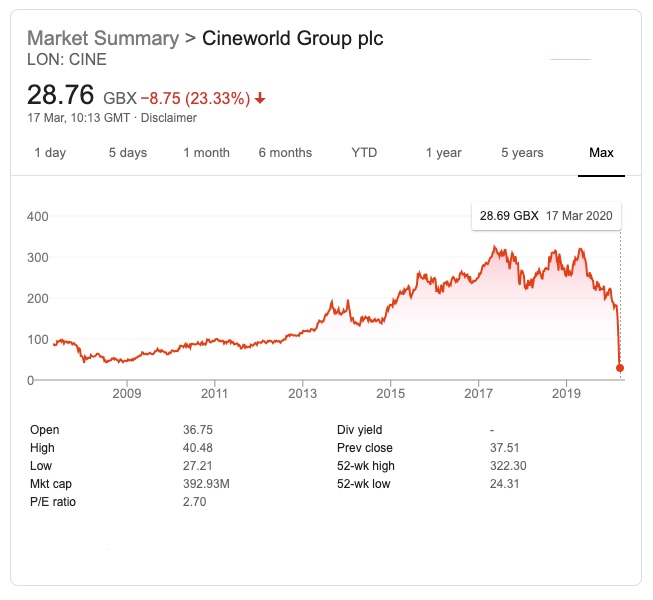 Airlines and travel companies
It goes without saying, but the biggest casualty of a global pandemic is always likely to be the tourism and travel industry. Major airlines have announced huge operational shutdowns, including cutting their flights by as much as 80% and grounding a majority of their fleet for the indefinite future. Like with the service and entertainment industry, there's the distinct possibility that some airlines never recover from the ongoing disruptions and lost revenue, and this is also true for the wider tourism industry.
Of course, it's not only airlines that are affected. Cruise companies are also dominating the headlines thanks to a number of cruise ships being stranded due to the virus. Cruise operator Carnival, whose Diamond Princess and Grand Princess vessels were quarantined off the coast of Japan and the US, has halted all journeys for at least two months. The effect on revenue is expected to be significant, and its share price has suffered as a result.
Sports-betting companies
With almost every major sporting competition now at least temporarily suspended, gambling revenues are likely to fall off a cliff as customers no longer have anything to bet on. The coronavirus pandemic may be especially ill-timed for the gambling industry, which has recently faced increased regulatory pressure over industry practices. Betway recently agreed to a record £11.6m regulatory settlement with the Gambling Commission, and other companies may face similar sanctions.
Bookmaker William Hill also announced that it would be suspending dividend payments to shareholders as a direct result of the downturn caused to the international sporting industry by the current outbreak.
Stocks to consider
Health companies
With scientists around the world working furiously on a cure for coronavirus, the economic spotlight is starting to focus in on the medical and healthcare industries. There's also likely to be an upturn in interest in health-food or nutrition companies as people try to boost their immune system and overall health in light of the outbreak.
Online retailers and entertainment companies
With much of the country likely to be holed up at home over the coming weeks, streaming services such as Netflix and Spotify are almost certain to see a spike in usage. Workers faced with weeks of working from home, or students told to no longer go to school or university could be stuck spending more time in front of the TV, and those without a Netflix subscription may think now is the best time to finally take the plunge.
As you can see from the graph below, Google searches for "Netflix shares" have exploded in recent days, which means it's likely investors are keeping a firm eye on it going forward.
Even online retailers like Amazon are likely going to fare better than most as their business model is somewhat insulated compared to brick-and-mortar retailers. Customers will continue to spend, and with retail stores closing to the public, most of that spending will move online.
Stocks to keep an eye on
Insurance companies
Insurance is one of the few industries to potentially benefit from a global pandemic, but also one of the most exposed to its consequences.
Aviva, InsureandGo and the Post Office recently joined LV in withdrawing all travel insurance policies to new customers that cover coronavirus-related issues. While this will almost certainly have an effect on revenue, it also means these companies will avoid costly claim payouts going forward.
But potential revenue shortfalls from travel insurance may be covered by an increase in the number of life insurance or health insurance policies sold. Customers without life insurance but worried about coronavirus may decide now is the time to take out a policy to protect their families.
On a deeper level, many insurance companies invest the money they receive from premiums in high-grade bonds, and bond yields have dropped significantly in recent weeks. This means insurance company profits may slow despite an uptick in policies sold.
Compare trading platforms
If you're looking to buy or sell shares, you'll need to open an account with a brokerage or trading platform. You can compare leading online brokers below:
Table: sorted by promoted deals first
All investing should be regarded as longer term. The value of your investments can go up and down, and you may get back less than you invest. Past performance is no guarantee of future results. If you're not sure which investments are right for you, please seek out a financial adviser. Capital at risk.
Bottom line
As a general rule, stock market crashes are often followed by recoveries, but it can be impossible to gauge when this will happen or how long it will take. While dramatic drops may be considered by some to be potential buying opportunities, the ongoing uncertainty around coronavirus means that now is an especially risky time to be trading and should be treated as such.
While there's potential for short-term and long-term gains, there's also the chance that you could suffer big losses.
Warning: This article offers information about investing and the stock market, but is not personal investing advice. The value of investments can fall as well as rise, and you may get back less than you invested. Past performance is no guarantee of future results. If you're not sure which investments are right for you, please get professional advice, for example from a financial adviser.
*Disclaimer: The offers compared on this page are chosen from a range of products Finder has access to track details from and is not representative of all the products available in the market. You should consider seeking independent financial advice and consider your personal financial circumstances when comparing products.