£0
Fees (Pay by Bank Transfer)
£5,000
Minimum Transfer Amount
No limit
Maximum Transfer Amount
Details
| | |
| --- | --- |
| Product Name | Clear Capital |
| Minimum Transfer Amount | £5,000 |
| Maximum Transfer Amount | No limit |
| Pay By | Bank transfer |
| Receiving Options | Bank account |
| Customer Service | Phone, Email, In person |
| Available Currencies | AED, ALL, AMD, ANG, AOA, ARS, AUD, BBD, BDT, BGN, BHD, BMD, BOB, BRL, BSD, BWP, CAD, CDF, CHF, CLP, CNY, CRC, CVE, CZK, DJF, DKK, DOP, DZD, EGP, ETB, EUR, FJD, GBP, GEL, GHS, GMD, GNF, GTQ, GYD, HKD, HNL, HRK, HUF, IDR, ILS, INR, JMD, JOD, JPY, KES, KRW, KWD, KYD, KZT, LKR, LRD, LSL, MAD, MGA, MUR, MWK, MXN, MYR, MZN, NAD, NGN, NIO, NOK, NPR, NZD, OMR, PEN, PHP, PKR, PLN, PYG, QAR, RON, RSD, RUB, RWF, SAR, SCR, SEK, SGD, SLL, SRD, SZL, THB, TND, TRY, TTD, TWD, TZS, UAH, UGX, USD, UYU, XAF, XCD, XOF, ZAR, ZMW, STD, MRO |
| Bank Account Required? | Yes |
| Personal Account Manager? | Yes |
Clear Capital exchange rates and fees
Clear Capital says it charges no fees for any transfers over £2,000. For transfers under £2,000 it charges a £10 fee to cover costs.
As with other online transfer services, it also adds a margin to real-time mid-market exchange rates.
Available currencies
Clear Capital Exchange gives you access to more than 150 different currencies worldwide. You can see the full list above, but some of the popular currencies include:
AUD Australian dollar
CNY Chinese yuan
NZD New Zealand dollar
SGD Singapore dollar
USD US dollar
ZAR South African rand
What types of transfers can you make with Clear Capital Exchange?
Clear Capital offers various transfer options to help you get the most out of your transaction:
Spot payments. A one-off payment that you can book at today's rate, with the option of paying within two days.
Limit orders. Set a target exchange rate, and if it's reached overnight in another market (like New York or Hong Kong), the money transfer is carried out.
Forward contracts. Lock in an exchange rate for up to five years in the future and protect your business from volatile currency movements.
Either you can contact your account manager to arrange the transfer, or you can do it yourself through Clear Capital's user-friendly online payments platform.
How long does a transfer with Clear Capital Exchange take?
Same-day transfers are available to countries including many in the Eurozone, the USA, South Africa and China. Transfers to other destinations take between one and two working days.
What payment methods does Clear Capital Exchange accept?
You send the money via wire transfer from your bank account to the recipient's.
Transfers typically take
Within minutes
Is Clear Capital Exchange safe to use?
Regulation: Clear Capital Exchange's payment and foreign exchange services are provided by Ebury Partners UK Ltd who are authorised and regulated by the Financial Conduct Authority (FCA).
Security: All client accounts are fully ring fenced and segregated.
Established: January 2018.
Customers: Ebury Partners claims to be trading over £12bn in foreign exchange and to have more than 24,000 businesses and private clients.
Reviews: Rated 4.7 out of 5 from around 23 reviews on Trustpilot*.
* According to Clear Capital Exchange and Trustpilot on 5 May 2020
How does Clear Capital Exchange make money?
Clear Capital makes its money through the interbank exchange rate margin, meaning that it adds on a small margin to the interbank rate to cover its own costs.
You may have noticed that the exchange rate you see on Google or XE is different to the one being quoted to you, and this margin is the reason why.
It also charges a £10 fee for any transfers under £2,000.
How to register an account
How do you make a money transfer?
You can either transfer money through your dedicated account manager (who you're assigned once you've registered your account) or online through Clear Capital's online payments platform.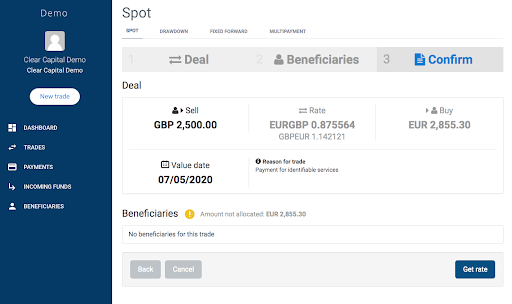 What is Clear Capital Exchange?
Clear Capital was set up in January 2018 in London. It says its aim is to provide trust, reliability and commitment to all sized business and private clients.
Its team of dealers and account managers have many years of experience in mitigating risk and managing client accounts within the foreign currency market.
In a nutshell
Pros
Access to more than 150 currencies. See above for the full list.
Various transfer options. You can choose from making a spot payment, limit order or forward contract.
Fast transfers. Same day or next working day transfers available to numerous destinations.
One-to-one customer support. You get a dedicated account manager, who will support you through the process step by step.
Highly rated reviews. Rated 4.7 out of 5 on Trustpilot*
Cons
£10 charge for transfers under £2,000. Clear Capital says this is to cover costs.
No cash pick-up. Bank to bank account only.
How does Clear Capital Exchange compare to other services?
Table: sorted by promoted deals first
Our table below lets you compare the services you can use to send money abroad. Choose if you want to send under or over £10,000, and you'll be shown a list of services that can help you.
Frequently asked questions
Does Clear Capital Exchange offer business services?
Clear Capital offers services for both private and business clients. As well as organising transfers, account managers can give regular market updates, reports and forecasts and help with business plans.
How do I contact customer support?
You can cancel or change a transfer at any time up until the end of the business day before the payment is due to be made – just contact your account manager. However, you may still be charged a fee to cover Clear Capital's costs.
How do I cancel a payment?
For personal transfers call 020 3984 0450, and for business transfers call 020 3984 0440 between 8.30am and 7.30pm on Mondays to Fridays. Or alternatively you can email info@spartanfx.co.uk