The Finder guide to Christmas party dresses 2023
All we want for Christmas is the perfect Christmas party dress and we want to help you find one too.
At this time of year, there are so many things to look forward to, not least the inevitable Christmas parties thrown by offices, colleagues, friends and loved ones. Okay, these are likely to be virtual this year, but that doesn't mean you can't dress to impress!
In the quest to help you find that jaw-dropping outfit, we've pulled together some of our favourite party styles for you to browse.
Sequins are an obvious choice for the year's sparkliest season but we know they're not to everybody's taste. If it's something more low-key you're after, then think strong block colours (ideally in Christmassy greens and reds) or keep it classic with a little black dress and make accessories your statement.
Where to buy Christmas party dresses
Our favourite sequin Christmas party dresses
We. Love. Sparkles. Nothing says Christmas party quite like a dress covered completely in sequins. We've picked out our favourites here but this season the choices really are endless.
Our favourite block colour Christmas party dresses
If sparkles aren't your thing, then check out these block colour options for a more classic, but equally Christmassy, look.
Our favourite day-to-night Christmas party dresses
If it's an office Christmas party you're attending then maybe what you need is one of these perfect day-to-night transformation pieces? Here are a few to choose from.
Our favourite Christmas party outfits (that aren't dresses)
Maybe you aren't really a dress kind of girl, but you can still look fierce this Christmas! Why not opt for a sequinned jumpsuit or a sparkly top with skinny jeans and heeled boots? Depending on what your Christmas party involves (sporting activities?) this might be a more practical option, too.
When do Christmas party dresses come out?
Retailers usually launch their Christmas and event lines in early or mid-November. Because November and December are such busy times of the year for events, people start looking for the perfect outfit from as early as the beginning of November.
Browse our top fashion deals and discounts
Popular Reads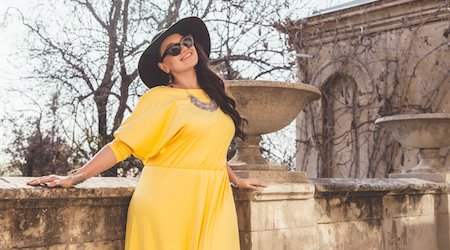 Find out where to shop online for the best plus-size clothing from our fave retailers, at great prices.
Read more…
Was this content helpful to you?
Thank you for your feedback!
Georgia-Rose was a publisher at Finder.com and specialised in shopping and travel. She previously worked in retail and tourism and travelled extensively on a budget.
More guides on Finder