GBP 2,500
Min. Transfer Amount
No limit
Max. Transfer Amount
Details
Product Name
Central FX International Money Transfers
Min. Transfer Amount
GBP 2,500
Max. Transfer Amount
No limit
Transfer Methods
Online, Phone, Bank Account to Bank Account
Transfer Options
Regular payments, One off payments, Market orders, Forward contracts
Transfer Speed

Minimum transfer time

Same day
Customer Service
Phone, Chat, Email, Branch
Available Currencies
AED, AUD, BBD, BGN, BHD, BRL, BWP, CAD, CHF, CNY, CZK, DKK, EUR, GBP, GHS, GMD, HKD, HNL, HRK, HUF, IDR, ILS, JOD, JPY, KES, KWD, KYD, LSL, MAD, MUR, MXN, NOK, NZD, OMR, QAR, RON, RSD, RUB, SAR, SEK, SGD, SZL, THB, TND, TRY, UGX, USD, ZAR, ZMW
| | |
| --- | --- |
| Online Transfer Fee | $0 |
| Branch Transfer Fee | $0 |
| Phone Transfer Fee | $0 |
Central FX exchange rates and fees
Rather than charging any fees, Central FX adds a margin to the mid-market exchange rate. This means its exchange rate won't be as good as the ones you can see on Google or websites like XE.
Central FX's margin generally ranges between 0.3% and 1.5% per transfer. The more money you send, the lower the margin will be.
Use our table below to see real-time exchange rates and fees from Central FX.
Disclaimer: Exchange rates change often. Confirm the total cost with the provider before transferring money.
Available currencies
Central FX sends money to more than 80 countries worldwide, although the transfer types vary depending on the country. You can check out the full list of currencies here, but some of the more popular ones that Central FX lets you send to are:
AUD Australian dollar
ZAR South African rand
SGD Singapore dollar
INR Indian rupee
NZD New Zealand dollar
CHF Swiss franc
What types of transfers can you make with Central FX?
Central FX offers various types of transfers to help you get the most out of your transaction:
Spot contracts. Make a one-time transfer at the time of payment. The transaction can be settled either on the day of the trade or over the coming days depending on your requirements.
Regular transfers. Set up automated payments online or over the phone.
Market order. Set a target exchange rate, and if it's reached overnight in either New York or Hong Kong trading, the money transfer is carried out.
Forward contracts. Lock in today's exchange rate and schedule a transfer now for up to 12 months (or in some cases even longer).
What payment methods does Central FX accept?
From the UK you can transfer money online using the secure online portal, over the phone with an adviser and from bank account to bank account.
Central FX has a minimum transfer amount of £2,500 and no maximum transfer amount.
Is Central FX safe to use?
Security: All clients' funds are held separately from the company's own.
Regulation: Central FX is regulated and authorised by the Financial Conduct Authority.
Established: December 2009.
Reviews: Rated "Excellent" from around 36 reviews*.
*According to Central FX and Trustpilot on 1 January 2020.
How does Central FX make money?
Central FX makes its money through the exchange rate margin, meaning that it adds on a small margin to the interbank rate to cover its own costs. You may have noticed that the exchange rate you see on Google or XE is different to the one being quoted to you, and this margin is the reason why.
Exchange rate margins vary from company to company. Central FX's margin generally ranges between 0.3% and 1.5% per transfer, depending on market volatility and the specific currencies you're buying or selling.
How to register an account
How do I make an international money transfer?
Once you're set up it's simple to transfer money. The easiest way to do this is online using the secure trading platform. You can also do it from bank account to bank account, or if you prefer, you can arrange it over the phone with a member of the private client team.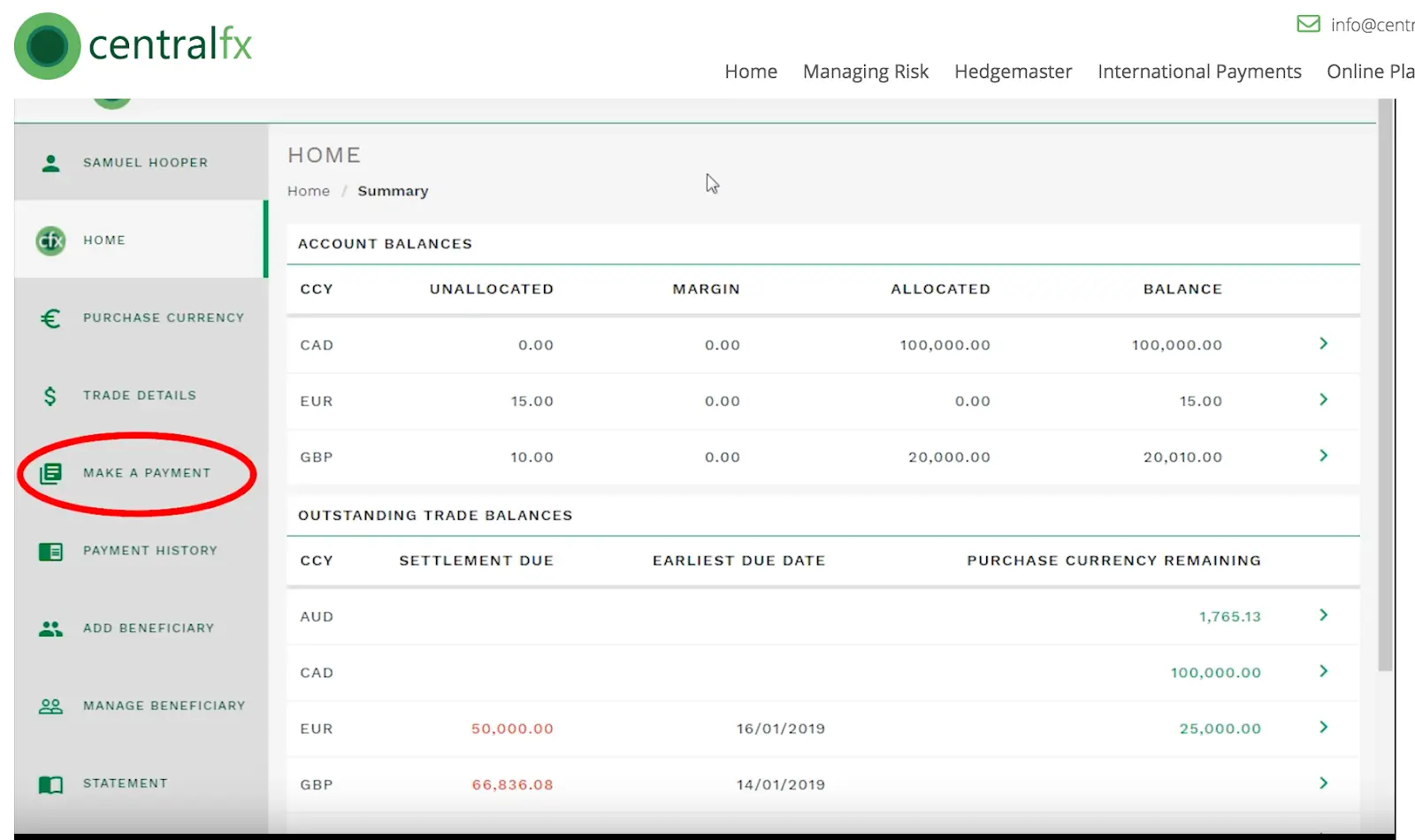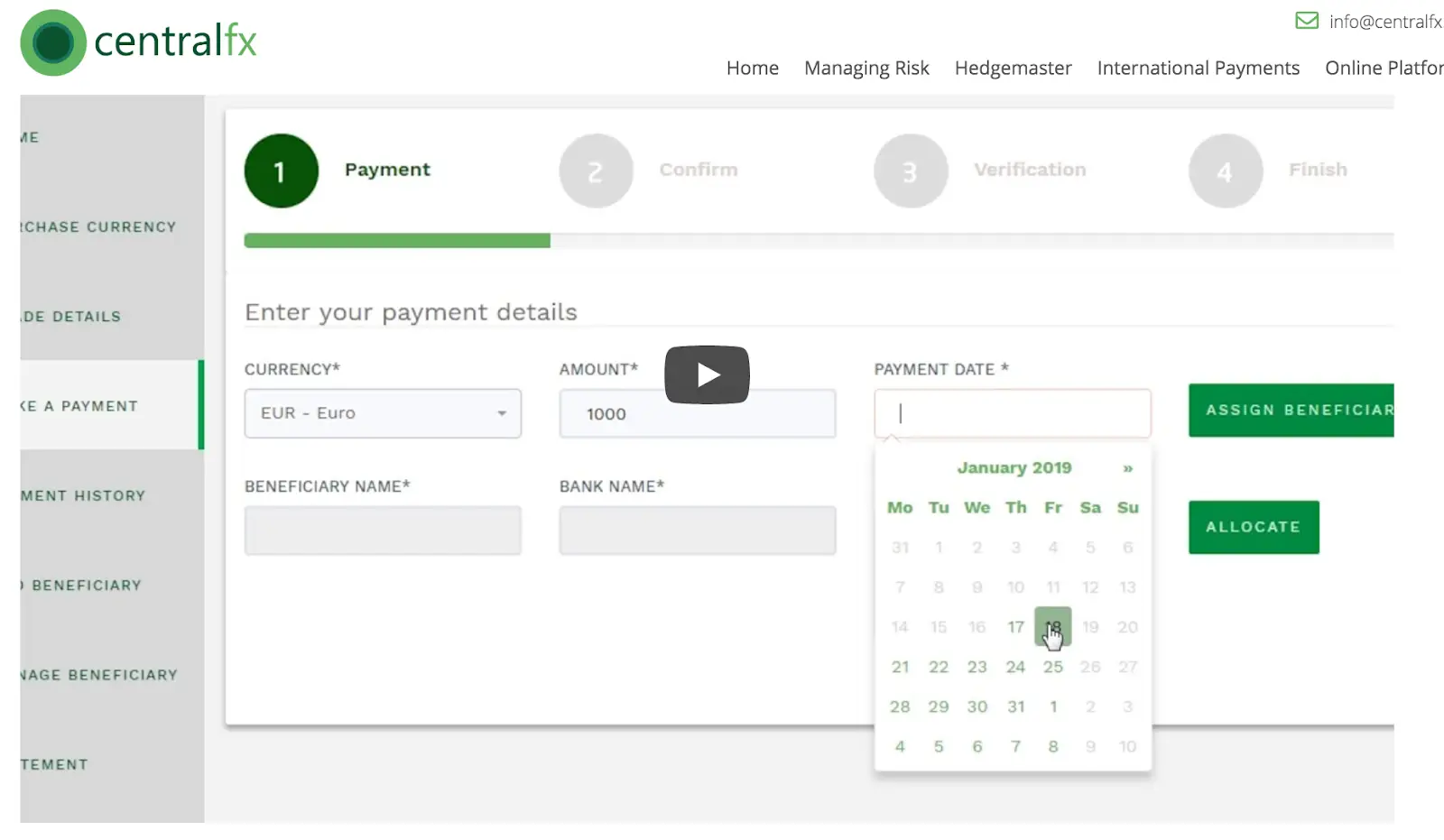 What is Central FX?
Central FX was set up more than 10 years ago in the heart of London's financial district. It prides itself on managing currency risk, securing the best rates to buy and sell, and its bespoke client services.
Its account managers say that they prefer to meet people face-to-face rather than over the screen, but you can also easily arrange transfers online and instantly track them using its secure online trading platform.
In a nutshell
Pros
Make and track payments 24/7 through online trading platform
Immediate access to more than 50 live FX rates
Make multiple international payments in one go
Extra security of funds through ring-fencing
Live chat
One-to-one support from the private client team
No fees
Cons
Not great if you only want to transfer a small amount
Can't transfer via a branch
Can only transfer to a bank account
How does Central FX compare to other services?
Table: sorted by a combination of service offering and the amount your recipient will receive
The table below shows the fees and exchange rates you can expect from other money transfer specialists. Compare Central FX to the other providers below to see if it's the best option for you.
Disclaimer: Exchange rates change often. Confirm the total cost with the provider before transferring money.
Frequently asked questions