Mattress buying has been turned upside down since the arrival of "bed in a box" online mattress retailers. Not only have these brands given us greater choice, we also have the invaluable opportunity of a decent trial period to ensure that a perfect night's sleep has been achieved. If you want to get in on the action, Finder can help!
We've got the lowdown on what makes each mattress different and compared offerings from two of the top online mattress stores in the UK: Casper and Emma.
Compare Casper vs Emma: Key features
| | Casper | Emma |
| --- | --- | --- |
| Trial period | 100 nights | 100 nights |
| Warranty | 10 years | 10 years |
| Shipping cost | Free | Free |
| Shipping time | 1–2 days | 1–2 days |
| What's it made of? | Springs and foam | Foam |
| Where's it made? | UK | UK |
| Returns? | Free | Free |
| Financing available? | No | Yes |
| Sizes | Single, small double, double, king, super king and EU sizes | Single, small double, double, king, super king |
| Washable cover | Yes | Yes |
| Cost of UK double | £800 | £649 |
Overview of Casper
Casper launched its fast-growing, global company in 2014 with a mattress which has won multiple awards for innovation and design. Casper boasts a widely acclaimed sleep surface, sleek design and ease of delivery.
Casper's newer hybrid mattress is made from three layers of foam with the addition of springs. There's a breathable open cell foam, a high-density memory foam layer to support pressure points and a deep comfort adaptive transition foam layer to allow for even weight distribution and motion isolation, as well as the springs that give it a touch of luxury and bounce. It all comes wrapped in a zip-off easy-clean knit cover.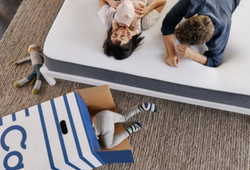 Overview of Emma
Emma was founded in Germany in 2015 and has made great strides since then, winning many awards for its signature Emma Original mattress.
The mattress is made up of three foam layers that work together to make one harmonious mattress. There's a base polyfoam layer and a top Airgocell foam layer sandwiched between a middle memory foam layer. The Emma mattress has been designed to be both supportive and pressure-relieving for the perfect night's sleep. It has also been created to be breathable, keeping you cool throughout the night.
The Emma Original washable elastic cover also has four handles, making it easy to manoeuvre into place so you won't have to struggle.
Material comparison: Hybrid vs foam
One of the key differences between the Casper and Emma mattresses is the material they are made of. Although Casper has an original mattress made up of different layers of foam, just like the Emma mattress, Casper now also has a hybrid mattress, created from a combination of springs and foam. Check out the pros and cons of each type below:
Hybrid (Casper)
Springs adjust individually for motion isolation and allow extra airflow to keep you cool as you sleep
Casper's has five spring zones with firmer support around the hip area and gentler support around the shoulders
Expect to pay more for Casper's hybrid
Hybrid mattresses can be heavier and harder to move than pure foam
Memory foam (Emma)
Emma uses a breathable Airgocell foam layer to absorb moisture and keep you cooler
Memory foam contours to each individual's body
Pure foam can be hotter than hybrid to sleep on
Pure foam has less bounce than hybrid
Trial periods and returns
Both Casper and Emma offer a 100-night trial period so if you don't absolutely love your mattress after 100 nights you have the option of returning it. You'll also get a full refund. Both companies also helpfully offer free returns so you don't have to worry about being out of pocket on that front, either. Peace of mind all round.
Other items
Casper
Casper offers a mattress for pets, too! Alongside the original, essential and hybrid mattresses and pet beds, Casper also sells Casper pillows, cotton sheets, mattress protectors, bed frames and night lights.
Emma
As well as the Emma Original mattress, Emma also sells pillows. Shipping and returns on these standard size pillows are also free.
Available sizes
Looking to fit your new mattress on to an existing bed frame? Then the size that each mattress is available in could have a big impact on your decision. If you need more info about mattress sizes you can check out our mattress size guide.
| | UK sizes | EU sizes | Kids' sizes |
| --- | --- | --- | --- |
| Casper | Single, small double, double, king, super king | Single, double, king | – |
| Emma | Single, small double, double, king, super king | – | – |
Online reviews
As online retailers without showrooms, both Casper and Emma exclusively rely on online reviews. Both companies advertise reviews made directly on their websites and show a star rating relating to the products and the quality of customer service.
The bottom line
Overall, the mattresses offered by Casper and Emma are relatively similar. The companies offer the same free trial period, free returns, 10-year guarantee, free delivery and UK-manufactured items. The main difference between them is that the Emma Original mattress is purely foam, whereas Casper's new mattress is a hybrid. You'll pay more for this but Casper does still offer an all-foam mattress if that's what you're after. Smaller differences include Emma's 0% finance payment option as well as its slightly lower price while Casper offers a range of EU size mattresses.
Popular Reads