MasterQuote car insurance review
Get the lowdown on the car insurance through MasterQuote to see if it delivers on this broker's promise.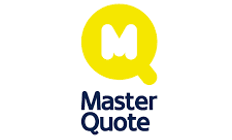 We've checked out MasterQuote to analyse the policies it says give quality cover at competitive rates. Here's what you need to know about this insurance broker.
Save over £200*
Compare up to 95 UK car insurance providers
Get instant quotes and instant cover
Switch with minimal effort
Who is MasterQuote?
Since being established in 1998, MasterQuote has been arranging car insurance from its panel of insurers. As well as covering cars, this broker also provides van and home insurance.
MasterQuote is a trading name of Insurance Factory Ltd, which is part of the Markerstudy Group of companies.
What are MasterQuote's levels of cover?
MasterQuote's Third Party cover
Third party cover is the minimum level of cover that is offered by MasterQuote. To be on UK roads, all drivers are legally required to have at least this level of car insurance. If you are responsible for causing an accident, you'll be protected for damage to third party vehicles or property. You won't be protected for any damage to your own car.
Don't assume this is the cheapest option because it offers the least protection. Sometimes, this cover may work out more expensive than comprehensive. Check each cover level to see which offers the best value for you.
MasterQuote's Third Party, Fire and Theft cover
You'll get the same level of cover as third party but this will also provide protection against any fire damage or theft of your car.
MasterQuote's Comprehensive cover
This is the greatest level of cover on offer and will provide the same protection as the other levels as well as insuring your vehicle against accidental damage and vandalism.
It's always worth getting a quote for comprehensive cover, as in some cases, it can be cheaper than lower levels of cover due to the risk profile of customers who choose them.
Optional extras
MasterQuote offers extras including:
UK breakdown cover
European breakdown cover
Personal accident cover
Legal cover
Car hire
Key cover
---
What is covered under my policy through MasterQuote?
The specific benefits to your insurance policy will vary depending on the level of cover you choose and the insurer that is able to provide the cover through MasterQuote.
Check your policy details carefully to ensure you have the right cover for your needs.
General exclusions
Any cover arranged through MasterQuote is likely to become invalid if any of the following arises:
Your car is being driven by an unnamed driver on your policy or by a person that does not have a valid driving licence.
Your car is used for rallies, races or competitions.
You fail to pay for your premium.
You are paid to carry passengers.
You change your car during the policy term to a car that the insurer cannot cover.
You do not provide the correct documents to support your application.
Check your policy document for further details to confirm your cover is valid.
How to save on your car insurance policy through MasterQuote
Check comprehensive. Contrary to what you might think, comprehensive cover can often be cheaper than third party, fire and theft so it's always worth checking. This is because of the risk profile of many drivers who choose third party or third party, fire and theft.
Park securely. Cars kept in a garage or on a secure driveway are usually cheaper to insure.
Reduce mileage. If you start working part-time or your long commute becomes much shorter, letting your insurer know about a reduction in your mileage could result in cheaper insurance.
Increase the excess. Agreeing to pay a bigger voluntary excess could make your overall premium cheaper. But remember that your insurer won't pay out for a claim that costs less than your excess. So be careful about making it too high, as it could leave you out of pocket if damage occurs.
Pick a smaller car. Choosing to drive a small and safe car is likely to lower your premium.
What is my excess?
Your insurance excess is the amount of money you have to pay towards a claim. Your insurer won't pay out for a claim that costs less than this amount.
A voluntary excess is usually an amount that can be set by you when taking out a policy. You'll have the option of adding or increasing a voluntary excess, which could in turn reduce your premium.
Meanwhile, a compulsory excess amount might vary depending on the age of your car and your driving experience.
You'll find details about any compulsory or voluntary excesses in your policy document.
What is the claims process for MasterQuote?
You should call the MasterQuote claims helpline on 02394 003 198 to report a claim. This is a 24-hour claims line open seven days a week.
You'll need to have your vehicle registration and insurance policy numbers, as well as all details relating to the incident.
MasterQuote recommends that you make a note of the following:
Vehicle registration numbers for all vehicles involved in the incident
Details about the incident
Addresses and contact details of everyone involved in the incident, including third parties, passengers and witnesses
All damage sustained to third party property and injuries sustained
It's important that you let your insurer know about an incident as soon as possible, even if it's not your fault. A delay in reporting an incident or failure to report it could result in a rejected claim later on.
Frequently asked questions
---
The offers compared on this page are chosen from a range of products we can track; we don't cover every product on the market...yet. Unless we've indicated otherwise, products are shown in no particular order or ranking. The terms "best", "top", "cheap" (and variations), aren't product ratings, although we always explain what's great about a product when we highlight it; this is
subject to our terms of use
. When making a big financial decision, it's wise to consider getting independent financial advice, and always consider your own financial circumstances when comparing products so you get what's right for you.
*51% of consumers could save £264.64 on their car insurance. The saving was calculated by comparing the cheapest price found with the average of the next four cheapest prices quoted by insurance providers on Seopa Ltd's insurance comparison website (based on representative cost savings data for November 2019). The savings you could achieve are dependent on your individual circumstances.
Read more on this topic