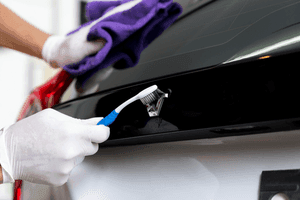 Fix damage with household objects
We've all tried to fix car damage with whatever happened to be lying around. But it turns out, some of them actually work well.
Clear cloudy headlights. Toothpaste isn't only for bad breath. Simply buff it onto your headlights using a soft cloth and let it sit for a few minutes. Polish it off with a damp cloth and your headlights will shine.
Fix small dents. Suck some kinds of dents out of your car with a toilet plunger. Pour hot water on the dent, and use a clean toilet plunger to push and pull until the dent pops out.
Protect your paint job. Clear nail polish on shallow scratches can help protect your car from further chipping and rusting. It also temporarily fixes chips in glass.
Add garage bumpers. A pool noodle can become a decent shock absorber. Fasten one onto each side of your garage to prevent hitting or bumping your car door.