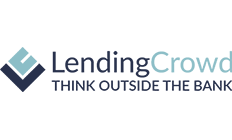 LendingCrowd business loans
An innovative peer-to-peer solution where investors bid in an auction to finance your loan at a competitive rate.
LendingCrowd is a peer-to-peer (P2P) platform that matches small- to medium-sized enterprises (SMEs) in need of affordable finance with private investors who want a competitive return on their money.
The LendingCrowd platform, launched in 2014, aims to get you the most competitive rate on a business loan of £5,000 to £500,000 by connecting you with private lenders who are looking to invest in SMEs.
Peer-to-peer investors are asked to bid on your loan target in an auction, with the most competitive bid winning. Once you've accepted the loan and completed the paperwork, you can expect the money in your account on the same day.
Key features of a LendingCrowd business loan
Borrow £5,000 to £500,000. Choose a loan target that matches your business requirements and performance.
Repay over 6 months to 5 years. Choose a repayment term that is affordable for your business.
Fast payment. Once your loan has been funded and you have completed all the paperwork, you should have the money in your account on the same day.
Competitive rates. Your loan is put to auction, where lenders compete to fund it. The more bids you get, the better your interest rate.
Simple fees. You pay LendingCrowd a percentage of your loan amount, based on how much you borrow and how long for.
No early repayment penalty. LendingCrowd will not charge you for repaying your loan early. This is advised if you can afford to do so as it will save you money in interest.
The interest rate you're offered will depend on how many peer-to-peer lenders bid on your loan. Always check the total amount payable before you agree to a loan.
How does it work?
Complete the simple online application, which should take around 15 minutes.
Your application is assessed on an individual basis by LendingCrowd and you can expect a response within 24 hours.
Once approved, LendingCrowd sets a minimum rate, which is dependent on your credit record, then puts your loan out to auction.
Investors place bids to fill your loan target and only the lowest interest rates are accepted.
Ensure you've read and fully understood the loan terms. Once you have completed the paperwork and the loan has been funded by the lender, the money could be in your account the same working day.
Am I eligible for a LendingCrowd business loan?
You should only apply for a LendingCrowd business loan if you're certain you can meet the repayment terms. You must also:
Be aged 18 or over
Be based in the UK
Have been trading for at least two years
Have an annual turnover of at least £100,000
How do I apply?
You'll need the following information at hand to complete the loan application on the LendingCrowd website:
Names, addresses and telephone numbers for the business and all directors
VAT registration number, if registered
Type and ownership of the business
Number of years trading
Number of employees
New loan details – purpose, amount and term
Details of any outstanding loans, overdrafts or other credit
Details of your business bank account – sort code and account number
Get tailored loan quotes from Love Finance
Save time by checking eligibility with multiple lenders and get quotes.
Frequently asked questions
We show offers we can track - that's not every product on the market...yet. Unless we've said otherwise, products are in no particular order. The terms "best", "top", "cheap" (and variations of these) aren't ratings, though we always explain what's great about a product when we highlight it. This is subject to our
terms of use
. When you make major financial decisions, consider getting independent financial advice. Always consider your own circumstances when you compare products so you get what's right for you.