Compare Vivaciti Business Broadband Deals September 2020
See how Vivaciti compare to other business broadband providers.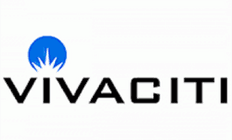 Vivaciti provides business internet connectivity using broadband, fibre and leased line services. They also offer VoIP (Voice over Internet Protocol) services, line rental and free web hosting with their broadband.
Whats included in Vivaciti tariffs
Static IP Address. Vivaciti fibre option comes with a static IP address.
Free web hosting. Get cPanel 'the worlds most familiar web management interface'.
Using its tools your business can manage website files, databases, email accounts, SSL security certifications and much more.
Email management. Using cPanel you business can manage the ways in which your server handles email.
Data transfer. cPanel allows you to access and transfer files with ease. Simply use its online webdiskspace.
What is a 'static IP'?
Each device connected to the internet has an "Internet Protocol" address. These are normally "dynamic", meaning they change over time, or with each connection to a network. A static IP address is always the same, and allows you to access more advanced internet features, such as running a server, hosting a website or setting up a Virtual Private Network (VPN) so your employees can access your server remotely.
Most business broadband plans come with one or more static IPs, and you can generally pay extra to add more to your deal.
What broadband packages does Vivaciti offer?
Vivaciti offer a variety of packages all of which come with unlimited internet use to ensure your businesses browsing, downloading and uploading is not restricted. Each of their contracts are available on between a 1-24 month contract.
Business Allowance. Pick from a broad range of ADSL monthly internet usage allowances. Plus benefit from unlimited off peak usage from 8pm to 8am. If you need more data simply top up.
Business Broadband Unlimited. Get totally unlimited internet usage and benefit from low average latency and stable bandwidth. You'll have a maximum speed of 24mbps and maximum upload speed of 1.3mpbs. A suitable option for general high demand use including VOIP and VPN.
Fibre Unlimited 80/20. Get yourself unlimited usage, low latency, a static IP address plus up to 80mbps of downstream and 20mbps of upstream.
What extra add-ons can I buy?
Vivaciti offers extra add on's to its web hosting platform cPanel. There are four options to choose from, Bronze, Silver, Gold and Platinum.
Pros and cons of Vivaciti
Variety. Vivaciti offer a wide variety of packages for your business to choose from.
Web hosting. Free web hosting platform cPanel is an useful bonus of choosing a tariff with Vivaciti.
No international call packages. If your business is calling abroad regularly it might be worth finding a provider that has international call add ons.
Limited add on's. Vivaciti have less add on's available than other major providers such as BT.
Read more on this topic