Compare Onebill's Business Broadband Deals September 2020
Onebill's business broadband packages are a simple and cheap alternative to other providers.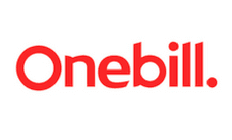 Onebill offer a range of 6 relatively cheap and cheerful broadband packages, including standard ADSL, fibre and super fibre. All of their packages come with unlimited broadband usage with the option to choose either a PAYG or unlimited call tariff. Learn more about their tariffs and see how they compare to other providers below.
Whats included in Onebill's tariffs
Free wireless router.
Free installation and set up.
Award-winning customer service.
Cheap call rates or free unlimited calls.
What is a 'static IP'?
Each device connected to the internet has an "Internet Protocol" address. These are normally "dynamic", meaning they change over time, or with each connection to a network. A static IP address is always the same, and allows you to access more advanced internet features, such as running a server, hosting a website or setting up a Virtual Private Network (VPN) so your employees can access your server remotely.
Most business broadband plans come with one or more static IPs, and you can generally pay extra to add more to your deal.
What broadband packages does Onebill offer?
Onebill offer a variety of packages all of which come with unlimited internet use to ensure your businesses browsing, downloading and uploading is not restricted. They offer 3 broadband speeds from their cheapest standard ADSL broadband, to their popular Fibre 40, and finally their Fibre 80 for even faster internet use. For each of these packages you can either decide to choose PAYG line rental or an unlimited local, national and mobile deal.
Broadband. Described as simple but brilliant this deal comes with low cost PAYG calls plus broadband at no extra cost. Calls to local/national lines cost 2p and to mobiles 9.95p marking a huge saving compared to BT business rates.
Broadband Call Max. This package simply adds on free unlimited UK landline and UK mobile calls to the standard tariff, removing all restrictions from your business national call usage.
Fibre 40. Described as having brilliant quality, speed and reliability Fibre 40 provides downloads speeds twice as fast as the UK average and uploads speeds 10x faster than Onebill's standard broadband tariff.
Fibre 40 Call Max. A package without limits, enjoy super fast fibre 40 broadband plus unlimited UK landline and UK mobile calls
Fibre 80. This is Onebill's fastest tariff. As with their Fibre 40 it comes with their super router free.
Fibre 80 Call Max. Super fast fibre and unlimited calls. This is Onebill's most premium tariff offering your business the complete package.
What extra add-ons can I buy?
Focusing on providing your business the cheapest price, Onebill don't offer any extra add on's such as online protection software.
Pros and cons
Cheap broadband. Onebill's biggest selling point is its broadband packages are pretty cheap.
Cheap calls. According to their website Onebill's local/national calls are cheaper than other providers.
No extras. Other than their cheap broadband and call packages Onebill don't offer all the extras you get with larger providers such as BT.
No international calls. Although they do have cheap national call packages Onebill don't offer any international call packages.
Price jumps. As with most providers Onebill's tariff prices jump up significantly once your initial contract ends.
Read more on this topic