The best rowing machine for your home gym
Stay warm and dry and row yourself to fitness without even leaving your house!
Rowing is a great way to lose weight and build muscle, while also taking it easy on your joints and back.
Yet, with so much choice out there, it may seem difficult to work out which type of rowing machine you should get.
Resistance is a key thing to consider. Cheaper machines tend to have hydraulic resistance, while higher quality rowing machines will usually have air or magnetic resistance systems.
Going even higher end, water resistance machines are typically the most expensive, as they're designed to mimic the experience of being out on the water.
Whatever you're after, and whether you're a rookie rower or seasoned pro, we've picked out five of the best indoor rowing machines on the market at the moment.
Compare home rowing machines
| Model name | Best for | Brand | Estimated price | Where to buy |
| --- | --- | --- | --- | --- |
| Concept2 Model D Indoor Rower with PM5 Monitor | Bang for your buck | Concept2 | £849.99 | |
| JLL R200 Luxury Home Rowing Machine | Durable mid-range option | JLL | £199 | |
| Opti Gym and Elastic Cord Rowing Machine with DVD | Limited space at home | Opti | £109.99 | |
| FluidRower Apollo Pro II Commercial Fluid Rower | High-end water rower | FluidRower | £995 | |
| Opti Manual Rowing Machine | Budget friendly option | Opti | £80 | |
Best home rowing machines
Whether you're setting sail on your fitness journey, or you've been on the open seas for a while, here's a detailed look at four of our favourite rowing machines.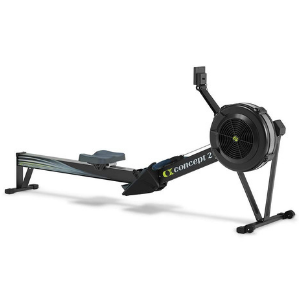 Concept2 Model D Indoor Rower with PM5 Monitor
Billed as the best-selling indoor rowing machine in the world, this quality rower ticks all the boxes.
Concept2 rowers are consistently great value for money, and a go-to rowing machine for many big-name gyms. Its flywheel design minimises noise and provides a smooth rowing experience. You can see how you're performing too, as the PM5 monitor shows you key data, such as distance or time and splits. For anyone with limited living space, this rower from Concept2 easily separates into two pieces for storage.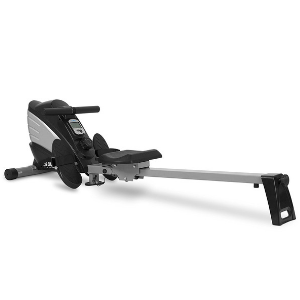 JLL R200 Luxury Home Rowing Machine
This is one of the best mid-range rowers out there.
This machine is a sturdy and robust rower that doesn't break the bank. With 10 magnetic resistance levels, this machine is ideal for beginners or intermediate users alike. What's more, it's smooth, quiet and folds away. So this machine is ideal for anyone looking for a serious rowing machine that doesn't take up the whole living room.
Perks:
10 resistance levels
Magnetic resistance
LCD screen shows workout stats
Where to buy: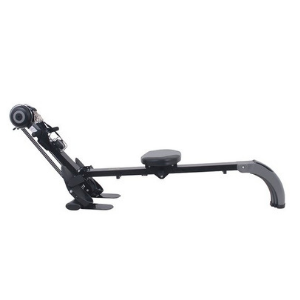 Opti Gym and Elastic Cord Rowing Machine with DVD
Save space and money with this impressive rowing machine.
This manual rower is well suited to beginners looking for a solid and affordable machine. Live in a small flat? Never fear. This rowing machine folds away and can be stored easily, with transportation wheels making your life a bit easier. You can monitor your time, count, total count and calories too.
Perks:
Elastic cord resistance system
Folds for storage
Workout data on screen
Where to buy: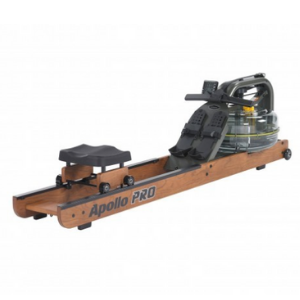 FluidRower Apollo Pro II Commercial Fluid Rower
Feel like you're out on the water with this high-powered water rower.
First things first, this rower looks the part. Made from American ash and wrapped around a steel casing, it's a stylish and incredibly durable rower. As a commercial grade machine, it acts the part too. With adjustable resistance levels and twin tank technology, you can push yourself to the limit and feel like you're on the water while you're at it.
Perks:
Water resistance rower
Four resistance levels
Smooth and quiet
Frequently asked questions
Want to stay in shape without ruining your budget? Check out our top fitness and wellbeing discount codes and deals!
Popular Reads