The 10 best performing investment trusts over the past five years
Here are the best performing investment trusts, plus some others to take a look at.
Best performing investment trusts
Let's just cut to the chase. You want returns that beat the market, here's some funds that have done exactly that. These are the 10 best performing investment funds (by NAV) in the UK since 2015, according to Citywire:
| Trust | 5-year return (27/9/15 – 27/9/20) |
| --- | --- |
| 1. Finsbury Growth & Income Trust Plc | 66.3% |
| 2. Dunedin Income Growth Investment Trust PLC | 40.8% |
| 3. Murray Income Trust Plc | 36.2% |
| 4. Troy Income & Growth Trust | 26.1% |
| 5. Shires Income plc | 25.9% |
| 6. Law Debenture Corporation | 25.2% |
| 7. BMO Capital and Income Investment Trust Plc | 18.6% |
| 8. Diverse Income Trust | 17.4% |
| 9. Schroder Income Growth Fund plc | 15.6% |
| 10. BMO UK High Income Plc (Class A Ordinary) | 15.2% |
Open an account and invest in investment trusts
Best investment trusts by income
Maybe you're not just after growth, maybe you want your investments to generate some income.
Investment trusts mainly generate income through stock dividends and interest, so investors looking for the best investment trusts for income will need to look at the yield and dividend growth when considering which trust to invest in.
Many investment trusts will also retain a small percentage of the income earned each year to build up a "rainy day fund". This money can then be used to help smooth out payments in years where the trust performs poorly.
As a result of the coronavirus pandemic, many companies have halted or delayed dividend payments in 2020, which means investment trust income may be lower than usual.
According to the Association of Investment Companies (The AIC), some of the best investment trusts for generating income historically have been:
Best income generating investment trusts
1. City of London
2. JPMorgan Claverhouse
3. Murray Income
4. Scottish American
5. Merchants Trust
6. Temple Bar
7. Value & Income
8. F&C Capital & Income
9. British & American
10. Schroder Income Growth
The most popular investment trusts in 2020
According to interactive investor, these were 10 of the most popular investment trusts in the UK in 2020:
| Trust | Sector | 3-year return (2017-2020) |
| --- | --- | --- |
| 1. Scottish Mortgage | Global | 80.5% |
| 2. Polar Capital Technology | Tech and media | 87.3% |
| 3. City of London | UK equity income | -7.3% |
| 4. Alliance Trust | Global | 13.1% |
| 5. Allianz Technology Trust | Tech and media | 100% |
| 6. Finsbury Growth & Income | UK equity income | 17.8% |
| 7. Worldwide Healthcare trust | Biotech and healthcare | 45.5% |
| 8. Smithson | Global – small companies | – |
| 9. Hammerson (REIT) | Unclassified | -89% |
| 10. F&C Investment Trust | Global | 20.3% |
Best real estate investment trusts (REITs) to invest in
Real estate investment trusts, or REITs, are a type of trust company that invests in income-producing real estate. To qualify as an REIT in the UK, at least 75% of a trust's profits and assets must be from property.
Like normal investment trusts, REITs allow investors to pool their money and buy assets that would normally be out of their price range. Most investors won't have the capital or expertise to invest in commercial or rental property, and REITs provide a low-cost way to access this market.
There are more than 50 REITs on the London Stock Exchange, and some of the top REITs in the UK include:
The Unite Group plc (UTG)
British Land Company plc (BLND)
LondonMetric Property plc (LMP)
If you're interested in learning more, we have a whole investing in property guide which you may like.
Where to buy shares in investment trusts
Table: sorted by promoted deals first
All investing should be regarded as longer term. The value of your investments can go up and down, and you may get back less than you invest. Past performance is no guarantee of future results. If you're not sure which investments are right for you, please seek out a financial adviser. Capital at risk.
Wait, what is an investment trust?
Investment trusts are a type of investment fund that allows investors to pool their money together and invest in a range of assets through the one investment. The pooled money is then given to a professional fund manager who invests it on behalf of the trust's investors.
Imagine if you and a group of friends all pooled your money into a single trading account, and then appointed one of you to manage how the money is invested. In very simplistic terms, that is how an investment trust works.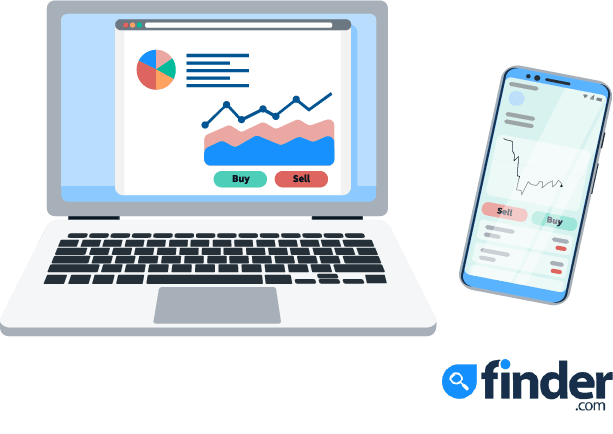 Two in three people (67%) in our poll were planning to buy stocks and shares
Finder survey of 2,000 people, May 2020
How do investment trusts work?
In the UK, investment trusts are run as companies and listed on the London Stock Exchange, with a board of directors and annual reports. When you invest in a trust, you're actually becoming a shareholder in the trust company.
As a shareholder, you'll generally be entitled to a percentage of the income generated by the trust's investments, such as dividends and interest. However, there's no guarantee of income, and investment trusts can actually keep up to 15% of the annual income in a given year, which can then be used to smooth out income payments in years when the trust underperforms.
You can also sell your shares in the trust on the stock market, which, like any other stock, can go up and down in price.
Investment trust
Also known as a "closed-end" fund, this type of trust has a fixed number of shares, which means the amount of money in the trust also stays constant. This gives the fund manager more stability and control over how they invest the trust's money.
Unit trust
Also called "open-ended" funds, a unit trust can issue or redeem additional shares at any time, such as to meet increased demand. While it means the trust can have additional money to invest, it can also create issues if too many investors want to sell out of the trust.
Investment trust vs investment fund
The main difference between investment trusts and funds is that trusts are closed-ended, whereas investment funds are open-ended. Unlike investment trusts, funds are not traded on the stock market, and investors instead buy a share of the fund directly from the fund manager.
However, this means that if lots of investors want to sell out of the fund, the fund manager may need to sell some of the fund's assets to cover the cost of the investors that are leaving.
In comparison, investment trust shares are bought and sold on the stock market, which means the fund manager is free to concentrate on maximising the long-term returns of the trust.
Net asset value (NAV) explained
The net asset value (NAV) is the total value of the trust's assets, and is generally measured in pence per share. For example, if a trust has £1 million worth of assets, and 10 million shares, its NAV would be 10p.
However, as trusts are traded on the stock market and therefore subject to supply and demand, the price of its shares will not necessarily match the total value of its assets. In fact, it's often the case that a trust's NAV will be higher than the total value of its shares.
An investment trust is said to be trading at a discount if the share price is below the NAV, or trading at a premium if it's above the NAV.
In theory, buying shares in a trust when it's below its NAV would mean you're getting a great deal. However, this is not always the case, and there's no guarantee that the share price will rise to match the NAV.
Advantages of an investment trust
Potentially lower costs. Trust fund managers don't have to account for investor turnover in the same way an open-ended fund would, so they're potentially able to keep the trading costs lower, and can also take a longer-term view on the portfolio. However, as a trust is technically a company you need to buy shares in, you'll still likely need to pay a commission when you purchase shares in a trust, which can be as high as £12 each trade.
Diversification. One of the key advantages of an investment trust is that it can give you exposure to a wider range of assets (and therefore diversify your portfolio) without you having to invest in each individually.
Hands-off investing. By purchasing shares in a trust, you're effectively giving a professional fund manager the permission to invest on your behalf. This saves you having to actively research and manage your own investments, and also means you can avoid costly trading fees.
Things to remember when picking investment trusts
Track record. How has the trust performed historically? Does it offer a decent income stream?
NAV. Is the trust currently trading at a discount or premium compared to its NAV? If a trust is trading well above or below its NAV, it's important to determine why this may be the case before investing.
Cost. What is the total cost for investing in the trust, including fund fees and trading fees for buying shares in the trust?
Frequently asked questions
This article offers general information about investing and the stock market, but should not be construed as personal investment advice. It has been provided without consideration of your personal circumstances or objectives. It should not be interpreted as an inducement, invitation or recommendation relating to any of the products listed or referred to. The value of investments can fall as well as rise, and you may get back less than you invested. Past performance is no guarantee of future results. If you're not sure which investments are right for you, please get financial advice. The author holds no positions in any share mentioned.
Investment trusts are a popular choice of investment for some. We've compiled some of the best ones, as well as the advantages of investment trusts, things you'll need to remember, the difference between investment trusts and investment funds and how they work.