investment
choice for investors all over the UK. We've compiled some of the best investment trusts available to give you some inspiration. We'll also dive into the advantages of investment trusts, how they work, the difference between trusts and funds and what the drawbacks are.
Best-performing investment trusts
Let's just cut to the chase. You want returns that beat the market. So, here are some funds that have done exactly that. Check out these 10 best-performing investment trusts (by NAV) in the UK since 2018, according to Citywire:
What is an investment trust?
Investment trusts are set up like a company. When a trust is created, funds are raised (a bit like a startup), creating a big pool of money. A certain number of shares are also created for the investment trust. The number of shares usually stays the same but can go through a stock split or reverse stock split (like regular stocks) if the shareholders decide it.
Investors like you then have the opportunity to buy or sell shares in investment trusts on stock exchanges, just like you would with any other company. The investment trust, however, operates like an actively managed investment fund that invests in other companies. Each trust will have a fund manager overseen by a board of directors to make sure the investment trust is being managed in the best way.
Investment trusts will all have individual goals and aims. Some will invest in property, others in private equity. Certain trusts will look for growth, and others will look for income. There are so many flavours of investment trusts to suit just about every type of investor.
Open an account and invest in investment trusts
Best income investment trusts
Maybe you're not just after growth. Maybe you want your investments to generate some income.
Investment trusts mainly generate income through stock dividends and interest, so investors looking for the best investment trusts for income will need to look at the yield and dividend growth when considering which trust to invest in.
Investment trusts can also retain a small percentage (up to 15%) of the income earned each year to build up a "rainy day fund". This money can then be used to help smooth out income payments in years when the trust performs poorly.
As a result of the coronavirus pandemic, many companies halted or delayed dividend payments in 2020, but some investment trusts continued to pay income because of money set aside.
The Association of Investment Companies (The AIC) has a list of "Dividend Heroes". These trusts have maintained or increased dividend payments over decades, and some of the best income investment trusts include:
The most popular investment trusts in 2023
According to interactive investor, these were 10 of the most popular investment trusts in the UK in 2023:
| Trust | 3-year return (to June 2023) |
| --- | --- |
| Scottish Mortgage | -9.2% |
| City of London | 35.8% |
| Fidelity European Trust | 46.7% |
| Greencoat UK Wind | 23.2% |
| F&C Investment Trust | 37% |
| BlackRock World Mining | 92.8% |
| 3i Group | 160.9% |
| Alliance Trust | 38.5% |
| Merchants Trust | 66.7% |
| JPMorgan Global Growth & Income | 54.1% |
Best real estate investment trusts (REITs) to invest in
Real estate investment trusts (REITs) are a type of trust that invests in income-producing real estate. To qualify as a REIT in the UK, at least 75% of a trust's profits and assets must be from property. The main benefit is that REITs must distribute at least 90% of rental profits back to shareholders.
Like normal investment trusts, REITs allow investors to pool their money and buy assets normally out of their price range. So you can become a property investor without becoming a landlord. This is super useful if you don't have the capital or expertise to invest in commercial or rental property. REITs provide a low-cost way to access property markets.
There are more than 50 REITs on the London Stock Exchange, and some of the top REITs in the UK include:
The Unite Group plc (UTG)
British Land Company plc (BLND)
LondonMetric Property plc (LMP)
If you're interested in learning more, we have a whole investing in property guide you may like.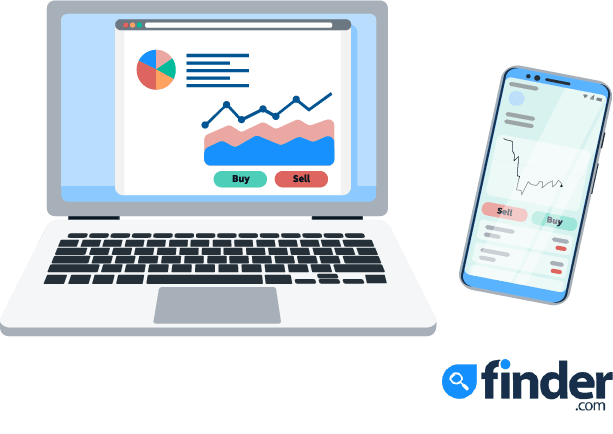 Two in three people (67%) in our poll were planning to buy stocks and shares
Finder survey of 2,000 people, May 2020
How does gearing work with investment trusts?
Gearing works similarly to using leverage when trading. It basically involves putting down a portion of capital for a trade but also borrowing funds.
Doing this allows the fund managers to make bigger investments and trades with a smaller amount of money. So if the expert team is correct, they can maximise the returns of the investment trust. And do so with a smaller sum of money than if they'd placed a standard trade.
However, this swings both ways. Gearing and using leverage also means that if the investment doesn't pay off, your losses can be magnified. The trust would lose more money than if it hadn't used gearing. So, it's a risk/reward payoff that needs to be considered.
How do investment trusts work?
In the UK, investment trusts are run as companies and listed on the London Stock Exchange, with a board of directors, annual reports and all that jazz. When you invest in a trust, you become a shareholder.
As a shareholder, you're generally entitled to a percentage of the income generated by the trust's investments, such as dividends and interest. However, there's no guarantee of income, and some investment trusts concentrate on growth without paying dividends.
The shares for an investment trust can be bought and sold on the stock market, which means the price of the shares can move up or down.
Investment trust
Also known as a "closed-end" fund, this type of trust has a fixed number of shares, which means the amount of money is also fixed. The shares can then appreciate or depreciate. This gives the fund manager more stability and control over how they invest the trust's money because they don't have to worry about selling investments if someone wants to withdraw money.
Unit trust
Also called "open-ended" funds, a unit trust can issue or redeem additional shares at any time, such as to meet increased demand. While it means the trust can have additional money to invest, it can also create issues if too many investors want to sell out of the trust because assets may have to be sold.
Investment trust vs investment fund
The main difference between investment trusts and funds is that trusts are closed-ended, whereas investment funds are open-ended. Unlike investment trusts, funds are not traded on the stock market. Instead, investors buy a share of the fund directly from the fund manager.
However, if lots of investors want to sell out of the fund, the fund manager may need to sell some of the fund's assets to cover the cost of the exiting investors.
In comparison, investment trust shares are bought and sold on the stock market, which means the fund manager is free to concentrate on maximising the long-term returns of the trust.
| The 10 most popular funds held by Hargreaves Lansdown ISA millionaires | Main country/regional exposures | 5-year cumulative performance |
| --- | --- | --- |
| Lindsell Train Global Equity | US, UK and Japan | 33.45% |
| Fundsmith Equity | US and European | 63.39% |
| Artemis Income | UK | 17.95% |
| Fidelity Special Situations | UK | 12.14% |
| BNY Mellon Global Income | US and European | 55.73% |
| Fidelity Global Special Situations | US, Japanese and European | 50.93% |
| Stewart Investors Asia Pacific Leaders Sustainability | Indian, Japanese and Australian | 35.92% |
| Lindsell Train UK Equity | UK | 27.44% |
| Rathbone Global Opportunities | US and European | 58.04% |
| IFSL Marlborough Multi Cap Income | UK | -5.79% |
Net asset value (NAV) explained
The net asset value (NAV) is the total value of the trust's assets and is generally measured in pence per share. For example, if a trust has £1 million worth of assets and 10 million shares, its NAV would be 10p.
However, as trusts are traded on the stock market and, therefore, subject to supply and demand, the price of its shares will not necessarily match the total value of its assets. A trust's NAV can be higher or lower than the total value of its shares.
An investment trust is said to be trading at a "discount" if the share price is below the NAV, or a "premium" if it's above the NAV.
In theory, buying shares in a trust when it's below its NAV would mean you're getting a great deal. However, this is not always the case, and there's no guarantee that the share price will rise to match the NAV.
Advantages of an investment trust
Potentially lower costs. Investment trusts can be an effective and efficient way to get an expertly managed portfolio of investments for a competitive fee.
Diversification. They can give you exposure to a wider range of assets (like property, private equity, commodities) and, therefore, diversify your portfolio.
Hands-off investing. By purchasing shares in a trust, you're effectively giving a professional fund manager permission to invest on your behalf. This saves you from having to actively research and manage your own investments and also means you can avoid costly trading fees.
Gearing and income retention. Gearing means managers can borrow money to maximise the trust's profits (but this can also maximise losses). The 15% income retention also allows some trusts to pay a steady income even if the portfolio performance is down.
What to consider when picking investment trusts
Track record. How has the trust been managed in the past, and what is the future outlook?
NAV. Is the trust currently trading at a discount or premium compared to its NAV? If a trust is trading well above or below its NAV, it's important to determine why this may be the case before investing.
Cost. What is the total cost of investing in the trust? Some investment trusts are more expensive than others.
Gearing. Be wary that gearing can maximise returns or maximise losses.
Bottom line on the best investment trusts
Finding the best investment trust isn't an exact science. The main reason is that each will have its own goals and aims, just like you. Past performance shouldn't be the only thing you look at, but it is worth checking how a trust has performed in the good times and the bad.
Make sure you find an investing trust that best fits your investing style and risk appetite. Trusts can be an excellent tool to flesh out your portfolio, but finding the best investment trust for your portfolio is unique to you.
Frequently asked questions
This article offers general information about investing and the stock market but should not be construed as personal investment advice. It has been provided without consideration of your personal circumstances or objectives. It should not be interpreted as an inducement, invitation or recommendation relating to any of the products listed or referred to. The value of investments can fall as well as rise, and you may get back less than you invested. Past performance is no guarantee of future results. If you're not sure which investments are right for you, please get financial advice. The author holds no positions in any share mentioned.
Investment trusts are a popular