Bed sheets: Linen vs cotton vs silk vs bamboo
There's so much choice when it comes to buying bed sheets. But we're here to help you cut through the jargon and find the right ones for you.
When it comes to bed sheets, you can buy all sorts of fabrics and fibres these days. Cotton is still a firm favourite, but silk is becoming more and more popular. So too is linen and bamboo.
But what's the difference and how does it affect the way we sleep? Well, that's where we can help. Below, we've pulled together everything we know about cotton, linen, bamboo and silk to help you decide.
What is cotton?
Simply put, cotton is a plant. The fluffy, white balls we're used to seeing in cotton wool packs at the supermarket are very similar to what cotton looks like when it grows. These fibres are then treated and woven into fabrics.
One of the best things about cotton, be it for bed sheets, t-shirts or underwear, is that it's a natural and breathable fabric, as well as being soft, easy to wash and affordable. The downsides are that it's prone to creases (as you may have noticed). Cotton is often also criticised for being a crop that requires a lot of water to farm. And in areas like Australia and the USA, which often experience long periods of drought, thirsty crops can overburden limited water supplies, leaving some to argue that it isn't an environmentally-friendly option.
Why choose cotton sheets?
Bed sheets are traditionally made from cotton and it's long been considered a premium fabric. It's the comfort factor of cotton that has made it the go-to choice for bed sheets. Some other fibres are more durable and breathable, but cotton is generally the softest and most comfortable natural fibre, making it pretty ideal for your bedding needs.
Cotton vs Egyptian cotton
But what about Egyptian cotton? This comes from a different plant than regular cotton. The fibres from the Egyptian variety are longer and silkier, producing a more luxurious fabric. But, keep your eyes peeled when shopping for these sheets. Not everything labelled "Egyptian cotton" is the real deal.
What is linen?
Linen is another natural fibre that comes from the flax plant, the same little guy we get flaxseeds and linseeds from. Turning flax into linen is pretty time-consuming, making it an expensive fabric to buy. Despite this, linen is often favoured by many for its breathability. It's a fabric that keeps you much cooler in warm weather, and warmer in cool weather.
Why choose linen sheets?
There are a few reasons why linen makes for great sheets. If you're someone who often gets too hot when sleeping, it can offer a real solution. It keeps you fresh and cool in hot weather and draws moisture away from your skin, letting you sleep more comfortably. It's also incredibly durable, becoming softer and more luxurious with each use (and wash).
Another reason some sleepers opt for linen is that it's considered a bit of a status symbol. It's luxurious, expensive, and for many, its crinkly appearance is quite attractive.
Linen vs cotton
While cotton is a breathable fabric, linen definitely wins hands down in this category. Linen also requires less water to farm, making it a more environmentally-friendly choice. And when it comes to washing and drying, linen is very low maintenance – it dries quickly and requires no ironing. Whereas, cotton takes a little longer to dry and will need to be ironed to look its best. After all, creased cotton sheets aren't a great look.
But in the price wars, cotton comes out on top. Linen is labourious to make, which means it's pricey, with cotton sheets a cheaper option. And if you want soft sheets and soft sheets only, cotton is your guy.
What is silk?
Silk is another natural fibre that comes from the spun threads of silkworms. It's an extremely premium fabric, mainly because it's so difficult to source and produce. While it's not particularly durable, it's hard to wash and prone to a stain or two, even from water. But, the upsides are that silk is ultra-soft, light-as-a-feather and lovely and glossy, making it a highly sought-after fabric.
Why choose silk sheets?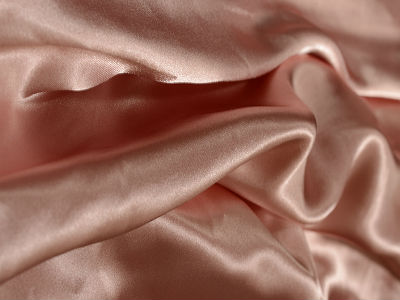 Silk sheets are growing in popularity, despite having been around for years. If you decide silk is the fabric for your next set of bed sheets, be aware that it is pretty thin, tears quite easily and can change texture-wise if washed… not ideal.
But you'll still find that many people will choose silk because of how soft and light it is. It's especially popular for people with sensitive skin – those with eczema-prone skin or dry skin will have a much more restful night. So if you like the sound of some silk on your bed, but don't want to go the full way with it, why not opt for silk pillowcases, alongside cotton or linen bedding. The slipperiness of silk puts less tension on your hair and skin while you sleep, which can help prevent hair loss, premature ageing and acne. Pretty good, hey?
Silk vs cotton
As we already know, cotton is soft… but silk is softer and pretty much unbeatable in this category, especially for pillowcases. But silk doesn't compete with cotton on price, durability or ease of care. Remember that silk also stains easily and as it comes from an animal, many hold ethical concerns around the sourcing and production of it.
What is bamboo?
Bamboo is a plant that comes from Asia. It's technically a grass and is known for being one of the fastest-growing plants in the world. As such, it's highly versatile and very strong – you can use it in cooking, building, construction and textiles.
But before you can make sheets out of bamboo, it needs to be processed into a textile. Typically, bamboo is made into rayon, viscose or lyocell, which are man-made natural fibres – this means the origin is natural but it has been processed, unlike cotton.
Why choose bamboo sheets?
Bamboo sheets are popular because bamboo is a more sustainable option. Some people will tell you that bamboo is even softer than cotton and linen (although it's not softer than silk), is less susceptible to bacteria and is much more absorbent. Bamboo is also breathable, keeping you cool in summer and warm in winter.
And if you're conscious about the environment, bamboo sheets are a great option, more so than silk, anyway. Bamboo lyocell sheets have the same feather-light silky feel as silk, without any animal involvement. Win!
Bamboo vs cotton
Bamboo has been hailed as one of the most sustainable bedding options. Not only does it need less water to grow compared to cotton, but it also uses less water during production than the other fabrics we've talked about. This is because the water used in production can be recycled.
And in terms of breathability, bamboo is similar to cotton – both are natural fibres. The rest comes down to preference. Some people prefer cotton for its feel and weight, and the price of bamboo may put shoppers off. After all, bamboo can be costly.
Which sheets should you choose?
We're not here to tell you which sheets to choose, only to help you make an informed decision when you do shop for new bedding.
You may choose to oscillate between two different fibres in summer and in winter, or, maybe you want to use silk pillowcases with cotton sheets if you have sensitive skin. It really is down to personal preference.
Natural vs man-made vs synthetic materials
Just because something is man-made, doesn't mean it's not natural. Take rayon as an example. It's a class of fabric, which includes viscose, lyocell and modal, all of which (while being processed and made by man) are crafted from materials of natural origin. Rayon is often made out of wood pulp or bamboo.
The difference between something like rayon and cotton is that cotton isn't processed. It grows, is picked and then weaved. It doesn't need to be "turned into" a weavable fibre.
Synthetic fibres are textiles or materials that have been made and processed from non-natural materials. The most obvious example of this would be polyester, which is a fabric that has been made from plastics.
Where to buy bedding online
---
Deals and discounts for house and home