Bank of Scotland mobile banking review
Bank of Scotland's mobile banking app offers existing customers a straightforward way to view pending transactions, make payments and change your personal details while on the move.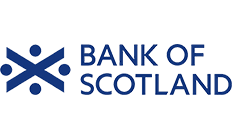 The fifth oldest bank in the UK, Bank of Scotland has a unique history dating back to the 17th-century. Here's a fun fact – it was one of the first European banks to print its own banknotes, continuing to do so to this day. While it's certainly a bank steeped in history, how does it fare in the modern world? The bank offers a mobile banking app, and we've had a look at it.
If you're not a Bank of Scotland customer, or if its app just doesn't pique your fancy, here's our guide to mobile banking apps to help you find one that does.

How does Bank of Scotland's mobile banking app work?
The app works by linking up to your Bank of Scotland account. To do this, simply download the app from the App Store or Google Play, open it and enter your Internet banking login details. You'll then need to confirm a 4-digit security code which will be sent to you by Bank of Scotland. Once you've done so, you'll be able to use the mobile banking app to:
Send and receive payments.
Change your details, for example, your address.
Manage your pending transactions.
Receive instant notifications when payments are made or money received – no need to wait as with a traditional bank.
Manage your Bank of Scotland accounts in one place.
Saving with Bank of Scotland's mobile banking app
While not offering the same degree of budgeting features as apps such as Barclays' or Monzo's, Bank of Scotland's app does have a "Spending summary" feature. This allows the user to view a weekly summary of debit card spending. While this feature is definitely useful, it could be even more so if it displayed spending by category, allowing the user to budget for particular types of outgoings.
You can also use Bank of Scotland's app to stay on top of your mobile payments and online transactions while also managing your standing orders and direct debits. So, for example, you can use the app to manage a standing order paid from your current account into your savings account.
Bank of Scotland fees and limits
Bank of Scotland generally doesn't charge a fee for everyday banking – if your account is in credit that is. As with most other banks, if you take out an arranged overdraft with Bank of Scotland you'll incur daily arranged overdraft fees. You'll also incur charges for using your card outside the UK.
Is Bank of Scotland's mobile banking app safe?
Bank of Scotland's app is purported to have security technology built in, keeping your information private and secure and minimising the risk of things going wrong. This technology includes the option to use your fingerprint or Face ID to secure your account, a time-out feature allowing you to set how long the app waits before logging out, and encryption of sensitive information including banking and personal details.
More generally, Bank of Scotland is covered fully by the Financial Services Compensation Scheme, or FSCS for short, so all eligible deposits made up to a total of £85,000 are guaranteed in the event of failure. Bank of Scotland is also now owned by Lloyds Bank, meaning that your money is as secure with Bank of Scotland as it would be with Lloyds.
Pros and cons of mobile banking from Bank of Scotland
Pros
Manage your balances and transactions in one place.
Receive notifications alerting you to when payments leave your account and when money comes into your account.
Keep an eye on your outgoings and focus your budgeting efforts with the spending summary feature.
Wide network of physical branches if you need to speak to someone in person.
Ability to view transactions made years ago.
Cons
Not great for budgeting functionality.
Limited range of features to choose from.
Compare Bank of Scotland against its competitors
Frequently asked questions
Read more on this topic