OneFamily Savings Account
Can OneFamily provide you with the right savings account? Find out if the Financial Services company suits you below.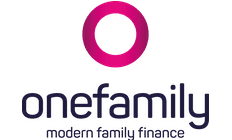 OneFamily is a customer-owned business which provides financial products and services to the modern family. As the name might suggest, OneFamily help to enable families to meet the financial demands of modern life. The company was formed in 2015, after a merger between Engage Mutual Assurance and Family Investments, and is now headquartered in Brighton.
OneFamily serves roughly 1 in 12 families in the United Kingdom, and has over £7.4 billion of assets under management. Find out if you should join the many families that use OneFamily's services in our review below.

Warning:
The value of investments can go down as well as up so you may not get back the money you invest. Please ensure you understand the risks.
What savings accounts do OneFamily offer?
OneFamily offer a range of savings products for your family, including:
Liftime ISA
Available to 18-39 year olds
Pay in until your 50th birthday
Invest up to £4,000 in the current tax year, as part of your total £20,000 ISA allowance
Receive a 25% Government bonus into your Lifetime ISA
OneFamily only offer a stocks and shares Lifetime ISA
Withdrawals allowed towards purchase of first home in UK, or for your retirement at age 60
Junior ISA
Final amount free from income/capital gains tax
£30 Gift Voucher when you apply online
Invest up to £4,260 in the current tax year
Only your child can access the money at age 18
Easy online account management
Ethical Equity ISA
Open if 18 or over and aren't contributing to another stocks and shares ISA in the same tax year.
Deposit least £50 a month by direct debit or a lump sum of £500
Invest up to the annual ISA limit of £20,000
Family Bond
Invest if you're aged between 16 and 74
Invest for 10 to 25 years
You can have a Family Bond as well as an ISA
Invest £25 a month or £270 a year
Includes some life cover.
Family Bond
Invest just £15-25 a month for at least 10 years
long-term savings plan, thus free from income and capital gains tax
Invests in stocks and shares so it has good potential to grow over the long-term
Is it easy to switch to OneFamily?
Yes, OneFamily try to make it as easy as possible for you to switch your account to them. All you need to do is set up a new account and send your funds over.
Unfortunately, OneFamily only accept account transfers from Child Trust Fund and Junior ISA accounts. This can be easily done by filling out a form on the website.
How do I decide which account is for me?
You need to work out what it is you need from your bank account. Are you looking to put a bit of money away each month? Do you want to put some money away and restrict access to it? Are you after rewards or hoping to maximise interest?
You need to work out what you need before comparing the different offers available for certain types of bank account. Once you've done that, useful guidelines to compare include:
Interest rates
Fees (if there are any)
Access to cash (if you need quick access for instance)
Rewards and loyalty schemes (if you're into the add-ons or switching bonuses)
Does OneFamily offer online or mobile banking?
It depends on what kind of account you have. Currently, OneFamily only offers online banking for:
Junior ISAs
Global Ethical Child Trust funds
Unfortunately, online account management isn't available for:
Junior bonds
Family bonds
OneFamily ISAs
If you need to get in touch, OneFamily's customer service team can be contacted on: 0344 8 920 920
What are the benefits and drawbacks of saving with OneFamily
The benefits
Long-term savings. If you're looking to stash your money away for a home or retirement, OneFamily's savings products might be ideal for your savings goals.
Better returns? OneFamily's savings products are tied to stocks and shares, which will usually give better returns in the long term compared to your average savings accounts.
The drawbacks
No cash accounts. Onefamily currently doesn't offer cash ISAs or bonds, which are generally safer and protected by the FCSC.
High risk? While investing in stocks and shares can have a better payoff in then long run, it's riskier because what you put in isn't protected from rises and falls in the stock market. This means you can get back less than the amount you originally invested.
More guides on Finder