Apple Watch Series 3 review: The smarter smartwatch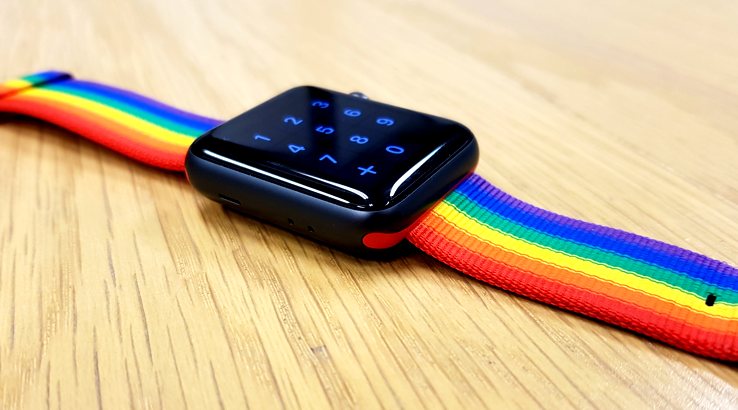 Apple's upgraded and LTE-ready smartwatch will impress, but it's still very much a luxury buy rather than a must-have gadget.
Apple's approach to its Apple Watch range of smartwatches has been one of slow patience and small changes between generations. The first Apple Watch generation launched with a variety of styles, bands and prices, from the somewhat affordable models to the bank-breaking Apple Watch Edition series.
That luxury approach was somewhat toned down for the second generation of Apple Watch devices, which brought with it integrated GPS and water resistance features. For the Apple Watch Series 3, there are under-the-hood processor improvements, but the big story here is the option for an integrated eSIM for voice, text and data services directly on the Watch itself.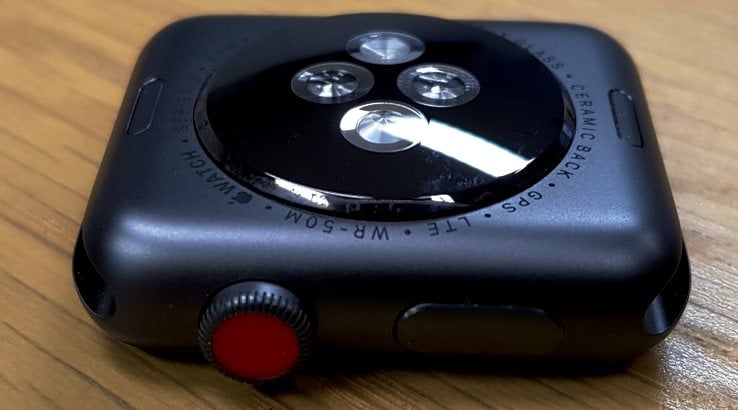 Design
Design is an integral part of the Apple Watch experience. Apple very much positions itself as a provider of fashion wearables. It wants the Apple Watch to be a desirable object, but it's fascinating to note that while we're getting a major design refresh for the iPhone line, the basic Apple Watch design hasn't substantially changed since the very first generation.
The Apple Watch Series 3 LTE differentiates itself with a solid red dot on the digital crown selector. There's a range of colour finishes to choose from on the body, including the significantly more expensive ceramic white or ceramic grey Apple Watch Edition versions. It's still the same basic rectangular-shaped body in 38mm or 42mm sizes, depending on your preferences. If you're hanging out for an Apple Watch with a round body, you're going to be waiting a while, I suspect.
Where you can make the Apple Watch Series 3 your own is in the choice of bands that go with it. Apple has released all new bands for Series 3, although the common sizing means that they'd work fine with Series 1 and Series 2 Apple Watches as well. It's also retired some, but the basic idea remains that you might opt to buy multiple bands to suit your particular fashion style and needs, with a range that encompasses everything from high-society dinners to sweating it out at the gym.
The big caveat here is that while the internals of the Apple Watch Series 3 don't differ (excluding the LTE), depending on which model you choose, the bands themselves command serious price points by themselves.
A simple loop or sports band will only cost you £47 as a standalone item, but a standard leather band will cost you £124, an Hermès leather band will cost you £419 and the range of metallic bands run from £124 all the way up to £490. It's pretty easy to spend more on bands than the Apple Watch Series 3 itself.
Different band styles have different clasp styles as well, and again this is a personal preference issue. While they're great for running and sweating, the internal clasp design of the sports bands can be a real pain to quickly attach if you're on the move. Your experience may vary, but the essential takeaway here is that it's a very good idea to try out the watch bands before dropping any cash on them to ensure that you're not only happy with the style but also the way they fit onto your wrist.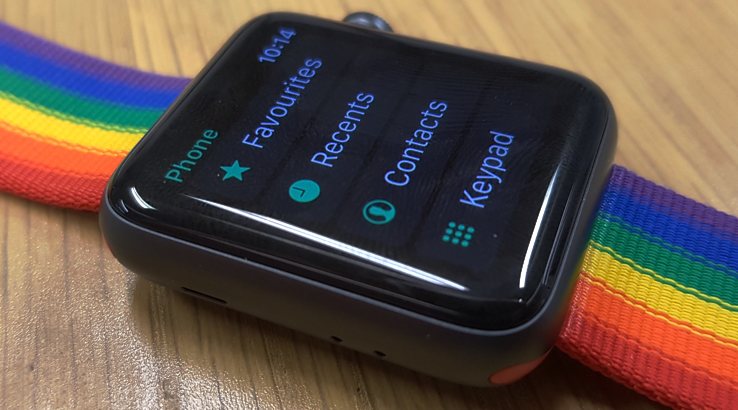 Performance
One factor that Apple got absolutely dead right with the Apple Watch was the ease of setup, which still relies on a photographic dot pattern that you line up, QR-code style, with your choice of paired iPhone. For the LTE version, there's an additional step of pairing it to your telco of choice, which is intelligently handled.
The single number eSIM service means that your Apple Watch Series 3 and your iPhone share the same mobile number at all times, so that if your iPhone 8 rings, so does your Apple Watch Series 3. That's been the case for previous generations if your Watch and iPhone were in range of each other, but the use of eSIM means that the Apple Watch Series 3 will operate independently of your iPhone entirely. So if you go out for a jog, or your iPhone goes flat, your Apple Watch can still be used to make calls, send iMessages and utilise a range of different data services depending on app availability.
This isn't a unique feature. We've tested out SIM-enabled smartwatches previously, most recently with the Huawei Watch 2. However, that device relies on two SIMs and two service numbers, which is a more fiddly proposition for staying in touch with telephone and message services, although it makes no real difference for other data-centric services.
I tested calls both directly to the Watch and with a paired set of Apple's own Bluetooth-enabled AirPods headphones. Using the Watch directly does work, but you're obviously doing away with any call privacy that way. Callers could hear me when using the watch directly, but the audio quality was markedly better using the AirPods, on par with a direct regular call through an iPhone.
Apple is also promising Apple Music streaming ability, which will be available for the Apple Watch Series 3 shortly. For the purposes of this review, I wasn't able to test it out, but it would mean syncing music directly to the Apple Watch Series 3, which is a rather slow and onerous affair, best done overnight while charging the Apple Watch itself. Likewise, the promise is for GymKit integration with new fitness equipment, but that wasn't available to test at the time of writing.
One significant catch with the Apple Watch Series 3 is that it doesn't support data roaming in any way at all. This does mean you don't have to worry about switching roaming off when you travel, but it also means that if you did choose to move internationally, you'd be turning your LTE-enabled Apple Watch Series 3 into an effectively Wi-Fi-only model until you returned home. The same limitation is true in reverse, too, so you can't import a cheaper Apple Watch Series 3 LTE from overseas and activate it on local networks either.
LTE isn't the only new feature of the Apple Watch Series 3. It also features Apple's newer and markedly faster S3 processor inside, which boosts phone responsiveness quite a lot, so if you were dissatisfied with the sometimes sluggish performance of previous Apple Watches, you should find the Apple Watch Series 3 far more satisfactory.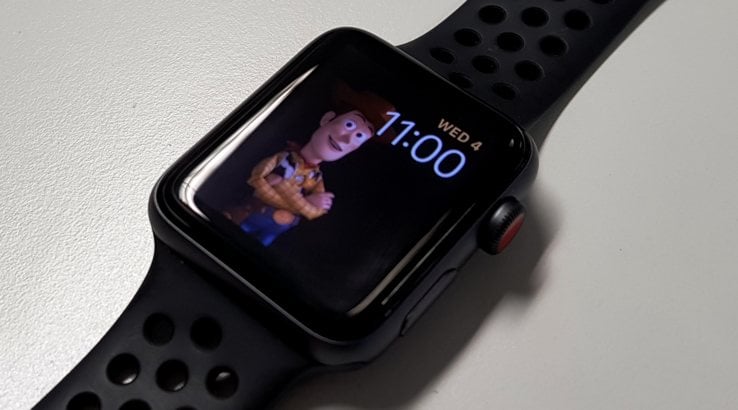 Battery
The Apple Watch Series 3 is tiny and light, which you'd want for a watch that you're going to have on your wrist for many hours a day. This means that Apple doesn't have a whole lot of space to pack the Apple Watch Series 3 with batteries, and while it doesn't reveal precise battery specifications, iFixit's teardown of the 38mm Apple Watch Series 3 reveals a 279mAh battery in the LTE variant. I tested this with the larger 42mm variant, and it may well have a little bit more room for power, but realistically, it's not going to be much larger.
That didn't give me great hopes for battery life, given the added power requirements of LTE, but as with the Apple iPhone 8 and the iPhone 8 Plus, the battery life of the Apple Watch Series 3 was genuinely surprising, with all-day battery life very easy to maintain over the review period. During lighter usage periods, I could even stretch this to multi-day life if I wasn't using it to any great degree.
The catch here is that if you were planning on using the Apple Watch Series 3 as your only phone device, you're pretty much assured of running the battery flat before the end of the day, especially if you make a lot of phone calls. While some reviewers have reported issues surrounding the switchover between LTE and Wi-Fi connectivity on the watch, I can't say I hit that problem. Still, lots of calls will drain the battery fast, which points to the fact that LTE is really an add-on feature and not a standalone solution.
One annoying aspect of the Apple Watch Series 3 is that while the new iPhones use the open Qi standard charger, the Watch doesn't. Apple's own round charger works fine, and some anecdotal reports suggest that some Qi chargers may work, but that's not officially supported by Apple outside of its upcoming AirPower charging mat. I had half a dozen Qi chargers on hand and none of them were recognised by the Apple Watch Series 3 at all.
Apple can't be making a fortune off of Apple Watch chargers, so why it hasn't gone all-in with Qi is baffling, as it would make keeping the Apple Watch Series 3 charged even easier. As it stands, while battery life is considerably better for the new Watch, you're still going to have to keep that round charging cable handy for the time being.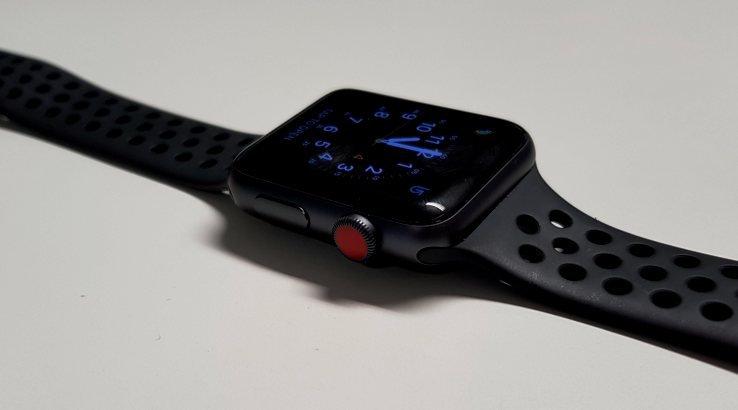 Verdict
Is the Apple Watch Series 3 Apple's best take at a smartwatch to date? Yes, it is, and if you're already a big fan of Apple's take on a smartwatch, this is the one to buy. Apple does still sell the original Apple Watch at a slightly discounted price, but the performance jump between those models means that it's not really worth your while. Drop the extra cash on the more recent model and you won't regret it over the original series.
Still, there are limits as to what you can do with a small OLED display screen and a digital dial, and Apple hasn't made substantial changes to how you actually interact with watchOS for the new Apple Watch. It's fine for health tracking at a basic level, workable for simple notifications and kind of neat when you use it standalone to respond in simple ways, but the key word here is simple. Inevitably, you'll hit a situation where you need a larger screen or a proper keyboard to respond with, and Siri integration can only take you so far. This is an issue across most smartwatches, and Apple hasn't innovated in any way to change the status quo here.
The inclusion of easy-to-use LTE is a boon, and Apple's integration is as smart as any I've tested. Still, it too has its limitations, which points to the fact that, as with all current smartwatches, notifications remain the single best use for the Apple Watch Series 3, closely followed by fitness tracking.
I'm still waiting for a company to have an "iPhone moment", where they release a smartwatch that redefines the class in the same way that the original iPhone redefined mobile phones. The Apple Watch Series 3 isn't it. It's a fine luxury buy if you love smartwatches, and it's an easy recommendation for folks who are happy within the tightly controlled Apple ecosystem, but it's still far from essential.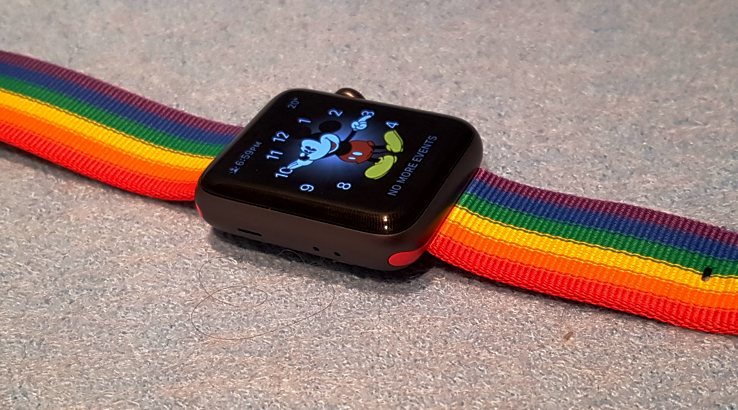 Apple Watch Series 3: What the other reviewers are saying
| Site | Comment | Score |
| --- | --- | --- |
| TechRadar | "An incremental upgrade, but one that offers a very different way to use the Apple Watch… for a price." | N/A |
| Wired | "This really is finally what I hoped the original Apple Watch was going to be like." | 9/10 |
| Sydney Morning Herald | "I didn't expect to see LTE come to a smartwatch smaller than a dinner plate this year, and I didn't expect decent battery if it happened." | N/A |
| CNET | "The Apple Watch Series 3 is the best overall smartwatch you can buy, but battery limitations and add-on fees keep it from being a must-have upgrade." | 8.0/10 |
| Engadget | "A good watch, a so-so phone replacement." | 82/100 |
| TechCrunch | "The Apple Watch is still the one to beat." | N/A |
| The Verge | "You should still call me on my cell phone." | 5 |
| MacWorld | "It still feels like we're quite early in the Apple Watch's evolution as a product." | 3/5 |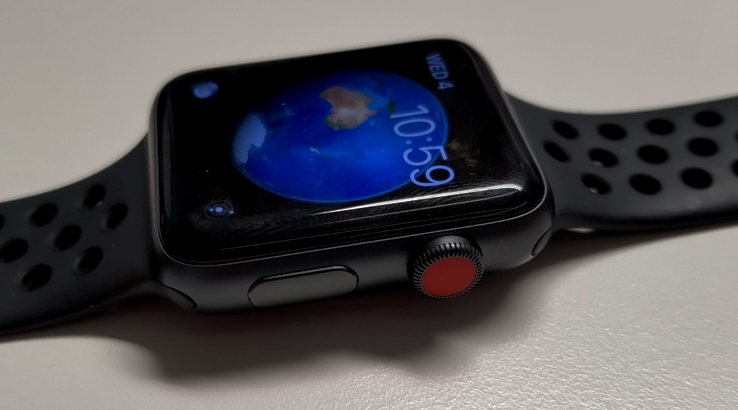 Pricing and availability
The Apple Watch Series 3 is available in 38mm and 42mm sizes, with pricing starting from £272 for a non-LTE 38mm variant, up to £1,123 for a ceramic 42mm model with integrated LTE. Pricing can vary markedly depending on your choice of band or bands, although the underlying technology within each Apple Watch Series 3 model doesn't change based on price, aside from the inbuilt LTE technology.
If you buy from a given carrier, you're not locked into that carrier for actual connectivity, but as noted, the Apple Watch Series 3 purchased in the UK will not operate at an LTE level outside of the country, and the same is true for units coming in from overseas.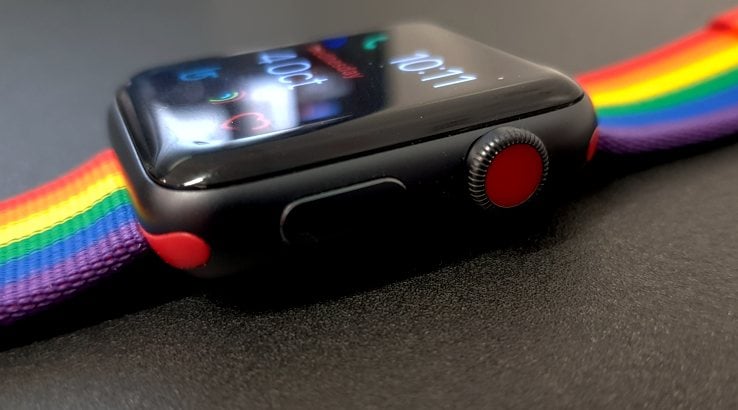 Specifications
Product Name

Apple Watch Series 3
Display

1.5-1.65 inches
Resolution

340×272 pixels (38mm)/ 390×312 pixels (42mm)
ppi

290/303 ppi
Software

watchOS 4
Battery

279mAh
Processor

Apple S3
Size

38.6×33.3×11.4mm (38mm)/ 42.5×36.4×11.4mm (42mm)
Weight

42.4g/52.8g