Apple iPhone 13 review: A well-balanced iPhone for long-term upgraders
Quick verdict: Apple's upgraded iPhone 13 isn't quite its most desirable model, but it strikes a fine balance between price and features if you're firmly in the iPhone camp and looking for an upgrade from a much older handset.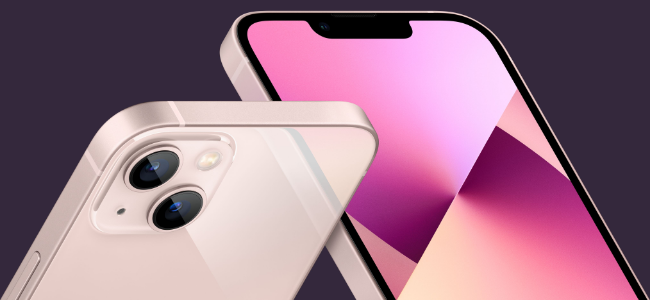 Image: Apple.com
Pros and cons
Pros
Wider range of colour choices than the Pro models
Cameras shoot nice pictures
A15 Bionic is very powerful
Cons
Expensive
Pro models have better screens and processors
Dual cameras is limiting in such a premium priced handset
No included charger or headphones
Can't expand memory
Design: New colours, diagonal cameras and a smaller FaceID notch
Apple has largely played it conservative with the physical design of the iPhone 13 Pro, but there are some differences you won't spot right away. The power, volume and mute switch locations have dropped down a couple of millimetres on the phone body, which means that you can't just recycle an old iPhone 12 Pro case onto the iPhone 13 Pro. It's also marginally fatter, although some cases could probably accommodate that kind of issue.
Where the big design change has happened, and specific only to the Pro models of the iPhone 13 family, is in the use of a high refresh rate screen. Having 120Hz or higher refresh rate screens are somewhat old in the Android world, but to date, Apple has stuck with 60Hhz capable displays in every iPhone. The iPhone 13 Pro (and bigger Pro Max) features what Apple calls "ProMotion", which is a fancy way of saying it has a 120Hz variable refresh rate screen.
That variability is important, but it's also limited in the way that you can access it. Many Android phones with 120Hz screens allow you to set that as the default, but the only toggle (hidden away in Accessibility>Motion>Limit Frame rate if you're curious) you've got with the iPhone 3 Pro allows you to fix it back to 60Hz. If you want up to 120Hz, you've got to let the iPhone 13 Pro decide when that's going to kick in.
120Hz is, as it's been on Android phones, very much a "nice to have" feature, whether you're just doomscrolling your social feeds or playing games with support for those kinds of refresh rates. It's also joined by a boost in screen brightness, again dynamically managed by the iPhone 13 Pro at up to 1,000 nits.
The end result is one of the nicest screens to look at indoors or outdoors I've tested to date. Apple tends to do very well in independent display analysis tests for a reason.
The Pro line of iPhone 13 models give you a smaller array of colour choices relative to the cheaper iPhone 13 line. You can pick from Silver, Gold (as tested), Graphite or the new Sierra Blue colour. It's a markedly lighter blue than last year's Pacific Blue if that's important to you.
iPhone 13 camera: Are dual cameras enough for a premium phone?
As it has long done, Apple doesn't sell the iPhone 13 Pro on the specifications of its cameras. If you just looked at the raw numbers – a trio of 12MP lenses at the rear and a 12MP selfie camera at the front – you might think it underpowered.
You'd be wrong.
What Apple has done with the iPhone 13 Pro is utilise its top to bottom control of not only the hardware design but also the software to deliver a highly controlled, highly precise photographic instrument. While the numbers might not sound that impressive, the results that you can rather easily get from it absolutely are, even if they're in areas where Apple hasn't concentrated in the past.
Apple's automatic use of the ultra-wide lens for macro capture, combined with the image-signal processing capabilities of the A15 Bionic processor, gives it a lot of power when it comes to taking close-up shots of the world around you. The results can be truly stunning, although you don't currently have the option to deliberately fire into macro mode at will.
For video, there's the new Cinematic mode, which pulls focus to subjects as it detects them automatically, while also allowing you to post-edit on the phone if it does make an unwanted focus shift. It's quite smart stuff for small-scale video shooting, although in classic Apple style, it's an all-or-nothing proposition. If you want it on, you pick Cinematic mode and it does it all for you while shooting or you take regular video and do without it entirely.
Just about any mid-range phone you could name can take good shots in everyday lighting situations. Premium phones should be able to capture good images in harsher situations, and especially low-light ones.
Apple iPhone 13 Pro sample photos
---
iPhone 13 battery: Fatter iPhones lead to better battery life
The longest running joke in smartphone circles when it comes to power is at the expense of iPhone owners, although in recent years, we've seen some good results out of Apple's largest Pro Max devices.
That's left the smaller Pro in a difficult position because it's typically shared the battery capacity and size of the smaller regular unit in its given year, but much of the heavier feature set of a Pro handset. Apple never actually talks about battery capacities, but it was notable that it announced the regular iPhone 13 should last up to 2.5 hours more than the iPhone 12 while stating that the iPhone 13 Pro would only enjoy a 1.5-hour boost.
Prior to launch, that was presumably going to come down to the requirements of the cameras and especially that ProMotion display. However, post launch, the iPhone 13 Pro has been disassembled by third parties such as iFixit. From those teardowns, it becomes a little clearer why Apple's not stating a higher battery expectation for the iPhone 13 Pro. It's because while the regular iPhone 13 features a 3,227mAh battery pack, the iPhone 13 Pro only gets 3,095mAh to sip from.
Battery life usage is subjective depending on your use-case scenarios. To give some comparative context, I ran the iPhone 13 Pro through our standard battery life test, streaming a 1080p YouTube video at maximum brightness and moderate volume for an hour from a fully charged battery. What we typically look for here is at least 90% battery life because that's where phones often signal that they'll struggle to get through a full day's regular usage.
Should you buy the Apple iPhone 13?
If you're looking to upgrade from an iPhone that's at least 2 years old, and you want pro features and future proofing, the Apple iPhone 13 Pro is an easy recommendation. It's arguably more powerful than you really need, but in the direct Apple iPhone space right now that cascades down to the iPhone SE 2020, which is a considerably less capable device with far worse battery life.
The classic iPhone issues remain. You can't expand the storage, and you very much have to do things Apple's way or not at all. However, the bump up from the regular iPhone 13 does justify its asking price. It's also more comfortable to hold and use for most users than the big lad that is the iPhone 13 Pro Max, putting the iPhone 13 Pro in a very sweet (if somewhat pricey) spot all by itself.
How we tested
The iPhone 13 Pro was tested intensively over a week's testing time, putting camera, battery and app performance to the test in benchmarks and real-world scenarios. Movement limitations due to the pandemic did limit the level of camera and 5G testing that was capable. Ideally, we'd prefer to test real-world battery usage over more than a week's period, and we plan to revisit this review in a few weeks to update any observations on more general battery life.
Specifications
Display
Pixels per inch (PPI)
460 ppi
---
Camera
Rear camera megapixels
12MP + 12MP
Rear camera aperture size
ƒ/1.6 + ƒ/2.4
Front camera megapixels
12MP
Front camera aperture size
ƒ/2.2
---
Physical Dimensions
Dimensions
146.7mm x 71.5mm x 7.65mm
---
Connectivity
Wi-Fi
802.11 a/b/g/n/ac/ax
Network category speed
N/A
---
Power, storage and battery
Processor
A15 Bionic chip
Internal storage
128GB, 256GB, 512GB
External storage support
Up to 16GB
---
Device features
Water resistance rating
IP68
---