AmazonBasics mattress review
Buying a bed on a budget just got a lot easier.
What mattresses does AmazonBasics offer?
AmazonBasics is the marketplace's value brand for more than 1,500 everyday items, including home goods.
Mattresses
Amazon has 3 different types of mattresses in its line-up of affordable products: foam (with an optional hypoallergenic cover), memory foam and pocket spring. They come in single, double and sometimes king size. Style options include hard, medium and soft, and they're generally priced well below many other online foam mattresses.
Beyond mattresses
Duvets. Choose from a wide range of linings and weights for your new bed.
Sheets and pillowcases. Available in microfibre, cotton and jersey.
Bed-in-a-bag sets. These 5-piece sets include matching duvets, sheets and pillowcases at a reasonable price.
[/expander_content][/expander]
Prices and payment
The cost of your AmazonBasics mattress depends on what size and type you choose.
| | | |
| --- | --- | --- |
| Mattress type | Price for a single | Price for a double |
| Foam | £75 | £101 |
| Memory foam | £119 | £129 |
| Pocket spring | £129 | £169 |
Pay for your order through Amazon's secure website with PayPal or any major credit card, including Amazon rewards credit cards and Amazon Pay. With some options, you might be able to pay smaller amounts over a number of months.
AmazonBasics mattresses ship directly from Amazon, not a third-party seller.
Features of an AmazonBasics mattress
What is it made of?
Depending on what AmazonBasics mattress you choose, it is made of foam, memory foam or pocket spring. Each generally has a support layer, a breathable comfort layer and a plush top layer as well as a 7-zone multi-surface design, which is supposed to help relieve pressure points (like the shoulders and hips) by distributing weight more evenly.
How many years does an AmazonBasics mattress last?
Our research shows that the average life of a mattress can range from 6 to 10+ years.
Can I rotate or flip the AmazonBasics mattress?
The AmazonBasics mattress is designed with layered foam in a specific order, so you shouldn't flip it. If you want, you can rotate it head to toe every few months or when you wash your bedding.
AmazonBasics sizing guide
All AmazonBasics mattresses are 14.5cm thick.
| Single | Double | King |
| --- | --- | --- |
| 90 x 190cm | 135 x 190cm | 150 x 200cm |
Shipping and delivery
Can I get free delivery?
You might be able to get free delivery depending on which one you order. Unfortunately, AmazonBasics mattresses don't qualify for free returns unless the item page specifically indicates otherwise.
How can I track my order?
Amazon emails your tracking information as soon as your order ships. You can track the progress of your shipment from your email or view tracking info and order status through your Amazon.co.uk account.
Does AmazonBasics offer a trial period?
No. But the mattress qualifies for Amazon's regular 30-day return window.
How do I return items to AmazonBasics?
To return your AmazonBasics mattress within 30 days of receipt, follow these steps:
Log in to your Amazon.co.uk account.
Click Your account from the drop-down menu at the top of the screen.
Click Your orders.
Find the item you want to return. If it's eligible for a return, you'll see a yellow Return or replace items box.
Follow the instructions on the next pages to complete your return request.
What sets this brand apart?
Amazon is a household name for online shopping with a product line-up that grows each year. With some of the top bed-in-a-box brands available on Amazon, it was only a matter of time before it decided to offer mattresses of its own.
The clear distinction between these mattresses and many of their competitors comes down to price. The AmazonBasics mattress costs considerably less than many other options out there, making it a contender for budget-friendly beds.
What do people really say about AmazonBasics?
Some customers say they're pleased with the low price and comfort of the mattresses. A few reviewers say it's a good budget-friendly option for a guest room because, at 14.5cm, it's not the thickest. A few have said that they don't last very long in terms of quality, and they had to throw them away after a year or so.
How can I contact customer support?
The most effective way to get a response from Amazon customer support is through its online contact form. Your selections while completing the form guide your question to a rep most familiar with your issue.
Other ways to get in contact include Amazon's live chat service, or you could try messaging it on Facebook or Twitter.
Why should I shop at AmazonBasics?
Pros
Budget friendly. Amazon's mattress is one of the cheapest foam beds on the market.
Range of styles. Choose from soft, medium and firm across 3 different sizes.
Cons
No sleep trial. Unlike competitors, Amazon doesn't let you try it before you fully buy it.
Limited returns. You must return your mattress yourself within 90 days for a refund.
Lack of availability. A lot of the mattress options were out of stock when we looked online.
Is the AmazonBasics mattress better than Emma?
Amazon's mattresses are aimed to compete with big players like Emma and Casper, but they're generally a lot cheaper. Aside from price, the biggest difference is the sleep trial. Emma offers a generous 200-night sleep trial, while Amazon sticks to its everyday 30-day return policy on all items.
When it comes to quality, it's also a good idea to read the reviews for whatever mattresses you're considering.
Still not sure if these beds are the right pick for you? Compare other mattress brands to find the sleep of your dreams.
Frequently asked questions
---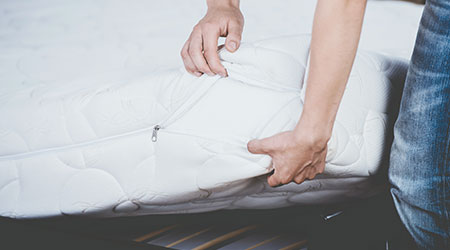 The complete guide to buying a mattress online
If you're not sure yet whether an AmazonBasics mattress is right for you, jump over to our complete guide to buying a mattress online. We give you tips on how to choose the right mattress for you and compare online mattress brands side by side.