What can you actually do with those 10,000 points from your Amex intro offer?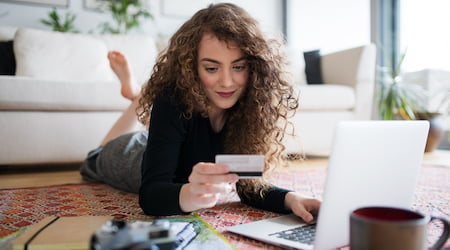 American Express is offering 10,000 Membership Rewards points if you spend enough on your new Preferred Rewards Gold Card… So what can that actually get you?
Amex's rewards programme has a reputation for being the best around, so we went on a little mission to find out how to make the most of it. 10,000 points may sound like a lot, but in most cases they're worth around £50 – so don't expect to go on a two-week-long fancy holiday to the Maldives with them.
However, you can still treat yourself to a very wide range of nice experiences for free. We've put together a list of 10 (mildly) cool things you can do with your brand new Amex intro bonus.
American Express® Preferred Rewards Gold Credit Card
20,000 Membership Rewards point welcome bonus
4 complimentary airport lounge visits per year
No annual fee in year 1
Representative example: When you spend £1,200 at a purchase rate of 29.7% (variable) p.a. with a fee of Year 1 - £0, Year 2 onwards - £160 per annum, your representative rate is 73.8% APR (variable).
1. Give your bedroom a new look with an IKEA desk
For 10,000 you can get a £50 IKEA giftcard, and the cheapest desk available on the IKEA website costs around £40. Obviously, it's a pretty basic one, but hey, it does the job – especially if you've just had the misfortune of moving to an unfurnished room. Alternatively, you can also buy 58 scented candles (5 different flavours available!), 18 fake plants, 12 picture frames, 5 panda-shaped soft toys, one 7-piece set of pots and pans – or, more wisely, a combination of the above.
2. Subscribe to Netflix for seven months (and a half)
Thanks to an option called "Membership Rewards Auto Redeem", you can use your points to pay for an ongoing subscription to Netflix, Spotify or Naked Wines. With this option, 10,000 points are worth £45. Since the most basic Netflix subscription costs £5.99 a month, that makes a bit more than seven months of free unlimited movies and TV series. We'll let you do the maths on how many seasons of Breaking Bad, House of Cards and Stranger Things you can binge-watch in that amount of time.
3. Shop on Amazon (picking the right redeem strategy!)
You can use your Amex points on Amazon in two ways: either you get yourself an Amazon gift card from the Amex website or you directly set Amex points as a payment method on Amazon. However, be aware that while 10,000 points are worth a £50 gift card, if you use Pay With Points instead, you'll only get £4.50 every 1,000 points.
4. Fly to Rome to see the Colosseum at a discounted fare
American Express has a partnership with various airlines and you can usually convert points into air miles or points. Avios is among the programmes you can participate in, and 1 Membership Rewards point = 1 Avios point. The exact discount you can get on flights really depends on where you want to go, when and with which airline, but if you're planning a holiday it's definitely worth doing research on the Avios website to see how much you could save.
5. Spend two nights at a Marriott Hotel in Valencia, Spain
You can convert your Membership Rewards points into Hilton (1 Membership Rewards point = 2 Hilton Honors points), Marriott (2 Membership Rewards points = 3 Marriott Bonvoy points) or Radisson (1 Membership Rewards point = 3 Radisson Rewards points) points. Just like with airlines, what this exactly means depends on multiple factors.
With Marriott, for example, a standard night in a "category one" (the lowest tier) hotel costs 7,500 points. Since 10,000 Membership Rewards points = 15,000 Marriott Bonvoy points, you can basically get a two-night stay for free. As you can imagine, there aren't loads of category one hotels available – in Europe, most of them are in Spain (Valencia, Madrid), Turkey or Russia.
6. Get a free box of ice-cream every time you shop at Sainsbury's (for 20 times)
Membership Rewards points can be converted into the equivalent amount of Nectar points. 10,000 Nectar points are worth £50 – a nice discount on your grocery shopping. But instead of spending them all in one go, you can also choose to use a small amount of them every time you shop. The minimum is 500 points at a time – that's a £2.50 discount, 20 times. It should be enough for a chocolate ice-cream bowl of a good brand.
7. Get discounted festival tickets
You can use Amex points to pay for concert and theatre tickets on Ticketmaster – again, how much your points are worth will depend on the gig. Ticketmaster has a wide offer of available tickets, which these days also include a nice selection of festivals across the UK.
8. Freshen up your makeup bag at Boots
You can shop online at Boots using the Pay With Points option and 10,000 points will be worth £45. It's enough for a new set of medium-quality lipstick, mascara and foundation, for a new shaver or simply to stock-pile shampoo and toilet paper for a few months (after all, who knows what the future holds).
9. Celebrate your birthday with a bottle of high-quality Champagne
Apart from IKEA and Amazon, there are a bunch of other interesting gift cards you can get (10,000 points = £50), such as iTunes, M&S, Currys PC World, Topshop, Waterstones… and Laithwaite's Wine, a well-stocked wine retailer that sells both online and in-store. £50 is enough for one of its top bottles of Champagne; or, if you value quantity over quality (no judging), you can get yourself three or four absolutely decent bottles of red.
10. Donate your points to help Save The Children fight the Yemen crisis
Last but very much not least, you can donate your points to different charities. Save The Children is currently raising money for the Yemen crisis and says that "10,000 points could help distribute water purification tablets to a family for a month".
Current Amex intro bonuses
Table: sorted by representative APR, promoted deals first
Approval for any credit card depends on your status. The representative APRs shown represent the interest rate offered to most successful applicants. Depending on your personal circumstances, the APR you're offered may be higher, or you may not be offered credit at all. Fees and rates are subject to change without notice. It's always wise to check the terms of any deal before you borrow.
We show offers we can track - that's not every product on the market...yet. Unless we've said otherwise, products are in no particular order. The terms "best", "top", "cheap" (and variations of these) aren't ratings, though we always explain what's great about a product when we highlight it. This is subject to our
terms of use
. When you make major financial decisions, consider getting independent financial advice. Always consider your own circumstances when you compare products so you get what's right for you.