Finder is committed to editorial independence. While we receive compensation when you click links to partners, they do not influence our content.
I tried U Beauty's Resurfacing Compound. Did it transform my skin?
I tried Tina Craig's all-in-one serum. The company claims it targets skin at a cellular level.
When U Beauty, the skincare company founded by Bag Snob's Tina Craig, released the Resurfacing Compound in October 2019, it sold out within a month. The serum promises to "brighten, resurface, renew, tighten, equalize, and defend" skin, with results in three to six days.
I'm on day 10 of testing it and haven't noticed mind-blowing results, but I see strong potential that it could deliver by the end of the month.
Quick take
Pros
All-in-one product can simplify your routine.
Clean ingredients
Green manufacturing
Cons
Pricey — more than $100 per ounce
May be harsh on sensitive skin
Plastic packaging
U Beauty sent me the Resurfacing Compound for free, but I haven't been otherwise compensated for this review. This is my honest, unbiased opinion.
What I'm hoping U Beauty can help with
I would consider the Resurfacing Compound a worthwhile investment if it targets and improves at least two of these concerns:
Uneven skin tone and redness. I've got acne scars from back in the day, and some general flushing that I can't get rid of.
Two lines across my forehead. I blame these on genetics and just generally being bad at managing stress. It would be great if the Resurfacing Compound could smooth these out.
Large pores on my nose and chin. Clay masks, exfoliating scrubs and prayer to the gods of skincare haven't been a worthy match.
Fine lines developing around my eyes. I started noticing fine lines in my face around age 23, and have been trying to stay ahead of visible signs of aging ever since.
Also, I've been meaning to add retinol to my routine for a while now. I like that the Resurfacing Compound contains stable retinol, which means it's more gentle and should maintain potency over time.
My skincare routine before and after trying U Beauty
Here's what I used on my skin before I added U Beauty to the mix:
Morning
Night
In theory, one of the key perks of U Beauty is that it can help simplify your routine. But since my routine was already pretty simple, it doesn't actually save me that much time.
My new skincare routine with U Beauty
Since using U Beauty, this is my updated morning routine
Morning
U Beauty Resurfacing compound
CeraVe moisturizing cream (on dry areas)
Andalou Naturals Daily Shade SPF 18 facial lotion
Night
Same as before — I don't use U Beauty at night.
First impressions
The U Beauty bottle is sleek and minimal, and it looks inconspicuous on my bathroom counter. But I do have a bone to pick with the packaging. It came wrapped in plastic, which is kind of a no-no for brands that claim to value sustainability (a couple of months ago I ordered from CocoKind and there was no excess packaging, just the products in the cardboard box used for shipping). This wouldn't keep me from buying again, but it's something to consider.
The serum itself is fragrance-free and a clear yellow color. After I applied it to my skin, I experienced a tightening sensation that went away as soon as I followed up with moisturizer.
Some other users around the web have complained that the Resurfacing Compound pilled when combined with other products, but that hasn't been my experience. My Ceravee lotion and SPF go on smoothly with no pilling.
Initial thoughts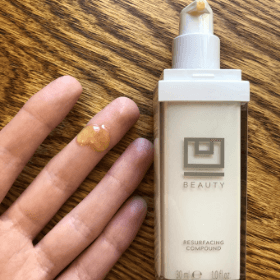 I'm not overly impressed, but I'm willing to see it through.U Beauty claims that the Resurfacing Compound "visibly improves skin appearance in just 3-6 days without the likelihood of irritation." That was not my experience.
I followed the instructions and applied one pump in the morning and one pump at night. But after two days, I experienced dry patches on my chin and forehead, along with a few small breakouts. As zits aren't something I deal with on a regular basis, this was disappointing. At that point I thought about giving up altogether. I hate breakouts!
Then I took a deep breath and reread the instructions, which say that if dryness occurs, I should apply it every other day instead. So that's what I've been doing for the last few days.
At this point, I DO think my skin looks brighter than before. Usually when I want to add a bit of luminescence, I apply oil to my cheekbones. But over the past couple of days, my skin has looked glowy without oil, so I think the Resurfacing Compound is doing its job. And overall, I've noticed a more even tone with less redness in my cheeks.
But it's too soon to know for sure. I'll keep applying the Resurfacing Compound every other day, and will provide an update after 20 more days!
About U Beauty Resurfacing Compound
The most impressive thing about this serum is the sheer number of supercharged ingredients it includes, including:
AHAs to exfoliate skin and visibly improve the texture.
Antioxidants to help detoxify skin.
Hyaluronic acid to increase hydration and collagen.
Peptides to promote youthful skin with proteins.
Retinol to promote skin cell renewal.
Vitamin C to boost collagen, electricity and tone.
Vitamin E to defend skin from free radicals.
You might be wondering: How can serum contain this many ingredients without irritating the skin? It's because of the proprietary SIREN molecule, which U Beauty claims can tell the difference between healthy and unhealthy skin cells. According to its marketing, these molecules deliver active ingredients only to the unhealthy skin cells so that healthy skin can maintain its integrity. In theory, targeting only the unhealthy skin cells should prevent irritation.
While I did, unfortunately, experience some irritation from the Resurfacing Compound, my skin settled down when I switched to every-other-day application. So in practice, each person might need to adjust how much and how often they use it to get the best results.
The cost
The Resurfacing Compound doesn't come cheap:
$88 for 0.5 ounces
$148 for 1 ounce
$228 for 1.7 ounces
An ounce of it costs more than I spend on my entire daytime routine. But I'd still spring for it if the results pay off. And if you're used to spending money, on, say, a 13-step regimen, replacing the bulk of those products with the Resurfacing Compound could actually save you money.
U Beauty offers
U Beauty skincare alternatives
More guides on Finder