8 types of business loans
And how to choose the right one for your business's needs.
The term business loan might bring to mind money that your company borrows and repays plus interest and fees over several years. But in reality, there are several types of business loans and financing. Which option is best for you depends on your business and its needs.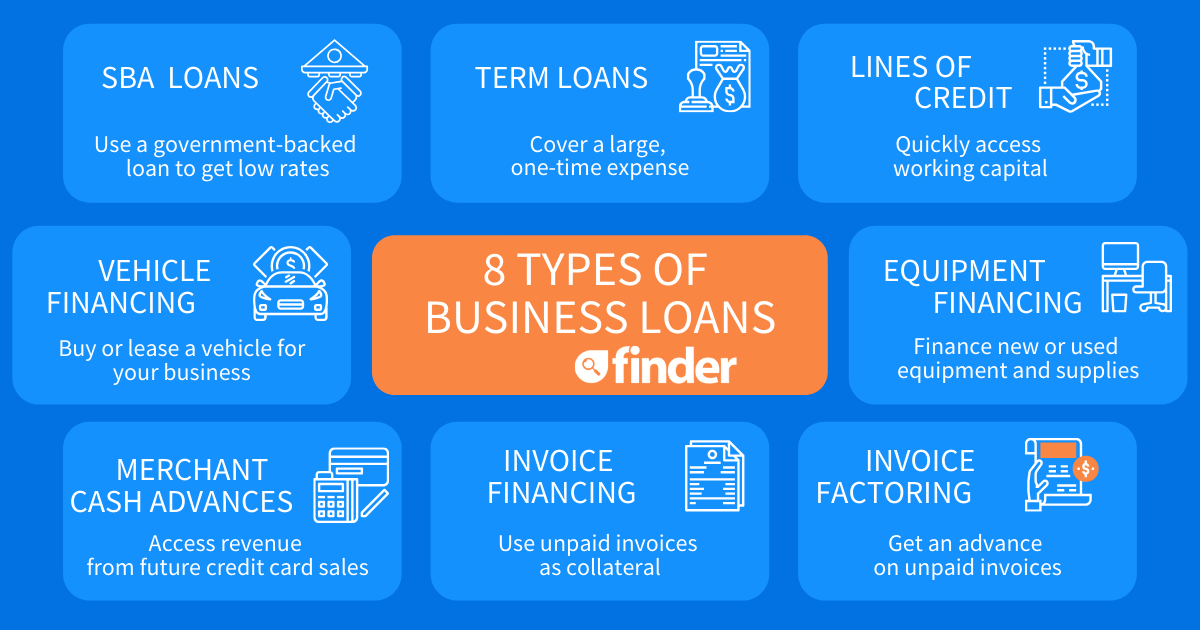 8 types of business loans
| | | | | | |
| --- | --- | --- | --- | --- | --- |
| | Covering a large, one-time expense | Borrow a lump sum and pay it back plus interest and fees in fixed installments, usually between 5 and 20 years. | | | |
| | | Get access to a specific amount of funds, which your business draws from as needed. | | | |
| | Large amounts of funding for nontraditional businesses and startups | Apply for a term loan, line of credit, commercial loan and more, partly backed by the Small Business Administration (SBA). | | | |
| | | Borrow up to 100% of your equipment cost and pay it back in installments, plus interest and fees. Your equipment is often used as collateral. | 85% to 100% of the equipment's value | | |
| | Buying a car, truck or other type of vehicle | Take out a fixed-term loan to cover the cost of new vehicles for business use, usually using the vehicles as collateral. | 80% to 100% of the vehicle's value | | |
| | Getting an advance on unpaid invoices | Sell your business's unpaid invoices to a third party at a discount. | 80% to 95% of your invoices' value up front | Discount rate of 0.5% to 6% of your invoices' value | |
| | Borrowing against unpaid invoices | Take out a term loan backed by your business's unpaid invoices. | 80% of your invoices' value | Fee of 2% to 5% of your invoices' value | |
| | Accessing future revenue from consumer sales | Get an advance on your future sales and pay it back plus a fee with a percentage of your daily revenue. | | Fee of 1.1 to 3 times your advance amount | |
How can I choose the right type of business loan?
Ask yourself the following questions if you're not sure what type of business loan is right for you:
Why does my business need a loan?
First, identify what your business needs to fund. Do you want to buy or lease real estate to make room for new hires? Do you need more equipment to up production? Are you looking for working capital to cover overhead costs? Use this to rule out lenders that don't offer financing for that particular need.
How much do I need to borrow?
Calculate the total amount you need to borrow and use this to rule out types of loans with a typical range that doesn't accommodate your needs. For example, if you just need a few thousand dollars, you might want to consider some term loans and microloans rather than an SBA loan.
Can't predict the cost? You might want to consider a line of credit.
What type of loan can my business qualify for?
Some types of business loans are easier to qualify for than others. For example, merchant cash advances have a much higher approval rate than a traditional term loan. Some are also designed for specific industries. You likely won't be able to qualify for invoice factoring if you're in retail, since you likely don't have a backlog of unpaid invoices from government organizations or other businesses.
What are my priorities?
Do you need money right away? Do you have the time and resources for a lengthy application? Is cost your top concern? List your top three priorities and use that criteria to pick your business loan type and start comparing lenders.
Compare business loans
Bottom line
Term loans and lines of credit might be the most popular types of business financing. But they might not be the right option for your business. Considering your priorities and what you need to use the funds for can help you find the right type of financing for your business.
You can learn more about how it all works by reading our guide to business loans.
Frequently asked questions