Porsche, Escalade, Honda Civic… the options are limitless when it comes to the cars you can rent and list locally with Turo!
Renting a car can be expensive. Plus, it can get boring only getting to choose from a limited number vehicles. That's where Turo comes in. You can rent a car for 30% less money than traditional agencies, and even list your own car to generate some extra income.
You can choose from over 800 makes and models
You can expect to pay around 30% less than traditional agency prices
Pros
Choose from hundreds of unique cars
Rent the car you want
Book a car from home or on the go
Cons
Watch out for additional fees that can add up on your trip
Going on a big road trip soon to Santa Barbara? Imagine a service where you could drive your perfect dream car up the California coast to your destination. Turo offers just that, and lets you rent a car wherever you want, whenever you want. Whether it is a Tesla, Honda Civic, or F-150 Truck, you can most likely rent it through Turo. Plus, the service is affordable, and costs around 30% less than traditional agencies on average.
Alternatively, do you have a car that is collecting dust in the garage? Turo gives you the ability to list your car for others to rent out. You can turn your depreciating asset into an earning engine. Only approved drivers can request to rent out your listed car.
As an added bonus of convenience, Turo offers an iPhone app and an Android app.
Difficulty: The Turo process is relatively simple, and user-friendly.
Requirements: EG:
Driver's license
Internet access to sign up for the service
People under 25 may be required to demonstrate at least 2 years of current driving history in the US or Canada
Those with a non-US or non-Canadian driver's license must be at least 25, and will need to provide their passport and a photograph of their license.
Mobile phone that Turo can verify through text message
Must meet Turo's auto insurance score criteria
Must be a registered user of Turo

Setup time: EG: Under 30 minutes
How does Turo work?
Renting a car through Turo is simple. The process starts with you signing up. From there, you can browse through the options, pick your perfect car, book it, pick it up, and have a blast. At the end of your trip, you must replace the gas you used, and meet the owner to drop off the car.
If you want to list your car, you can do so for free from Turo's website. You can confirm or deny other people's requests, and from there decide if you want to meet up with the guest. If you do decide to meet up with the guest, you will check their license, and the car's fuel and mileage. Then, sit back and earn while they drive.
Turo expects each driver to return the rented car to its owner in the same condition that it was received. Cars that are returned in a noticeably dirtier condition may incur a cleaning fee.
How does pay work?
On average, owners earn around $720 per month. For owners with 3 or more cars, that average earning amount gets bumped up to $3,000+.
When a renter makes a trip request, the payment is authorized but not charged to their card. The renter is charged the full trip cost once the trip is booked.
If you decide to list your car, Turo will pay you via direct deposit within around 5 days. You will earn approximately 65% to 85% of the trip price. This price varies by the protection package you choose. With your own commercial insurance, you will earn around 90% of the trip price.
Is Turo right for me?
Do you want to drive the car of your dreams? Turo gives you the power to choose and browse through tons of options. Once you make a request, the owner will approve or deny your request within 8 hours. If you need the car fast, you can book a car with a "Book Instantly" badge. To be a part of the Turo community, you will need to meet certain guidelines. One of the most important being that you must be at least 21 years old. Turo may be right for you if you are looking to distance from commercial renting agencies. You can get a car locally, and the process is convenient and less expensive than average agencies.
Rates last updated July 29th, 2021
What are the benefits of Turo?
Choices. You can choose from over 800 makes and models,
Affordable. You can expect to pay around 30% less than traditional agency prices.
Insurance. Owners can choose to add on Turo's $1 million vehicle protection insurance This insurance option covers each trip.
Traveling. Turo can help you when you are traveling. In fact, The company offers 3 options for meeting travelers, including the following:
-Owners deliver to custom locations
-Owners deliver to nearby airports
-Travelers pick up the car at the owner's location
What to watch out for
Watch out for additional fees that can add up on your trip. A few fees that you should be aware of include additional mileage fees, parking tickets, cleaning fees, etc. Trip costs are broken down by a few different factors. The car's trip price is usually a fixed amount that is multiplied by the number of days in a trip. Owners can choose to discount the advertised price or change the price of individual days.
The entire cost is presented to you before you are locked into anything.
The trip fee is 10% of the trip price. The protection fee is the cost of the protection plan you decide to go with. You can choose between the Premium package (40% of the trip price), the Basic package (15% of the trip price), or you can choose to decline Turo protection (0% of the trip price).
If you are under 25 years old, you will have to pay the Young Driver Fee. The Young Driver Fee is a 20% fee of the trip price.
The Delivery Fee is sometimes charged if you request a car be delivered by the owner to the airport or a custom location.
The Airport Fee is 10% of the trip price if you rent a vehicle involved in the Turo Airport Lot program.
Why choose Turo over another service?
Turo is a convenient service that lets you rent cars when you need to. There are delivery options, and drivers must be approved through Turo. In addition to renting, you can list your car and make some extra money. Through an online referral link, you can get $25 off of your first rental. Plus, Turo's smartphone app is intuitive and simple to use.
How do I decide if Turo is worth it?
You have full visibility into the available cars and can choose your favorite to request. On the other side of the spectrum, those who choose to lease their car can approve or decline requests at their leisure. Fees are pretty affordable in general, and can vary with the owner. Say the advertised price of a car is $40 per day and you decide to take a 5 day trip. You would accrue $200 in trip costs, and then a trip fee of 10% of the trip price. You could expect to pay at least $220. This $220 estimate is not including the optional protection insurance cost, young driver fee for those under 25, the optional delivery fee, or the airport fee for cars involved in the Airport Lot Program.
How do I apply for Turo?
Signing up for Turo is easy, and you can join the community by signing up through your Facebook account, Google+ account, or with your personal email address. After creating the account, you will be asked to verify your mobile phone, and start the pre-approval process through your Turo account page.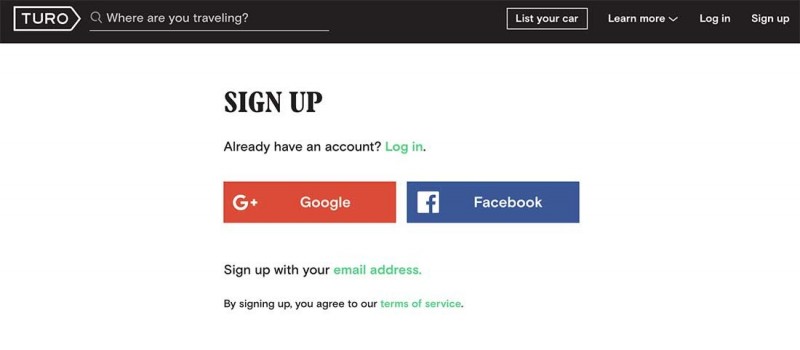 The approval process requires you to provide your driver's license information, the last 4 digits of your Social Security number (US only), and a valid payment method. However, you may be asked to provide additional verification information like photos of your credit card, driver's license, etc.
Each driver is required to be approved through the Turo marketplace. If you want to rent out your car, you will need to provide information on your vehicle. The application process can take as little as minutes.
Understanding the fine print.
Turo's website states that liability insurance and roadside assistance only apply to car owners that enroll in a Turo protection plan. Commercial owners who provide their own commercial rental insurance to travelers will not be covered by the above-mentioned coverage.
What else do I need to know?
It is important to note that the total cost could vary greatly since each car is priced differently. For example, you could see a Chrysler Town and Country 2007 that costs $33 per day, and a Cadillac Escalade 2016 that costs $359 per day. With some of the higher priced cars, you could probably find a better price elsewhere, but the fact that Turo lets you choose and browse through the cars is very convenient.
I was approved! Now what?
If you are renting out your vehicle, make sure it runs well and looks clean and presentable. If you are the one placing the order, make sure you return the car in the same condition it was in when you received it.
FAQs