Finder is committed to editorial independence. While we receive compensation when you click links to partners, they do not influence our content.
Tuft & Needle mattress review 2021
Want a dreamy new mattress but don't want to pay an outrageous price? This online brand could help.
Tuft & Needle cofounders JT Marino and Daehee Park similarly found themselves between a rock and a hard place when it came time to buy a new mattress. After tirelessly shopping retail, they each dropped more than $3,000 on a new mattress that really wasn't all that comfortable, but returns were darn near impossible.
There has to be a better way, thought Marino and Park. And so these two Silicon Valley software engineers founded Tuft & Needle.
Available through Affirm
Financing
Review by
gabrielle.pastorek@finder.com
---
Gabrielle Pastorek is the shopping and travel publisher at Finder, helping readers to round up the best deals, coupons, retailers, products and services to make sound financial decisions. She's contributed more than 800 articles to the site and is a quoted expert in Best Company and DealNews. She earned an MFA from the University of Pittsburgh, with essays and short stories published in The Collagist, Blue Monday Review, Blotterature and others. When she's not writing, Gabrielle can be found out in the barn with her horse, Lucy.
Expert review
As one of the oldest online mattress brands around, Tuft & Needle holds its ground as a top-rated company, with affordable prices to boot. This brand is worth a look if you're shopping for a foam bed on a budget, or are willing to spend a bit more for a hybrid option.
I've personally slept on the Original Tuft & Needle mattress and loved the price tag and the fact that it doesn't sleep hot in the slightest. This bed leans a bit on the firm side, though, so you might shop around if you're hunting for something softer.
What does Tuft & Needle carry?
Beyond mattresses
Bedding. Buy a new mattress protector, topper, sheets, duvet cover or duvet insert for your new bed all in one place.
Bed frames and foundations. Choose from a slatted foundation, box foundation, metal base or traditional bed frame to support your new mattress.
Pillows. T&N pillows are made with the same proprietary foam as its mattresses, only with adjusted density for maximum comfort.
T&N Pouch. The luxurious Pouch comes in three colors and is designed with your comfort in mind. You won't find any cheap beads, beans or PVC pellets inside this new and improved bean bag.
Prices and payment
Tuft & Needle mattresses range in price from $350 to $1,050, depending on the size and model. All T&N mattresses are backed by the company's money-back guarantee, so you can sleep easy knowing that you'll get your money back if you don't absolutely love your new bed.
You can pay for your Tuft & Needle order on its secure site using Visa, Mastercard, Discover, American Express or PayPal.
Does Tuft & Needle offer financing?
Yes! For orders of $50 or more, Tuft & Needle offers third-party financing through Affirm at checkout. Depending on your creditworthiness, you might qualify for 0% APR for the first six months or rates of 0% to 30% for 3, 6 or 12 months. A soft pull of your credit is typically required.
Features of a Tuft & Needle mattress
What is it made of?
Both the original Tuft & Needle mattress and its new Mint model are made with two layers of foam — a supportive base layer and a proprietary adaptive foam layer on top. The Mint mattress has an additional cooling gel layer in between, as well as 30% more graphite in the top layer of foam for even more coolness and breathability.
Do you need a box spring?
You don't need to have a box spring to enjoy the comforts of your T&N mattress, but if you already have one, that's not a problem either. According to the company's website, as long as the box spring, platform or other foundation you have is in good shape and offers adequate support, it'll work just fine for your new mattress.
How many years does a Tuft & Needle mattress last?
Tuft & Needle mattresses come with a 10-year warranty, but our research shows that getting around six or seven years out of your foam mattress might be a better estimate.
Can I rotate or flip the Tuft & Needle mattress?
Don't worry about flipping your Tuft & Needle mattress, since it's designed to have a distinct top and bottom. Make sure the zippered side is always on the bottom, since that's where the support layer is. If you sleep alone on a two-person mattress or if there's a substantial difference in weight between you and your partner, you can rotate your mattress so it breaks in evenly.
Case study: Steven's experience
Steven Dashiell
Staff writer
After traveling across the country to sunny Phoenix, my fiance and I were in need of some new furniture for the apartment. Preferably on the cheap — our move was expensive and we left some of our old furniture on the east coast. Including our mattress.
Recommended by a friend, bed-in-a-box company Tuft & Needle made things easy for us. They only offered one type of mattress at the time of our purchase. We had some worries that the mattress wouldn't prove comfortable for both of us, but Tuft & Needle provides a 100-night trial policy for that very reason. Sure enough, the mattress eventually arrived in a long, narrow box. To set it up, all we had to do was open the box and unroll the mattress onto our bed frame, where it "inflated" to its full size after a few minutes.
The mattress proved its worth by being perfectly comfortable for both myself and my fiance. That's not something I could claim for my previous mattress, a memory foam number that became mushy and slept hot. For a $750 mattress, I found it pretty amazing that they managed to nail both convenience and comfort. Which is a good thing considering I have no idea how I would've shoved it back into its box for the return.
Tuft & Needle sizing guide
Tuft & Needle mattresses come in six sizes that differ slightly in thickness by type.
T&N mattress
| Twin | Twin XL | Full | Queen | King | California King |
| --- | --- | --- | --- | --- | --- |
| 39" x 75" x 10" | 39" x 80" x 10" | 54" x 75" x 10" | 60" x 80" x 10" | 76" x 80" x 10" | 72" x 84" x 10" |
Mint mattress
| Twin | Twin XL | Full | Queen | King | California King |
| --- | --- | --- | --- | --- | --- |
| 39" x 75" x 12" | 39" x 80" x 12" | 54" x 75" x 12" | 60" x 80" x 12" | 76" x 80" x 12" | 72" x 84" x 12" |
Shipping and delivery
Can I get free delivery?
Yes, but free delivery is limited to residents in the continental US.
Does Tuft & Needle offer a trial period?
Yes, Tuft & Needle asks that you take 100 nights to try out your new mattress and any other T&N products you've purchased to make sure they're the perfect fit. If not, you'll get your money back.
What's Tuft & Needle's return policy?
Tuft & Needle invites you to sleep on your new mattress for 100 nights to make sure it's what you want. If you're unhappy with it for any reason within those 100 days, contact customer support to arrange for a free pickup and return. The company donates all returned mattresses to nonprofits and charities.
Tuft & Needle refunds the total cost of your order less any shipping costs you might have paid. That means if you live in Alaska or Hawaii, your trial isn't entirely risk free — you'll end up eating your original shipping costs.
How do I return items to Tuft & Needle?
Contact customer support at support@tuftandneedle.com or call 877-842-2586 to notify the team that you'd like to make a return. If you're sending back a mattress, customer service will arrange for a pickup date and time. For smaller returns, like pillows and sheets, you'll get a prepaid FedEx label to use to send in your free return.
Returns for a Tuft & Needle mattress purchased through Amazon require calling its special handling department at 866-423-5353. These orders also come with a 100-night risk-free trial and free mattress pickup, if you choose to return it.
Shipping costs
Shipping is free, unless you live in Alaska or Hawaii. For residents of these states, mattress shipping costs vary from $120 to $190, depending on your order size and specific location. To give you an idea of shipping costs to Alaska, to send a queen-size mattress to Dry Creek, Alaska, you'll likely pay $140 on top of your order total. Smaller items can range from $25 to $80 to ship to these states.
Does Tuft & Needle offer same-day delivery?"
You might have seen a $50 same-day shipping option on Mint mattresses for select locations. While Tuft & Needle doesn't offer this option anymore, its customer service team told us that they're working on making it available again.
How can I track my order?
As soon as your order ships, Tuft & Needle emails you a FedEx tracking number. Most orders arrive within three to five business days, but it can take up to 10 days for deliveries to Alaska and Hawaii.
What sets this brand apart?
Tuft & Needle is all about transparency and getting you the lowest possible price on a new high-quality mattress. The $750 cost of a Tuft & Needle California king mattress is significantly cheaper than other online mattress brands out there, which typically run around $1,000 and up for the same size.
Plus, Tuft & Needle is the only online mattress brand currently offering an upgraded bean bag, which we think is pretty cool.
Tuft & Needle's Medium page is also a cool hub of interesting information about the company and what it's up to. Check out articles on its charity involvement and what makes it stand out from the pack.
What do people really say about Tuft & Needle?
Reviews for Tuft & Needle are largely positive, with a few negative comments sprinkled here and there. Customers love its fast delivery, which even comes with help getting your mattress inside or upstairs. Most online reviewers also say they got a good mix of value and affordability with their Tuft & Needle. Finally, its customer service team gets a gold star for being quick to respond, polite and helpful.
Of the negative reviews, some people say Tuft & Needle mattresses are too firm, particularly for side sleepers, though it sounds like back sleepers enjoy it. Others comment about problems with insufficient edge support and sinking too deeply into the mattress. If edge support is a concern for you, look into the Mint mattress over the T&N.
How can I contact customer support?
Tuft & Needle customer support is available by phone, live chat or secure email.
Call Tuft & Needle customer support at 877-842-2586 weekdays from 10 a.m. to 11 p.m. ET and weekends from 12 p.m. to 9 p.m. ET.
Or chat live with a representative through the site. (We did, and we received a friendly response right away.)
You can also send a secure email by completing an online form for less immediate help.
Why should I shop at Tuft & Needle?
Pros
Made in the US. All Tuft & Needle mattresses are proudly made right here in the States.
Free shipping and returns. Unless you live in Alaska or Hawaii, you won't pay anything to receive or return your order.
100-night trial. Test out your mattress for up to 100 nights before deciding whether it's perfect for you.
Affordable pricing. If you're shopping on a budget, Tuft & Needle's mattresses cost less than many competitors.
Cons
Only one firmness option. Some customers say their Tuft & Needle mattress was too firm for their liking.
Shop more made-in-America mattresses
Is Tuft & Needle better than Casper?
Tuft & Needle and Casper are both popular online mattress brands that offer an affordable foam mattress. The main difference between these two mattresses is the number of foam layers each one has. Tuft & Needle stands behind its no-frills, no-gimmicks approach by offering a comfy two-layer foam mattress, while Casper says the comfort is in its four-layer design.
For a more in-depth comparison, check out our Casper versus Tuft & Needle review.
Frequently asked questions about Tuft & Needle mattresses
Our top mattress promo codes July 2021
Back to top
---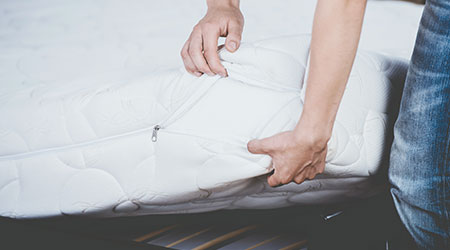 The complete guide to buying a mattress online
If you're not sure yet if Tuft & Needle is right for you, jump over to our complete guide to buying a mattress online. We give you tips on how to choose the right one for you and compare online mattress brands side by side.