Finder is committed to editorial independence. While we receive compensation when you click links to partners, they do not influence our content.
10 best stores to buy trench coats
Get ready for rain, sleet or snow with a cool and flattering trench.
Ask fashion insiders for a list of their wardrobe essentials and the trench coat will likely make the cut. Whether you choose to pair it with jeans for a casual-cool look or a dress and heels for something more formal, its versatility knows no bounds. We rounded up our favorite online shopping destinations for trench coats in a variety of prints, materials and styles — so you'll be ready come snow, rain or shine.
Bloomingdale's
Known for its high-end trenches.
Shop top brands like Vince, Michael Kors and Maje and discover plenty of design options — from a sexy linen number to a snakeskin double-breasted coat. Warning: Expect to pay a pretty penny for these — most price tags are 200+.
Macy's
A find for every budget.
Whether you're in the market for designer or more mid-range brands, you'll have your pick at Macy's. Shop everything from a hooded Calvin Klein trench to a chocolate brown faux leather Sam Edelman coat. While we're into the wide variety, we'd love to see more options for petites and plus-sized shoppers.
Banana Republic
Browse classic trench coat styles here.
Known for its selection of classic trench coat styles, Banana Republic is a great place to check if you're in the market for a coat for any season. While you'll find the occasional pastel-colored spring trench, you'll mostly find classic brown and tan coats here. Be on the lookout for sales in between seasons to maximize your savings.
Express
A wide selection of trench coats for men.
Men are in luck — Express has a solid selection of trenches, including wool blends, houndstooth plaid and ivory herringbone. Prices tend to sit in the $200 to $300 range so, once again, pricey but some of the coats are water-resistant which means you could be looking at a longtime staple. Women might consider shopping elsewhere, because there's not much of a selection available for them.
Nordstrom
Find classic coats here, though sizes may be limited.
Want the classic trench coat look? Nordstrom has you covered, with plenty of double-breasted, sand-colored designs. There are also unique options, like plaid wool blends and animal print. Again, we'd love to see more plus-size options from the retailer.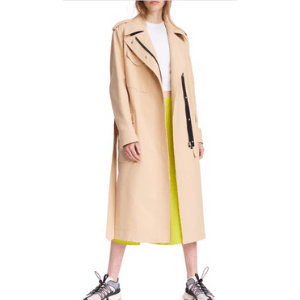 Nordstrom Rack
For the glamour of Nordstrom at lower prices, don't forget the Rack.
Score big-name brands like Vince, Burberry, Karl Lagerfield and Kate Spade at a discount. There's a good amount of options for both men and women, and you'll find designs that are both classic and unexpected (why yes, a glossy, leopard-spotted trench coat does exist). Downside: Because it's a sales site, sizes tend to run out quickly.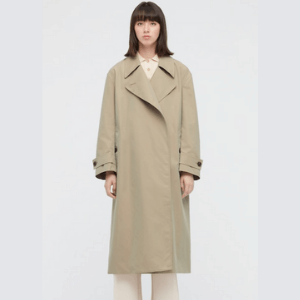 Uniqlo
Shop trench coats under $200 here.
In the market for an oversized trench coat? Uniqlo offers a selection of classic options made from light, soft material for men and women. The best part? You'll be able to snag them for under $200. If you're in the market for quirkier or more colorful trench coat designs, though, we recommend you browse elsewhere.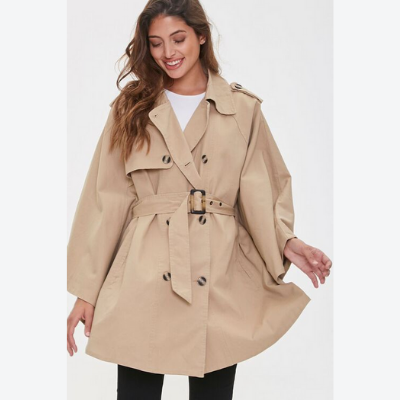 Forever 21
Affordable and trendy trench coats abound at this fast-fashion retailer.
Trench coats for under $100? Yes, please. Forever 21's selection includes the classic double-breasted look, corduroy, faux suede and much more — all with price tags you'll really, really love. The one downside is that the retailer is fast fashion, so the jury is out on how long the coats will last.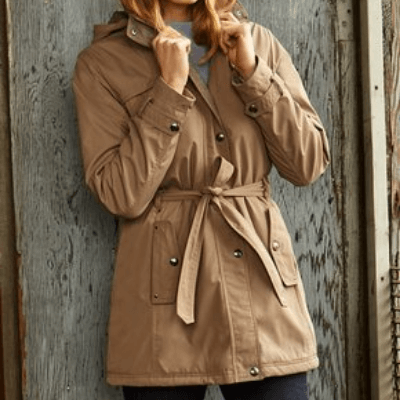 Zulily
Save up to 70% with flash sales on top brands that rotate daily.
Pro: Zulily has plenty of trench coats for sale. Con: you have to enter your email address and become a member to actually access said trench coats. Still, it could be worth it as the e-commerce site seems to have multiple discounts happening.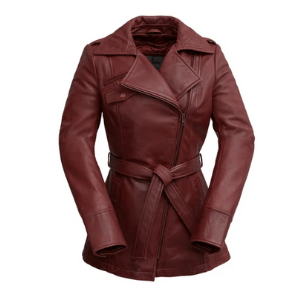 Kohl's
Shop coats in a variety of size options.
We love that Kohl's has an inclusive trench coat selection, with solid options for shoppers who are plus-sized. Designs range from leather to water-resistant khaki and you'll find plenty of generous deals. Only downside is that the men's selection is slim here.
How to wear a trench coat
Styling women's trench coats can be fun, creative … and completely maddening. If you just snagged a new trench coat and have no idea what to do with it, here are a few handy tips.
Keep it chic. If you want to look impossibly cool, pair your classic sand-colored trench coat with an all-black ensemble (think black jeans or a black dress, paired with black boots). Finish off the look with a red lip.
Go bohemian. Pair a funky trench coat with your favorite vintage dress. It'll add a touch of polished whimsy to the look — and it wouldn't hurt to throw on some knee high boots while you're at it.
Go casual. Elevate your morning coffee run by throwing on a trench coat over a pair of jeans and your coziest sweater. You'll wave an instant goodbye to the morning blues.

Trench coat vs. overcoat

Both trench coats and overcoats are perfect dreary weather attire, with some key differences. Overcoats are long and typically run below the knee while trench coats can range in length. Trenches have a classic, signature style while overcoats can range in looks, from dressy to casual.

If you're in the market for an all-purpose winter coat, you might want to go with the overcoat. Looking for a statement purchase? Explore trench coats.

Top fashion deals
More guides on Finder