Travel to the EU allowed for 14 countries — but not the US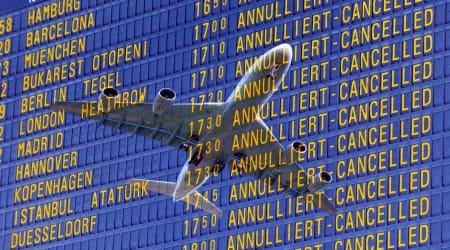 US residents are still banned from visiting EU member nations due to COVID-19 concerns.
On Tuesday, the EU released a list of 14 countries that can resume non-essential travel across its external borders, including Japan, Canada and Australia. The United States is still on the list of banned countries.
According to the Council of the EU, each decision was based on "the epidemiological situation and containment measures, including physical distancing, as well as economic and social considerations" of each country. In particular, the number of new COVID-19 cases over the last 14 days per 100,000 inhabitants must be close to or below the EU average, which was 16 in mid-June — in the United states, it was 107. It's also taking into account each country's overall response to COVID-19, including testing, contact tracing, containment, treatment, surveillance and reporting.
The council will review the list every two weeks.
Exemptions from the EU travel ban
The EU travel ban is based on each traveler's country of residence, not their nationality. However, US residents who are citizens of the EU or family members of EU citizens are exempt from these restrictions, as are long-term EU residents and their family members. Travelers with essential needs or functions within the EU are also exempt.
Where you can still travel to
If you booked a vacation within the EU this summer, it may be time to make alternate plans. You could consider domestic travel within the US — a good old-fashioned road trip perhaps, staying at vacation homes like Airbnb along the way. You could also book a flight, as most airlines are flying throughout the summer, albeit with limited schedules.
However, if you're craving an international escape, you still have options. As of July 1st, the following Caribbean countries had opened their borders to US travelers:
Antigua
Jamaica
St. Lucia
US Virgin Islands
Aruba, Barbados, the Bahamas, and Turks and Caicos Islands are expected to follow in July. Restrictions on nonessential travel to Mexico will remain in place until July 21st, according to the Department of Homeland Security. Keep in mind that some Caribbean countries have instituted a 14-day quarantine upon arrival, so be sure to do your research about what to expect.
That said, the CDC and US Department of State Global Level 4 "do not travel" advisory, issued on March 31st, is still in place. If you decide to jet-set across the border, you might experience interruptions or delays upon returning home, depending on how the situation evolves.
How the EU ban affects travel insurance
If you already purchased travel insurance for an upcoming trip, you may only be able to recoup your losses if you added Cancel For Any Reason (CFAR) coverage to your policy.
CFAR coverage allows you to cancel your trip for any reason, including reasons out of your control — like the EU ban. It typically reimburses up to 75% of prepaid and nonrefundable trip costs, and you may receive a mix of cash and travel credits.
Seven Corners president Jeremy Murchland says the COVID-19 pandemic has highlighted the importance of CFAR coverage.
"Travel insurance policies are very specific about what is covered, not covered and when. If they want the utmost flexibility for canceling their trip if they become too frightened to travel (or for any reason), they should buy optional Cancel for any Reason," Murchland told Finder.
"We've seen increased requests for CFAR, as travelers are learning it's the best way to protect themselves and their wallet," Murchland said.
If you don't have CFAR coverage, you may be able to change the dates on your travel insurance policy to cover a postponed trip. The finer details vary between providers and policies.
"Again, travel insurance policies have various terms and conditions, and it is important to look at what you can and cannot change and when," Murchland added. "Throughout COVID, as our customers have rebooked planned trips, we have been very flexible allowing many customers to push out the dates on their travel insurance policies."
Photo: Getty Images