Finder is committed to editorial independence. While we receive compensation when you click links to partners, they do not influence our opinions or reviews. Learn how we make money.
Travel insurance for Spain
Getting ready to explore Spain? Make sure to pack the right policy.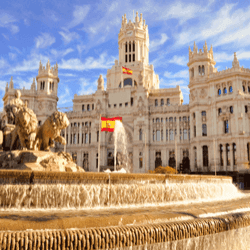 From the cultural attractions of Barcelona to the historic sites of Madrid, the beaches of Ibiza and the stunning natural beauty of the Canary Islands, Spain is filled with destinations to drop into the bucket list of any international traveler. The right travel insurance policy can keep the adventures running smoothly — and keep you out of debt if they don't.
Compare travel insurance plans
5 travel concerns that make insurance essential
Travel insurance can reimburse you for canceled or delayed trips and it can help cover the cost of any money or electronics that don't make it home.
Crime. Spain is known for some of the lowest crime rates in Europe, but street crime is still a problem, particularly petty theft and burglary.
Terrorism. Since 2015, the Spanish government has assessed the terrorism threat level as a 4 out of 5. While it is generally safe for travelers, an increased threat level or any new specific threat can lead to a delayed or canceled trip.
Demonstrations and strikes. Throughout 2018, Spanish citizens have participated in a numerous protests and strikes, including taxi, bus, and airport control strikes over the last several years.
Disruptions for asylum seekers. In 2018, Spain agreed to take in an increased number of refugees. The large number of new asylum seekers has resulted in delays for cross-border road and train transport, which affect the travel plans of tourists.
Credit card and ATM fraud. Fraud is on the rise in Spain, often involving sophisticated electronic equipment. As a result, travelers are advised to use ATMs within bank lobbies for extra security.
Spanish terror threat
Craig booked a four-week European vacation to take in some of the continent's must-see destinations. After a few days in Paris, he planned to catch a train to Barcelona for five days and then head to Italy. But while Craig is in Paris, Spanish authorities receive a credible terror threat for Barcelona, subsequently raising the terror alert. They cancel all train transport to Barcelona and shut down large parts of the city center.
Craig is left with little option but to cancel the Barcelona leg of his journey, leaving him almost $1,000 in lost accommodation, transportation and tour costs. Luckily, Craig took out comprehensive travel insurance before departing the US, so he's able to be reimbursed for the full amount.
Extreme activities to add on to your policy for Spain
Many travelers are happy to while away a Spanish vacation relaxing on the beach, while others prefer a much faster pace. Popular adrenaline-inducing activities that you might want to consider adding to your coverage include:
Mountain biking. Spain offers stunning trails that range from peaceful to heart-pounding.
Canyoning. Andalusia is home to some of Europe's best canyons and rivers. Some companies offer exploration packages through the canyons featuring rappelling, climbing and swimming.
Hiking. Spain is home to stunning hikes, particularly in territories like the Costa del Sol's mountain ranges.
Sailing. There's no better way to enjoy the majestic Mediterranean Sea than by sailboat, departing from the Port of Marbella.
Quad biking. The El Chorro region of Spain is home to rugged countryside terrain and offers a quad biking challenge for all levels of experience.
Does travel insurance cover the Running of the Bulls?
Likely not. The iconic running of the bulls at Pamplona attracts thousands of adventurers to Spain each year. It's also a recipe for disaster, regularly leaving tourists severely injured in the annual event.
Because the event is so dangerous, it's highly unlikely that you'll find an insurer willing to cover you for participation. Many companies specifically exclude it from policies, so expect to cover your own medical expenses if you're injured.
Always check with your policy

Depending on the activities you're participating in, you may need to purchase an additional sports package for your policy.
What happens if I have a medical emergency?
If you require medical care while in Spain, your travel insurer may be able to provide a list of recommended doctors in your area.
Or find an English-speaking doctor by asking for help at your hotel or calling your insurance companies 24/7 hotline. In an emergency situation, they can often assist you directing you to the closest hospital and handling the payments.
Hold on to all documents
With luck, your vacation is perfect and nothing goes wrong. But if you need to make a claim, notify your insurer as soon as possible. You'll complete a claim form and provide full details of the incident.
You may also be asked to supply evidence or documentation to support your claim — including police reports, receipts and doctor evaluations. If your claim relates to an incident of theft, make sure you report that theft to the local authorities as soon as possible.
Travel Accident Coverage : up to $50,000
Pre-Existing Medical Condition : Available
Concierge : Included
Customizable coverage that can give you peace of mind when traveling to popular or remote destinations.
Back to top
Who do I contact in an emergency?
Most insurers offer 24-hour emergency numbers that can be helpful when you need help finding accommodation, a doctor or a way home. In a critical emergency in Spain, call 112.
Other specific numbers supported by the country include:
062. The civil guard — a military force that operates much like police in rural areas.
091. National police.
061. Health emergencies.
080. Fire department.
092. Local police.
Here's a map of the US embassies and consulates in Spain:
Travel insurance traps to avoid
You're expected to act responsibly while traveling, even if you're insured. Activities that can void your travel insurance include:
Leaving belongings and valuable items unattended.
Taking drugs that aren't prescribed by a doctor.
Taking part in adventure activities not covered by your travel insurance policy.
Ignoring travel warnings from the US Department of State.
Intentionally breaking the law.
Bottom line
From biking through the mountains to wine tasting at stunning vineyards, Spain offers breathtaking sights and adrenaline-inducing adventures. Before you set off on your journey to Spain, pick up a travel insurance policy to protect you from flight cancellations, accidents and anything else that could hurt your vacation — and your bank account.
Frequently asked questions
Back to top