Finder is committed to editorial independence. While we receive compensation when you click links to partners, they do not influence our opinions or reviews. Learn how we make money.
Travel insurance for the Philippines
Protect yourself on your Filipino getaway.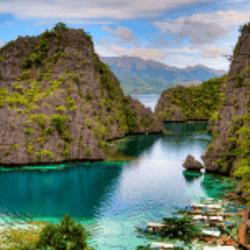 The Philippines is a country known for its rich biodiversity, making it a mecca for hikers, photographers and vacationers from around the world. All that beauty comes with a slight edge of danger, though, so it's a good idea to pick up a comprehensive travel insurance policy to protect yourself from any financial consequences.
Compare travel insurance plans
What does travel insurance for the Philippines cover?
Travel insurance can cover you for a wide range of mishaps on your Filipino adventure:
Overseas medical emergencies. Medical care is often inadequate in rural areas, and you may need to be evacuated to a major city if sick or injured, which can cost tens of thousands. Also, many doctors and hospitals will require payment up front before offering treatment, even in matters of life and death. If you don't have enough in your bank account to cover any potential emergency, make sure you get a plan that offers upfront payment.
Lost luggage. If your luggage is lost at the airport, travel insurance can reimburse you. Comprehensive plans may also include coverage for emergency expenses, such as toiletries and clothes, if your luggage is delayed by more than a few hours.
Stolen belongings. If your wallet is snatched or your camera is stolen from your bag, your insurer can reimburse you.
Flight delays or cancellations. If your flight is canceled or delayed, your insurer can get you on a new flight and reimburse you for extra accommodations and lost deposits.
What doesn't travel insurance cover?
Exclusions vary from policy to policy, but common reasons for claims to be denied include:
Irresponsible behavior. This can range from leaving your luggage unattended in a public place to breaking the law or disobeying posted warnings. If an insurer can argue that you weren't being responsible, they can deny your claim.
Inebriation. Insurers can refuse to pay out for losses or damage suffered while under the influence of alcohol or drugs not prescribed by a doctor.
Traveling to an unsafe area. If you get sick or hurt while visiting an area that the US Department of State has issued an advisory against, your insurer can refuse to pay out.
Concerns for travelers in the Philippines
While most of the Philippines is safe for travelers, there are certain risks you need to be aware of. While travel insurance can protect you from any financial ramifications, caution is always your best first line of defense. Risks for travelers in the Philippines include:
Kidnapping. Tourists have been kidnapped by armed insurgents in the past. Avoid traveling to Mindanao in particular and the southern Philippines in general.
Violent crime. Tourists are often targeted by criminals, particularly in the Markati central business district of Manila. In the event of a robbery, give up any possessions willingly

— it's better to file a claim for your wallet than your medical bills.

Typhoons, earthquakes, volcanic eruptions and landslides. Avoid the typhoon season (May to December) if possible. Check weather reports before traveling and cancel your trip if a natural disaster is forecast.
Illness and disease. As the Philippines is in the tropics, there is always a risk of mosquito-borne diseases. Get up to date on any vaccinations before you leave, wear long sleeves and use repellent.
Mike and Emma's driving slip
Mike and Emma planned their trip to the Philippines during the wet season. While driving down a muddy road in a remote rural area, a landslide swept down the hill and engulfed their vehicle, sweeping it into the valley below. Both were injured in the accident and required medical evacuation to Manila and then repatriation home after a stay in hospital. Because they had full medical coverage, their insurer covered all their costs. If they'd been uninsured, they would have been tens of thousands in debt.
Activities to add to your policy
The Philippines is home to a variety of outdoor activities, some of which may be regarded as "high risk" by insurers. Check to see if you need to purchase additional coverage if you plan to go:
Mountaineering. Mount Apo is the highest mountain in the Philippines, Mount Mayon is the most active volcano and Mount Halcon is the most difficult mountain to climb
Spelunking (caving). Popular caves include Callao Cave in Cagayan, Sumaguing-Lumiang Cave in Sagada Mountain Province, The Puerto Princesa Underground River and Odloman Cave in Mabinay.
Ziplining. Lake Sebu in South Cotabato has South East Asia's highest zipline at 600 feet.
Paragliding. The most popular spots are in Carmona in Cavite, San Mateo in Manila and Safi Ranch in Sarangani.
Scuba diving. Check out Sabang Bay in Puerto Galera, Taiei Maru Wreck in Coron and Yapak 2 in Boracay.
Surfing. Cloud 9 near Siargo Island is known for its legendary surf.
Back to top
Travel tips for the Philippines
When traveling in the Philippines, keep these tips in mind:
Watch the taxi meter. If your taxi driver refuses to switch on the meter, get out and catch another taxi

— t

his is a common scam for ripping off tourists.
Get your money at private exchanges. The best rates when exchanging your money for local currency are at small, private money exchangers and the worst rates are at hotels, airports and banks.
You can find toilets in fast food restaurants. Apart from some bus terminals and ports, there are few public toilets, so if caught short, use one of the many fast food restaurants.
Ask for a higher floor. In busy cities like Manila, ask for a hotel room on a higher floor to minimize traffic noise.
Who do I contact in an emergency?
If an emergency situation arises while traveling in the Philippines, contact:
Your insurer. Your insurer should have the number for their 24/7 helpline clearly printed on your policy.
National emergency number. Dial 911 to reach police, fire or ambulance dispatch.
US embassy. If you lose your passport, get into legal trouble or if there's a countrywide emergency, contact the nearest US embassy or consulate.
5 steps to selecting travel insurance for the Philippines
When selecting the level of travel insurance you will need, there are five questions to ask yourself:
Where are you going? Factor in things like increased chance of inclement weather or high crime rates of the area you're visiting.
How long are you going for? If you travel often, consider an annual multi-trip policy.
What will you do there? Pick up optional extras if you plan to partake in risky activities such as ziplining or paragliding.
Are you taking valuable items? Check if the limit on your policy is high enough to replace anything you're bringing.
Do you have any medical conditions? Declare your pre-existing medical conditions and pay any necessary fees to get coverage.
Bottom line
Whether you're headed off for a week of napping on the beach with a good book or a month of hiking around the country, the Philippines offers something for everyone. This country is stunningly beautiful, but far from risk-free, so pick up a travel insurance policy before you leave to protect yourself from any mishaps on your adventure so that if a typhoon causes you to cancel your trip, you break your ankle surfing or a pickpocket takes off with your wallet on a crowded street, you're covered.
Frequently asked questions
Back to top