Finder is committed to editorial independence. While we receive compensation when you click links to partners, they do not influence our opinions or reviews. Learn how we make money.
Travel insurance for Papua New Guinea
Protect yourself on your Papuan adventure.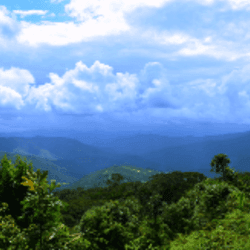 From its soaring mountain peaks to its pristine beaches, Papua New Guinea (PNG) has plenty to offer travelers from all over the world. Before you visit this breathtaking country, it's a good idea to invest in the right travel insurance policy to keep you safe on the journey.
Compare travel insurance plans
What does travel insurance cover?
Coverage varies from insurer to insurer, but things to look for in a policy include:
Overseas medical expenses. If you get sick or injured while overseas, your insurer can pay your medical bills. At the bare minimum, get a policy that covers hospital expenses, ambulance rides and medications. More comprehensive policies will also cover medical evacuation and repatriation in case you need to be flown to a major hospital

— or even back to the US.

Lost luggage. If the airport loses your luggage, your insurer will reimburse you. Some policies will also pay for emergency clothes and toiletries if your luggage is delayed for more than a few hours.
Flight cancellations and delays. Flights can often be canceled due to circumstances outside of your control or a whole trip may need to be cut short due to an unfortunate incident back home. Travel insurance can help cover the cost.
Rental vehicle damages. If you get in an accident with a rental car, your insurer can reimburse you for the deductible.
Theft. If your wallet is snatched on your way to the hotel or your camera disappears from your bag, your insurer can reimburse you.
What doesn't travel insurance cover?
Exclusions also vary from insurer to insurer, but common reasons for a claim to be denied include:
Leaving belongings unattended. If you leave your suitcase on the sidewalk while you check out a shop or leave your wallet on the beach while you go swimming, your insurer won't cover them if they're stolen.
Inebriation. If you hurt yourself or someone else while drunk or on drugs, your insurer can refuse to pay any resulting claims.
Risky activities. If you plan to participate in any adventurous activities, check with your insurer to see if you'll be able to get coverage.
Traveling to an unsafe area. If you get sick or injured while traveling to an area that the US Department of State has issued an advisory against, your insurer might not be able to help you.
Breaking the law. If you break the law, any resulting claim can be denied.
Top travel risks in Papua New Guinea
Travel insurance can help protect you against any financial consequences when traveling, but caution is always your best first line of defense. Things to be aware of in Papua New Guinea include:
Crime. Crime levels remain high in PNG, particularly around Port Moresby, Lae and Mount Hagen. Incidents can be random and often violent with assaults, bag snatchings, muggings and robberies reported. Avoid traveling alone when possible, particularly at night, and don't withdraw from an ATM in an unsafe area. If you are targeted, give up any possessions or money willingly

— it's better to file a claim for a stolen wallet than for medical bills.

Civil unrest. Outbreaks of violence can erupt at any time due to tension between clans and ethnic groups. Small disputes can quickly escalate into violent clashes. Check news reports before leaving and reschedule your trip if the civil unrest escalates. While in the country, don't get involved with any demonstrations.
Poor roads. Many roads in PNG are in extremely poor condition and flooding is common. Road closures and long delays are common. Drive carefully, and plan for plenty of extra time to get to the airport.
Polio. Vaccine-derived poliovirus is currently a threat in Papua New Guinea. The CDC recommends being fully vaccinated before you travel to the area

— check with your doctor to find out if you need a booster shot.
Brian's car troubles
Brian set himself on a ten-day adventure sightseeing in Papua New Guinea. However, just three days into the trip, Brian's rental vehicle was carjacked. He was assaulted and had all his luggage and belongings stolen.
Thankfully Brian had taken out comprehensive travel insurance before leaving home, which provided coverage for the medical treatment he required, the several-thousand-dollar rental vehicle deductible and the cost of replacing his luggage, passport and stolen valuables. While Brian was still severely inconvenienced by the carjacking, it could've been a whole lot worse if he didn't have travel insurance protection.
Activities to get covered for in Papua New Guinea
With its rugged mountains and amazing beaches, PNG offers a host of wonderful sights and experiences just begging to be explored. Before trying any of these activities, check with your insurer to find out if you need to purchase additional coverage:
Surfing. The capital of PNG, Kavieng features a fast-growing surfing scene.
Scuba diving. Snorkeling and diving around the decaying piers of the Samarai Island Wharf offers an incredible experience full of marine life and history.
Hiking and trekking. Hiking up Mt Tavurvur is an exhilarating volcanic adventure with surreal views

—

make sure you have a guide.
Fishing trips. Papua New Guinea offers some prime locations for sport fishing including the Liamo Reef Resort in Kibe.
Cycling and motorcycling. The Boluminski Highway is a scenic route built for cycling, with little traffic and flat surfaces. Wear a helmet and bring a copy of your motorcycle license if you plan to rent a motorcycle.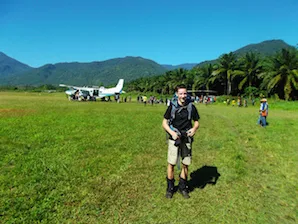 Back to top
If I have a medical emergency in Papua New Guinea, am I covered?
Yes, but make sure your policy has unlimited medical evacuation. Although the medical facilities in heavily populated areas of PNG are sufficient to handle routine medical treatment, that's often not the case in emergency situations. The health facilities in rural areas are very poor by US standards, and medical evacuation is often the only option for severe injuries and illnesses. With this in mind, travel insurance that offers comprehensive coverage for medical evacuation and repatriation is recommended.
Common diseases in PNG
Travelers should be aware that visiting this region of the world will expose them to the risk of contracting certain serious diseases that may require emergency medical attention. These include mosquito-borne diseases such as malaria, dengue fever and Japanese encephalitis, as well as the measles, polio, tuberculosis, cholera, typhoid and hepatitis. See a doctor before you leave and make sure you're up to date on all relevant vaccinations.
General claims process
For all types of claims, make sure to follow a few simple steps:
Contact your insurer as soon as possible. Notify them of any event that may lead to a claim and so they can guarantee payment to the hospital if necessary.
Collect all the relevant documents. This includes police reports, medical reports, receipts and proof of ownership that may be required to back up your claim. It's a good idea to take a picture of everything you're packing before you leave in case you need to file a claim.
Fill out a claim form. Provide full details of your claim to your insurance provider.
Who do I contact in an emergency?
In the event of an emergency, contact:
Your travel insurer. If you need emergency assistance, contact the global emergency assistance hotline provided by your insurer. Many of these call centers are staffed 24/7 and can help you do things like find a doctor, replace stolen passports and much more.
Police or ambulance. Papua New Guinea doesn't currently have a national emergency number. Look up the numbers for police and ambulance dispatch before leaving the US for each area you plan to visit.
US embassy. If you lose your passport, get into legal trouble or if there's a countrywide emergency, contact the nearest US embassy or consulate.
5 steps to selecting travel insurance for Papua New Guinea
When selecting the level of travel insurance you need, there are five questions to ask yourself:
Where are you going? Get coverage for any specific risks for the areas you plan to visit.
How long are you going for? If you travel regularly, you can save money with an annual multi-trip policy.
What will you do there? Make sure you're covered for any activities on your itinerary.
Are you taking valuable items? Consider extra coverage for expensive cameras and electronics.
Do you have any medical conditions? Declare your pre-existing medical conditions and find out how you're covered.
Bottom line
Whether you're planning a week of sunbathing on the beach or a month of nonstop adventure, Papua New Guinea offers something for everyone. Before you pack your bags, don't forget to pack the most important thing — a travel insurance policy to keep you, and your bank account, safe on the adventure.
Frequently asked questions
Back to top