Finder is committed to editorial independence. While we receive compensation when you click links to partners, they do not influence our opinions or reviews. Learn how we make money.
Travel insurance for Honduras
From trekking through the jungle to exploring Tegucigalpa, protect yourself on your Honduran getaway.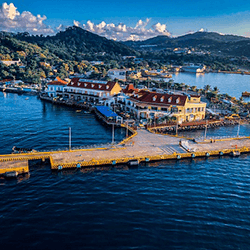 Home to white sand beaches, an impressive range of flora and fauna and a lively cultural scene, Honduras has long drawn backpackers and travelers looking for adventure. However, while stunningly beautiful, the country is far from risk-free. Before you pack your bags, make sure you pack the most important thing — a comprehensive travel insurance policy to keep you safe on your travels.
Compare travel insurance plans
What does travel insurance cover?
Coverage varies from policy to policy, but basic things to look for when choosing a plan include:
Medical care. If you get sick or injured while on vacation, medical bills can quickly become insurmountable if you don't have insurance. When choosing a plan, keep an eye on what the deductible is

— insurance is useless if you can't afford the deductible.

Trip cancellations or delays. If your trip is canceled, your insurer can reimburse you. If your trip is delayed, or if you get stuck in Honduras longer than expected, your insurer can cover the cost of additional accommodations, plus any lost deposits or cancellation fees.
Lost or stolen belongings. If the airport loses your luggage or if your wallet is stolen, your insurer can reimburse you. Some policies will also offer coverage for delayed luggage, which can help cover the cost of toiletries and clothes if your luggage is delayed by more than a few hours.
What doesn't travel insurance cover?
Exclusions vary from policy to policy, but you generally won't be covered if:
You're inebriated. If you injure yourself or someone else while drunk or on drugs not prescribed by a doctor, your insurer can deny your claim.
You traveled to an unsafe area. If you travel to an area that the US Department of State has issued an advisory against, your claim can be denied. At the time of writing, they recommend that you reconsider the need to travel to Honduras because of its high crime rate. This means that certain protections usually offered by travel insurers, such as political evacuation, may not apply.
You acted irresponsibly. If your luggage is stolen after being left unattended in a public place, you injure yourself doing something reckless or you file a claim resulting from any other irresponsible action, your claim can be denied.
Top travel concerns for Honduras
Honduras is a beautiful country, but it's also one that can be a bit risky for travelers. While caution is always your best first line of defense, travel insurance can help protect you from any financial liabilities. Issues to watch out for include:
Crime. Violent crime remains an issue in Honduras, including gang violence, carjackings, murder, armed robbery and assault. If you are robbed or attacked, assume your assailants are armed and do not resist.
Weather events. Hurricane season in Honduras is from June to November. This is when flooding, landslides, heavy rains, road closures and service disruptions are more likely to occur. Monitor local media for weather news and updates, and if you travel during hurricane season familiarize yourself with evacuation plans.
Transportation risks. If possible, travel in daylight as the risk of carjacking and robbery sharply increases after dark. Keep your windows closed and doors locked, and be wary of roadside robberies, particularly when driving from the airport or in a rental car, as tourists may find themselves targeted. Poorly maintained roads and vehicles and unpredictable local driving habits may contribute to the dangers, as can farm animals and pedestrians on the road. Avoid unlicensed taxis and don't pick up hitchhikers.
Disease. Mosquito-borne diseases, including dengue fever, Zika and malaria, are present in Honduras, with a particular risk during the rainy season from May to November. Consult your doctor prior to traveling, and consider deferring travel plans if you're pregnant. Water and food-borne illnesses are common and travelers are advised to avoid ice cubes and raw foods and drink only boiled or bottled water.
Seismic activity. Honduras is located in an active earthquake zone, and as a coastal region may also be subject to tsunamis. Check reports before heading to Honduras and cancel or delay your trip if an earthquake is expected.
Activities to get extra coverage for
Honduras is full of beauty and excitement, not all of which will be covered on a basic insurance policy. These activities might require you to take out extra coverage:
Adventure activities. Ziplining, bungee jumping, skydiving and other adventurous pastimes in Honduras give you a chance to get your blood pumping for a thrill to remember. Riskier activities are sometimes excluded from basic insurance policies, so if you plan to get your adrenaline flowing, check with your insurer to see if you need to purchase extra coverage.
Scuba diving, snorkeling and water sports. Honduras is a world-class scuba diving and snorkeling destination. Note that travel insurance conditions for scuba diving can vary between providers, especially in regards to depths covered.
Museums and historical sites. Some of the unique archaeological attractions in Honduras highlight the blend of colonial and traditional influences that have shaped the nation. Many can be found in the big cities, but others are more far-flung. If you're pre-booking your visits or going with a tour group, consider tour cancellation coverage.
What happens if I have a medical emergency in Honduras?
In the event of a medical emergency in Honduras, your number-one priority is to ensure your own safety and seek medical attention.
The standard of medical services in Honduras is highest in the major cities of Tegucigalpa and San Pedro Sula, but it's still limited even there. Outside these areas, health services become very sparse, so travel insurance for medical evacuation and repatriation is highly recommended.
Doctors and hospitals will generally require payment up front, even for life-threatening conditions. It is important to make sure your travel insurance policy pays for medical emergencies up front, especially if you don't have enough in your account to pay potentially thousands or tens of thousands of dollars out of pocket and then claim it back later.
Back to top
Who should I contact if something goes wrong?
In the event of an emergency in Honduras, you have several important points of contact.
Your insurer. Your travel insurance provider should operate a 24-hour claims helpline. Contact them as soon as you are reasonably and safely able in the event of any claim.
Police. You can reach the police in Honduras by dialing 119.
US embassy or consulate. If you get into legal trouble, lose your passport or if there's a countrywide emergency, contact the nearest US embassy or consulate.
Bottom line
As a well-established tourist destination, Honduras boasts a wide range of museums, archaeological tourist sites, resorts and natural attractions, including world-renowned dive sites. Before you start planning everything you want to do on your vacation, take a minute to plan for what you don't want. A travel insurance policy can keep you — and your bank account — safe from any mishaps on your trip, making sure the only things you bring home are memories and souvenirs.
Frequently asked questions
Back to top