Finder is committed to editorial independence. While we receive compensation when you click links to partners, they do not influence our opinions or reviews. Learn how we make money.
Travel insurance for Hawaii
Protect yourself on your vacation to the Aloha State.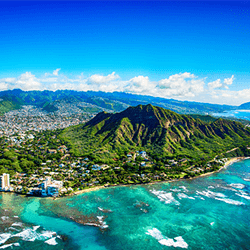 Most health insurance plans won't cover you in Hawaii, so you might need a travel insurance policy to protect you from the financial consequences of getting sick or injured while on vacation.
Compare travel insurance plans
Do I need travel insurance for Hawaii?
Although Hawaii is a US state, many health insurance plans won't cover you there — even in an emergency. Plans that offer out-of-network coverage will often exclude Hawaii and Alaska in the fine print. Check your current policy. If you aren't covered in Hawaii, consider picking up some travel insurance which can help with:
Lost or stolen luggage and valuables. If the airport loses your luggage or your camera is stolen, your insurer can reimburse you.
Cancellation fees and lost deposits. If you're forced to cancel your trip, at least you won't have to pay for it.
Rental car deductibles. If you're involved in an accident and are forced to pay a high deductible, your travel insurer can reimburse you.
Your insurer will also usually have a 24/7 helpline that you can call for emergency assistance.
What are some travel concerns in Hawaii?
While Hawaii is considered a very safe place to travel, there are certain risks that you need to be aware of. The right insurance policy can help protect you:
Crime. Petty crime such as pickpocketing is common and tourists are often targeted.
Water-related risks. As Hawaii has so many water-related activities, water safety is considered a major concern for visitors, especially for inexperienced swimmers, surfers or divers. Visitors are advised to be aware of hazards such as dangerous surf, strong rips, coral reefs and box jellyfish.
Volcanic activity. Hawaii is famous for its volcanoes, with volcanic activity occurring on a daily basis. Visitors have been killed in the past by lava, steam and toxic gases because they ignored warnings and ventured into restricted areas.
Climbing risks. Due to the large number of hiking and climbing opportunities, falls are responsible for the most visitor trauma admissions in Hawaiian hospitals. For this reason, visitors should obey all signs relating to dangerous cliffs, trails and lookouts.
Must read: Honolulu smash and grab
Michael had been in Hawaii for a little over a week when he decided to visit downtown Honolulu. He left his rental car in a parking garage and went to explore the city. When he got back, the windows had been smashed and his laptop was gone.
The losses that Michael faced:
$3,000 deductible for damage to the rental car
$1,000 stolen laptop replacement
How Michael was covered by travel insurance
Since Michael had taken out a comprehensive travel insurance policy prior to his trip, he contacted his insurer's 24/7 helpline, who helped with his claim:
$3,000 rental car deductible paid directly to the car rental company. Michael's policy automatically included coverage for any rental charge up to $4,000.
$650 for the cost of his laptop. Michael's insurer subtracted a 30% depreciation from the original value of the laptop as well as a $50 deductible that's required by the policy for stolen items.
Consider adding these activities as extras to your policy
Hawaii is full of adventurous activities. Some insurers won't automatically cover the riskier ones, so if you plan on getting your adrenaline going, check your policy to see if you need to purchase additional coverage:
Sea kayaking. The stunning cliffs of Kauai's Na Pali Coast offer some great sea kayaking experiences.
Parasailing. Waikiki beach is a is considered a prime spot for parasailing.
Powered hang gliding. Powered hang gliding is an exhilarating way to see Oahu's North Shore.
Shark diving. You can encounter these thrilling creatures up close and personal in Hawaii.
Surfing. Hawaii is one of the world's most renowned surf scenes. Look for a policy that will cover damage to your surfboard. Keep in mind that travel insurance will usually not cover you if you plan to surf competitively.
Am I covered if I hike Hawaii Volcanoes National Park?
If you hike through Hawaii Volcanoes National Park, your travel insurance will usually cover you for any hiking-related injuries you might suffer such as a sprained ankle. However, if you injure yourself in a volcano-related incident where you have not followed the instructions of your guide or have put yourself at risk in some way, your claim can be denied.
Back to top
Am I covered for rental vehicles?
Most travel insurance policies cover deductibles if you have your rental car stolen or are involved in an accident. Travel insurance covers some or all of this amount, depending on the policy you take out. Travel insurance can also cover you if you're injured in a rental car accident.
What's not included?
Travel insurance does not cover:
Third party injuries or property damage
Repairs to the rental vehicle itself
These liabilities are covered by a separate car insurance policy that the rental car company will require you to take out.
If I have a medical emergency, how am I covered in Hawaii?
In case of an emergency, contact your insurer's emergency assistance service as soon as possible after the incident. If the costs are only a few hundred dollars, your insurer will usually require you to pay up front and claim when you get back home.
Don't forget to disclose pre-existing medical conditions
If you have a pre-existing medical condition that hasn't been approved by your travel insurer, then you may not be covered for any medical costs that arise from the condition.
What are some tips for traveling in Hawaii?
There are risks involved in any form of travel, but Hawaii is generally safe as long as you listen to warnings, don't take unnecessary risks and cover yourself with travel insurance. Some useful precautions include:
Don't leave valuables in an unlocked car. Store valuables in your hotel room or safe and keep essentials with you while you're out and about.
Keep an eye on your belongings. Especially while you're on the beach or swimming.
Don't carry large amounts of cash. Divide your cash and credit cards so if you lose one, you'll still have the other.
Wear sun protection. If you're planning to spend a lot of time on the beach, use sunscreen or protection. The governor of Hawaii recently signed a bill banning sunscreens containing

oxybenzone or octinoxate. The ban won't go into full effect until 2021, but it's a good idea to look for sunscreens without these ingredients.
Bottom line
World-class surf conditions, stunning sunsets and breathtaking hikes make Hawaii one of the most photo-worthy vacation spots in the world — and you don't even need a passport! But just because you haven't technically left the states doesn't mean you don't need travel insurance. The right policy can protect you from a major financial setback so you can relax and protect yourself from unpleasant surprises on your trip.
Frequently asked questions
Back to top