Finder is committed to editorial independence. While we receive compensation when you click links to partners, they do not influence our opinions or reviews. Learn how we make money.
Travel insurance for Guatemala
Protect yourself on your adventure to the Land of Eternal Spring.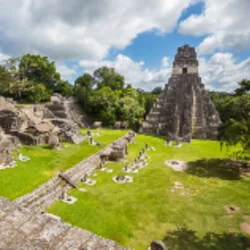 Guatemala attracts more than two million tourists each year from all over the world. Many are drawn by its sweeping beaches, reefs, abundant flora and fauna and some of the most remarkable Mayan architecture ever discovered. Before you board your plane, pick up a comprehensive travel insurance policy to protect you — and your wallet — from bumps in the road.
Compare travel insurance plans
What does travel insurance cover?
Coverage varies from policy to policy, but there are some basic things you should look for in travel insurance:
Medical coverage. If you get sick or injured in Guatemala, bills can start to pile up fast, and if you need treatment from a private hospital, you can be turned away if you don't have enough up-front money. Travel insurance can get you the care you need without draining your account.
Trip cancellations or delays. If you need to cancel your trip due to protests or wait out a storm before you fly home, your insurer can cover the costs. You're also covered for delayed flights, lost deposits and cancellation fees.
Lost or stolen belongings. If your luggage is lost at the airport or your wallet is stolen, your insurer can reimburse you.
What doesn't travel insurance cover?
You are expected to act responsibly and be honest with your insurer. If you don't, your claims can be denied:
Getting drunk. If you hurt yourself or someone else while drinking or on drugs not prescribed by a doctor, your insurer won't pay the claim.
Ignoring travel advisories. If you travel to an area that the US Department of State has issued an advisory against, your claim can be denied.
Pre-existing conditions. If you get sick due to a pre-existing condition not specified on your policy, your insurer can deny the claim. Disclose any health conditions before purchasing a policy and make sure they're covered.
What are some common travel concerns in Guatemala?
Guatemala, like most international travel destinations, is not without its problems. Use common sense and be aware of:
Transportation hazards. Use only licensed, dispatched taxis or those from hotels. Avoid unnecessary travel in the late afternoon and at night, and try to avoid traveling alone. You are strongly advised to avoid public buses and to see what kind of security measures are provided by tour companies.
Civil unrest. Demonstrations have been known to occur in Guatemala with little warning. Although generally peaceful, these have the potential to become violent and have resulted in travelers being detained and borders being closed, leading to trip delays.
Extreme weather. Guatemala's hurricane season is from June to November. This is when mudslides, flooding and service disruptions are most likely to occur. Waterproof essential documents and consider canceling your trip if bad weather is forecast.
Crime. Organized crime is more prevalent in the border regions, but armed robbery is relatively common all over, particularly on public transport, after dark and in certain unsafe areas. Consider leaving your valuables at home and avoid carrying large sums of money. If you're robbed, give up any possessions or cash

— money can be claimed back from your insurer as long as you stay safe.

Disease. Malaria is a potential risk all year in the low-lying areas of Guatemala. Other insect-borne diseases include Zika, dengue fever and Chagas disease. Use insect repellent, wear long sleeves and find mosquito-proof accommodations. If you start to feel ill, see a doctor immediately.
Back to top
What specific activities I should get covered for in Guatemala?
Some activities won't be included on most standard insurance policies, so check with your insurer before purchasing one to find out if you need additional coverage:
Climbing the volcanoes. Acatenango Volcano is known for rewarding tough hikers with astounding views. On others, like Pacaya, you can make the ascent on horseback. Coverage for hiking varies from policy to policy, so read the fine print to make sure you're covered.
Visiting historical sites. Visiting colonial museums like Casa Santo Domingo can be an eye-opening experience. Mayan sites such as Yaxha combine nature and history in stunning ways. But some of the most highly recommended sites can be isolated, so consider a policy that covers medical evacuation in the unlikely event that its needed.
Adventure activities. Prefer a vacation with adrenaline? Guatemala has adventure activities such as caving and whitewater rafting. These activities are generally not covered by standard travel insurance policies.
What happens if I have a medical emergency in Guatemala?
The standard of health care in Guatemala City is generally adequate, but can be much more limited outside of the capital. Quality of treatment, equipment and staff may vary widely between hospitals, even between seemingly equivalent private facilities. Look for a policy that covers medical evacuation to a bigger city and repatriation in case you need to be flown back home.
Contact your insurer to let them know what happened and that you will be making a claim. If your policy pays up front, you may be able to let your insurer and hospital staff negotiate treatment costs directly. If it doesn't, you'll need to pay for all medical treatments and claim the costs back later.
Who do I contact if something goes wrong?
Save important contacts in your phone before leaving home so you know who to contact in an emergency:
Police: You can reach the police by dialing 120, 122 or 123.
Guatemalan office of Assistance to Tourists: ASISTUR can be reached by dialing 1500

, 2421-2810 or 5578-9836 and offers 24/7 help to tourists.

Your insurer: Your insurer should have a 24/7 helpline you can call for assistance.
A US embassy or consulate: If you lose your passport, get into legal trouble or if there's a countrywide emergency, contact the nearest US embassy or consulate. You can reach the US embassy in Guatemala City at

502-2326-4501.
Bottom line
Guatemala is one of the world's hottest vacation spots. But before you pack your bags, pick up a travel insurance policy so you can relax knowing that you're safe from misadventures on your South American getaway.
Frequently asked questions
Back to top
Picture: Shutterstock