Finder is committed to editorial independence. While we receive compensation when you click links to partners, they do not influence our opinions or reviews. Learn how we make money.
Travel insurance for France
Protect your adventures from the Eiffel Tower to the towering Alps.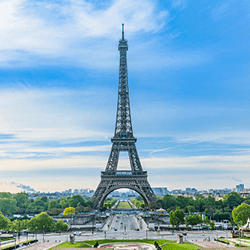 Oh, Paris — we swoon at the thought of it. But France has so much to offer beyond the City of Lights. Before you leave for its world-class museums, sweeping landscapes and regional delicacies, protect your adventure with a travel insurance policy.
Travel Accident Coverage : up to $50,000
Pre-Existing Medical Condition : Available
Concierge : Included
Customizable coverage that can give you peace of mind when traveling to popular or remote destinations.
Compare travel insurance plans
What travel risks are specific to France?
More often, your risks will involve limited room in your stomach for the food and drink that abounds. Situations for travelers to keep an eye out for include:
Terrorist threats. Terrorism is an escalating concern across the globe, and France has seen its share of incidents in recent years. If you need to cancel your trip after a violent incident, travel insurance can reimburse you.
Civil unrest. Protests and demonstrations are common in France, but they can also turn violent. Tourists should avoid such gatherings, particularly at night and in outlying Paris suburbs. If your trip is delayed or cut short because of civil unrest, your insurer can reimburse you.
Petty crime. Pickpockets are widespread in France, particularly in large cities that attract tourists. Be vigilant on public transportation, don't leave belongings or rental vehicles unattended and use ATMs in protected spaces, like banks and malls. If your valuables are stolen, travel insurance can reimburse you.
What should I consider extra coverage for?
You can adventure to your heart's content in France, but your standard policy may exclude the more heart-pounding among them. Look for extra coverage if you're considering:
Hiking. Popular nature getaways can reward you with breathtaking mountain trails to explore.
Climbing. Home to the majestic Pyrenees, France offers mountain climbing as sport.
Cycling. France hosts more than 30,000 miles of beautiful bike paths.
Skiing and snowboarding. The best skiing is in the Alps, where you can take part in downhill, cross-country and snowboarding.
Water sports. Indulge yourself with sailing, fishing, diving and jet skiing across the Mediterranean.
Motorcycling. While popular, you could find yourself hung up in chaotic traffic conditions, requiring extra vigilance.
Adventure sports. Go hang gliding, paragliding and spelunking for a different perspective on France.
Cycling in Paris
Cycling is a popular means of getting around in Paris, which hosts 400 miles of dedicated routes. So many cyclists on the roads combined with infamously erratic Parisian motorists can spell danger if you don't know what you're doing. Cycling around the Arc de Triomphe is particularly perilous, with traffic coming from all directions and no one willing to concede right of way.
If you plan to cycle in Paris, make sure it's covered by your travel insurance. Carefully read your policy for exclusions. And read up on the road rules for cyclists to avoid inadvertently voiding your coverage.
How do I make a medical claim?
If you're sick or injured, contact your insurer as soon as possible to learn the steps you need to take to make a claim. Collect doctor's notes, bills, discharge papers and any other relevant documents to support your claim.
Carefully read your policy so that you understand the deductibles or copays that come with your claim. You may need to pay smaller-dollar bills up front and request reimbursement when you're home.
Case study: Julia's surprise deductible
Julie waitressed long hours to save up for her six-month adventure to Europe. Just before she left, she bought a basic travel insurance plan. After more than five months of exploring the continent, Julie spent her final week relaxing in Southern France. Unfortunately, Julia cut her foot on broken glass at the beach — a cut that required a visit to Saint-Roch Hospital.
On checkout, she learned that the ambulance and ER visit totaled more than $5,000. And her insurance company required a $500 deductible up front. Luckily, Julia asked for her dad's help with the deductible, allowing her to return home to settle the claim.
Back to top
Who do I contact in an emergency?
If you encounter an emergency while traveling in France, you aren't alone:

Friends and family. Especially if you need emergency cash.
Your insurer's 24/7 emergency hotline. Most insurers offer overseas support.
French police. Call the national emergency line at 112 if you're the victim of a crime.
Embassies or consulates. Get help with lost passports or getting home in a crisis.
Common scams in France
It's not just France: Scammers all over the world fair consider tourists fair game for tricks that part them from their money. To avoid falling prey to a scam, carry your money securely in a money belt or internal pocket, and be on the lookout for pickpockets, thieves and scam artists, particularly around major tourist attractions such as the Eiffel Tower.
Popular scams to look out for include:
The gold ring. A person "finds" a gold ring and gives it to you. If you take it, they demand their share of its value.
The string trick. A magician shows you a trick by tying a piece of string around your finger. While your arm is disabled, an accomplice steals your wallet.
The clumsy jogger. A jogger "accidentally" bumps into you and then steals your wallet while helping you to your feet.
If you're the victim of a scam, contact your travel insurance company immediately.
5 steps for selecting travel insurance
To determine the level of insurance you need, narrow down:
Where you're going. If you're traveling to a major city, consider extra coverage against theft for your personal belongings.
How often you travel. If you've planned multiple trips to France or worldwide over the year, multitrip coverage could be helpful.
What you'll do while traveling. You might need extra coverage for risky activities like rock climbing or spelunking.
The valuables you'll take with you. Consider extra coverage for expensive cameras and electronics
Your existing medical conditions. Let your insurer know about your medical needs to learn whether you'll need extra coverage.
General benefits and exclusions
Travel insurance can cover your medical expenses, emergency evacuation and repatriation, lost or stolen belongings, and trip cancellations or delays. That being said, your travel policy won't cover everything. You're typically on the hook for your own costs if:
You leave your belongings unattended in a public place.
You fail to disclose existing medical conditions.
You act recklessly or intentionally break laws.
Bottom line
France is the ultimate vacation destination for romantic getaways, thrill seeking and jaw-dropping vistas and landscapes. A travel insurance policy can make sure you come home with memories to brag about and pictures to post, rather than looming medical bills or missing electronics you can't afford to replace.
Frequently asked questions
Back to top