Finder is committed to editorial independence. While we receive compensation when you click links to partners, they do not influence our opinions or reviews. Learn how we make money.
Travel insurance for Turkey
Planning to visit the Hagia Sofia or Anzac Cove? Protect yourself on your Turkish adventure.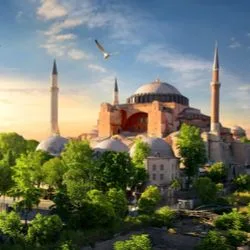 A gateway between Europe and the Middle East, Turkey is home to a bustling blend of cultures and host to centuries of unique history from both sides of the Mediterranean, offering unique man-made landmarks and a diverse range of natural attractions, adventure tourism and resort-style relaxation. It's also currently a risky place to visit, so make sure you pick up a travel insurance policy before you leave to keep you safe.
Compare travel insurance plans
What does travel insurance for Turkey cover?
Coverage varies from policy to policy, but the most important things to get covered for include:
Emergency medical assistance. Even the most bare-bones policy needs to include coverage for any injuries or illnesses that occur while you're overseas, including ambulance fees, hospital expenses and medications. Comprehensive policies will also include coverage for medical evacuation and repatriation, which means your insurer will pay to fly you to a major hospital if needed or even back to the US.
Travel delays. If you get stuck in Turkey longer than expected due to bad weather, an illness or injury or a canceled flight, your insurer can cover the cost of extra hotel nights, flight changes and lost deposits or cancellation fees if you're headed on to another destination.
Lost or stolen belongings. If your luggage never makes it to baggage claim or your wallet is stolen on the way to the hotel, your insurer can reimburse you. Comprehensive policies also cover delayed baggage so that you can pick up clothes and anything else you need to hold you over until your suitcase arrives.
Cancellations. If your trip gets canceled for reasons outside of your control, your insurer can reimburse you for any nonrefundable costs.
What doesn't travel insurance cover?
Exclusions vary from policy to policy, buy you'll rarely be covered for:
Improperly secured belongings. Travel insurance policies will generally not cover stolen possessions if they were left unattended in a public place or in an unlocked hotel room.
Traveling against government advice. At the time of writing, the US Department of State advises people to reconsider their need to travel to Turkey as a whole and to not travel to certain areas. Check with your insurer to see how this affects your coverage. You'll likely not be able to get coverage for political evacuation, and it may be more difficult to get coverage for personal liability or repatriation.
Reckless behavior. Excessive drinking, doing anything under the influence of illicit drugs and demonstrating poor judgment can all count as reckless behavior. Any losses resulting from this will typically not be covered by insurers.
High-risk sports and activities. If you'll be ballooning, flying, scuba diving, jet skiing, windsurfing, wakeboarding, water skiing, mountaineering or enjoying other adventure holiday activities in Turkey, you need to be sure your travel insurance covers it. These activities often need to be added on to your policy for an additional fee.
Dangers to be aware of in Turkey
As mentioned above, Turkey is a country that the US government currently considers risky for travelers. Travel insurance can help protect you against financial ramifications, but caution is always your best first line of defense. Risks to be aware of include:
Political instability. In 2016 the Turkish military forces and government were involved in a failed coup attempt. Although the situation has been largely resolved, the nation still has an increased security presence and chance of demonstrations. Do not get involved in any protests, and check new reports for updates before leaving.
Refugee conflicts. Turkey shares a border with Syria and has seen over two million refugees cross the border, causing considerable tension between Turkish locals and refugees. Try to avoid hotspots and don't get involved in any conflicts.
Terrorism. Terror groups are active on the border between Turkey and Syria, and have shown a tendency to target westerners for kidnapping and murder. Avoid traveling to the provinces of

Hatay, Kilis, Gaziantep, Sanliurfa, Sirnak, Diyarbakir, Van, Siirt, Mus, Mardin, Batman, Bingol, Tunceli, Hakkari and Bitlis, as well as anywhere else near the Syrian border.
Sexual assault. There has been an increase in the number of violent sexual assaults against female tourists traveling alone or in small groups in Turkey's popular tourist areas, including Istanbul and Antalya. Watch your drinks, don't travel alone and avoid isolated locations. If possible, consider traveling with men you're familiar with.
Crime. Muggings, assaults and bag snatchings occur in Turkey, particularly in the more crowded tourist areas of Istanbul. Always stay alert and aware while out and about and avoid traveling alone when possible.
Scams. There have been reports in Istanbul of English-speaking locals befriending tourists and taking them to a restaurant or bar for food and drinks, and then later demanding payment for an enormously inflated bill, sometimes as much as thousands of dollars for a few drinks, and threatening violence if it's not paid.
Back to top
Travel advice for tourist hotspots
There are six destinations in Turkey that have become particularly popular with travelers. However, they are not without risks that you should be aware of.
Medical care in Turkey
Turkey has a robust network of private hospitals, many of which have agreements with different insurers so you can access them with travel insurance. There are plenty of medical facilities and options in Turkey, and both public and private hospitals can be expected to provide effective treatment. Whether you're visiting as a tourist or for business, you need to know how your travel health insurance policy will work. Note the following:
Non-Turkish speaking visitors are better suited to the private hospital system, as it has considerably better access to English-speaking doctors.
Many areas of Turkey do not have adequate local medical facilities for urgent treatments. Emergencies here will typically require medical evacuation or an air ambulance. These are usually very expensive, and require payment up front. Having a travel health insurance policy can literally save your life if you require a medevac in Turkey and save you from bankruptcy if you need to be repatriated back to the US.
Who do I contact in an emergency?
In the event of an emergency, contact:
Your insurer. Call your insurer for any issue that you could make a claim for, including medical emergencies. Keep your insurance details with you at all times while traveling so you can easily get in touch with them at a moment's notice.
Police. Dial 155 to reach police.
Ambulance. Dial 112 in a medical emergency.
US embassy. If you lose your passport, get into legal trouble or if there's a countrywide emergency, contact the nearest US embassy or consulate.
Tips for traveling safely in Turkey
When traveling in Turkey:
Pick your travel dates carefully. February 15, March 21, March

30

, April

4

, May

1

, August

15

, November

27

and December 19 all have symbolic significance in the Turkish calendar, and may be more susceptible to terrorist threats. Exercise caution in the days and weeks surrounding these dates.
Use bug spray. Theres's heightened malaria risk in the southeastern part of Turkey from May to October, while the start of summer sees the emergence of other insect-borne illnesses. Make sure you are vaccinated and take appropriate precautions if visiting Turkey in this period.
Be aware of local laws. Dual Turkish/American citizens will be recognized as Turkish while in the country for any legal matters. The US embassy is only able to offer limited assistance to dual citizens who are detained.
Don't get involved. Avoid areas where large gatherings or demonstrations are occurring, whether or not you are a participant.
Be aware of risks. Tourist destinations, including areas of Ankara, Istanbul and Antalya, have been deliberately targeted by terrorist attacks. Exercise heightened caution in these areas and remain aware of your surroundings and personal safety.
Be cautious. While Turkey is comparatively progressive relative to other destinations in the region, it's still much safer for LGBT travelers to avoid public displays of affection or visiting certain areas.
Bottom line
Whether you're going to visit Istanbul for a weekend before continuing on to Dubai or spending a month traveling around the northern part of the country, Turkey is undeniably beautiful and full of adventure. Unfortunately, it's also full of risks — pick up a travel insurance policy before you leave to help keep you, and your wallet, safe.
Frequently asked questions
Back to top
Picture: Shutterstock