Finder is committed to editorial independence. While we receive compensation when you click links to partners, they do not influence our opinions or reviews. Learn how we make money.
Travel insurance for El Salvador
From the pyramids of Tazumal to the city streets, protect yourself on your Salvadoran adventure.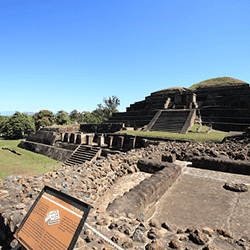 El Salvador is a country rich in attractions, encompassing scenic beaches, natural wonders and thousands of important colonial and indigenous archaeological sites. While stunning and rich in Spanish colonial history, El Salvador is not without travel risks, so it's a good idea to pick up a comprehensive travel insurance policy before you leave.
Compare travel insurance plans
What does travel insurance cover?
Coverage varies from policy to policy, but things to look for include:
Medical coverage with evacuation and repatriation. If you get seriously sick or injured in El Salvador, medical resources are sparse outside of the capital city, and you may need to be taken there

— or even flown back to the US. If you can get adequate care in El Salvador, you may be required to pay high costs before you can get care unless you have a policy that covers upfront payments.

Trip cancellations and delays. If you have to cancel or delay your trip, your insurer can reimburse you.
Lost or stolen baggage. If the airline loses your luggage or it's stolen on the way to your hotel, your insurer can reimburse you.
What doesn't travel insurance cover?
At the time of writing, the US Department of State advises that you reconsider the need to travel to El Salvador due to high crime. The Department of State deems El Salvador a Level 3 country, affecting what your insurer covers. It's common to see exclusions for political evacuation and repatriation. This means that if there's a terror attack or a political event that causes violence in the country, your insurer won't pay to have you evacuated back home.
Other common exclusions include:
Getting drunk. If you injure yourself or someone else while drinking or on drugs not prescribed by a doctor, your insurer can deny your claim.
Pre-existing medical conditions. If you have a pre-existing medical condition, talk to your insurer before purchasing a policy to find out if you can get coverage.
Ignoring local laws. If you intentionally break the laws of El Salvador, your insurer can deny your claim.
Top travel concerns in El Salvador
Violence. There are many criminal gangs in El Salvador, and violence is often used with little hesitation. Firearms are common and gangs have even been known to use explosives and carry out terrorist-style attacks. Travelers may be targeted based on perceived wealth, so consider leaving your valuables at home and traveling light.
Disease. Dengue fever and other insect-borne diseases, including Zika, are a risk particularly during the wet season from April to November. All travelers should protect themselves from mosquitoes with long sleeves, insect repellent and by sleeping indoors. Infectious diseases are prevalent and travelers should take all necessary precautions, including drinking boiled or bottled water and avoiding ice cubes and undercooked foods.
Instability. Political unrest and conflicts between violent street gangs and local authorities contribute to instability in El Salvador. Avoid large gatherings and demonstrations as they can turn violent with little warning, and foreigners found participating in them may face detainment and deportation.
Weather hazards. Hurricane season is from June to November. Mudslides, landslides, flooding and essential service disruptions are more likely to occur at this time of year. Monitor local media for weather conditions and know that weather can change quickly.
Back to top
Activities to get covered for in El Salvador
El Salvador offers exciting adventures, and a basic travel insurance policy won't cover you for all of them. If you plan to explore or get your adrenaline pumping, check with your insurer to see if you need to purchase additional coverage:
Historical tours. Most travelers to El Salvador will take in at least a few of the indigenous monuments and archaeological sites found throughout the country. Try to find a tour group to travel with to avoid run-ins with danger. Get cancellation coverage from your insurer to be reimbursed if your tour is canceled.
Nature walks. Get up close and personal with El Salvador's living attractions on a nature walk. There are a variety of treks to suit all skill and fitness levels and to accommodate different interests, but check your policy to see if it covers you for hiking injuries.
Adventure activities. Zip lining, bungee jumping, whitewater trips and a range of other pulse-pounding sports are waiting for you in El Salvador. Remember that the more thrilling an activity is, the less likely a standard travel insurance policy will cover it

—

you may need to purchase additional coverage.
Beach outings. The beaches of El Salvador are warm and inviting, but can also be home to dangerous undercurrents and are often without lifeguards. Be cautious and consider if your travel insurance policy covers surfing, parasailing, swimming and other beach activities.
Cultural trips. Museums, art galleries and historical, natural and archaeological sites in El Salvador cater to a wide range of interests, but visiting all the ones you want to see can mean heading to more isolated areas. It's especially important to get coverage for medical evacuation if you're traveling to a rural area.
Who do I contact in an emergency?
In the event of an emergency in El Salvador you have several points of contact:
Your insurer. Most insurers have a 24/7 claims helpline that's clearly written in your policy. In the event of a claim you should contact them as soon as you're safe.
Family and friends. Let them know your travel plans and check in periodically so they know where you are and can notify authorities if something happens.
A US embassy. If you lose your passport, get into legal trouble or if there's a countrywide emergency, contact the nearest US embassy.
Bottom line
Whether you want to photograph the pyramids at sunrise or relax on the beach with a cocktail, when you visit El Salvador, you can do it all. Unfortunately, for all its beauty, El Salvador is not without its dangers. Before you pack your bags, pick up a travel insurance policy to keep you — and your bank account — safe from any bumps in the road.
Frequently asked questions
Back to top