Finder is committed to editorial independence. While we receive compensation when you click links to partners, they do not influence our opinions or reviews. Learn how we make money.
Travel insurance for Egypt
Find the right travel insurance for your Egyptian adventure.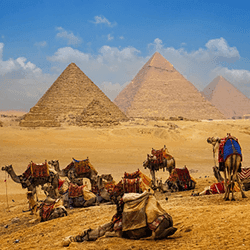 Egypt's remarkable ancient history makes it a must-visit destination for tourists from all over the world. However, just like for any other international vacation, it's a good idea to secure travel insurance beforehand to protect you from any mishaps along the way.
Compare travel insurance plans
Why do I need travel insurance?
Travel insurance can protect you against the specific travel concerns of Egypt as well as common travel risks including:
Overseas medical costs. If you get sick or injured, bills can start to pile up quickly, and if you don't have enough in your bank account to pay up front, you can even be denied care. Travel insurance can help you get the care you need without draining your account.
Cancellations and lost deposits. If your trip is canceled or your flight is delayed, your insurer can reimburse you.
Stolen and lost luggage and personal items. If your luggage is lost at the airport or your camera is snatched by a thief, your insurer can reimburse you.
Can I even get travel insurance for Egypt?
It depends on the current political situation in the country. Egypt has seen political instability and civil unrest in recent years. In July 2013, Egyptian army chief General Abdel Fattah el-Sisi led a coup to remove Egypt's prime minister from power following extensive nationwide protests, which resulted in bloody clashes between protesters and security forces. Since January 2015, protests marking the anniversary of the beginning of the "Arab Spring" have occasionally resulted in violence and multiple deaths.
In most cases, an insurer will deny any claims if you travel to a region that the US Department of State has issued a warning against. While most areas of Egypt are currently safe and will be covered, it's recommended that you avoid the Sinai Peninsula, the Western Desert and border areas. Even if your travel plans don't include those areas, check for travel advisory updates before you leave to make sure it's safe to travel.
What travel risks are unique to Egypt?
When traveling to Egypt, there are some specific concerns to be aware of:
Terrorism. A terror attack may mean you need to cancel your trip or return home early. Travel insurance can help protect you from the costs.
Civil unrest. Since 2011, large-scale protests have occurred across Egypt and have turned bloody in some cases. Travelers should avoid protests and monitor any developments in the media.
Crime. The Department of Foreign Affairs and Trade reports that violent crime has been on the rise in Egypt since early 2011. This includes armed robbery, sexual assault and carjacking. Avoid traveling alone, and if something happens, your insurer's 24/7 helpline can assist you.
Petty theft. Just as in many other major cities around the world, pickpocketing and bag-snatching is a potential danger at popular Egyptian tourist spots, especially after dark.
Case study: John's insurance for Egypt
As a cautious traveler, John was determined to make sure he had adequate travel insurance in place before visiting Egypt. When John's leather bag and digital camera were stolen from a taxi in Cairo, he was able to claim the full cost of replacing the camera and all the contents of his bag.
What losses did John face?
How was John covered?

$600 digital camera replacement.
$200 in cash.
$300 leather bag replacement.

Total = $1,100

$500 for the digital camera after depreciation and a small deductible.
$180 in cash after the deductible.
$280 for the leather bag after the deductible.

Total = $960
Although John didn't get back the full value of his items, the compensation made a huge difference to his financial situation and his ability to continue his travels.
Back to top
Activities to get extra coverage for
Some activities that are considered risky by insurers require you to purchase extra coverage. Check your policy to find out.
Quad biking. Explore the desert atop an ATV.
Golf. Pack your clubs and enjoy a round or two with the pyramids in the background.
4×4 safari. Go off the beaten track and explore the wilds of Egypt's deserts on a safari.
Deep-sea fishing. Catch a monster from the deep on a Red Sea fishing charter.
If I have a medical emergency, how am I covered in Egypt?
Outside of Cairo, the medical facilities available in Egypt are quite basic. Treatment can be costly, and payment in advance is required in many cases. A number of infectious diseases are prevalent, so ensuring that you have travel insurance that covers overseas medical expenses is vital.
If you need to make an overseas medical expenses claim, you'll need to provide a range of original documents concerning both the treatment you received and the cause of your injury or illness. Get everything in writing and contact your insurer's emergency hotline as soon as possible. Make sure that you comply with any further requests from your insurer for extra information — this is the best way to ensure your claim is promptly processed.
What are some tips for traveling in Egypt?
Do your research. If you're booking through an Egyptian travel agency or tour guide company, make sure you book with a reputable and properly licensed provider.
Book flights in advance. If you're planning on taking a domestic flight within Egypt, make sure to book in advance — flights can fill up quickly.
Speak the language. Although Arabic is the official language in Egypt, many locals will understand some English. Even so, learning key Arabic words and phrases is a good idea.
Tip. Tipping is common and often expected in Egypt.
Watch what you eat. Avoid "mummy tummy" by drinking bottled water and avoiding food from questionable roadside stalls.
Who do I contact in an emergency?
The best number to call in Egypt depends on the nature of your emergency:
Tourist Police. 126
Fire Service. 180
Ambulance. 123
Police. 122
Your insurer. Your insurer should have a 24/7 helpline you can call for assistance.
A US embassy or consulate. If you lose your passport, get into legal trouble or if there's a countrywide emergency, contact the nearest US embassy or consulate.
Bottom line
From the Great Pyramid of Giza to the stunning sights of Cairo, Egypt is one of the world's most beautiful destinations. But it's not without its risks. Before you start picking out the perfect outfit for that Instagram pyramid shot, pick up a travel insurance policy to keep any Egyptian curses from following you home.
Frequently asked questions
Back to top