Finder is committed to editorial independence. While we receive compensation when you click links to partners, they do not influence our opinions or reviews. Learn how we make money.
Travel insurance for Ecuador
From the Galápagos to downtown Quito, protect yourself on your South American adventure.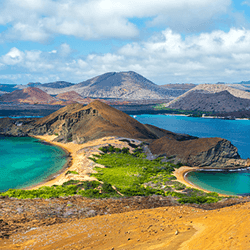 Ecuador has the most biodiversity for its size of any country in the world, drawing visitors each year to take in its natural variety, awe-inspiring landscapes and rich local traditions. Before you pack your camera and hiking boots and hop on a plane, pick up a comprehensive travel insurance policy so you can relax on your vacation knowing that if you run into any misadventures, your policy has you covered.
Compare travel insurance plans
Top travel concerns for Ecuador
While Ecuador is a popular tourist location, there are safety concerns you need to be aware of:
Disease. Yellow fever, dengue fever, malaria and Zika are all found in Ecuador. Ensure you are up to date on all vaccinations and take steps to protect yourself from mosquitoes. Health officials recommend travelers drink boiled or bottled water and avoid ice cubes and undercooked foods.
Crime. Both petty theft and violent crime with firearms occur in Ecuador, particularly in the border regions where kidnappers are known to target even large groups and organized tours. Avoid traveling alone or at night where possible, take care with valuables and cooperate with assailants to ensure your own safety.
Natural hazards. The wet season in Ecuador is from December to May in coastal regions and from May to November in the Oriente (the region east of the Andes). Flooding and landslides are more common at this time but can happen at any time of year. Ecuador is also seismically active, so be aware of the risk of volcanoes, tsunamis and earthquakes.
Civil unrest. Avoid protests, strikes and demonstrations as they may turn violent with little warning. Demonstrations can sometimes block traffic, so check local news stations the day before your departing flight.
Travel hazards. Avoid unlicensed taxis and only use those with a clearly displayed registration sticker. Licensed taxis in Ecuador are equipped with panic buttons and video cameras. Roads in Ecuador are passable in developed areas, but may be poorly lit and maintained in rural areas.
What does travel insurance cover?
Coverage varies from policy to policy, but basic things to look for in a policy include:
Medical care. If you get sick or injured while abroad, costs can pile up quickly if you aren't insured. Treatment at private hospitals and clinics is very expensive and they expect cash payments up front. Find a travel insurance policy that pays up front or be prepared for the possibility of paying out of pocket for these costs.
Evacuation and repatriation. In the event of a health emergency in isolated areas, including the Galápagos Islands, you may require medical evacuation to more advanced facilities, so get a policy that covers evacuation and repatriation.
Trip cancellations. If you have to cancel your trip due to unforeseen circumstances, such as a flood or violent protests, your insurer can reimburse you for the cost of your trip.
Lost or stolen belongings. If the airline loses your luggage or your belongings are stolen while in Ecuador, your insurer can reimburse you.
What doesn't insurance cover?
Your coverage varies depending on your policy. But always use common sense while traveling or your claim could be denied.
Failure to take precautions. This includes not using safety equipment, not getting the required immunizations, failing to properly secure belongings or not taking reasonable steps to ensure your own safety.
Failure to obey signs, warnings and laws. These can include road signs, local laws and marked warnings like the minefield signs around the Ecuador-Peru border. You are required to carry personal identification with you at all times in Ecuador or you may be detained.
Traveling to an unsafe area. Avoid traveling to areas that the US Department of State has issued an advisory against.
Failure to declare pre-existing conditions. If you have any pre-existing medical conditions, make sure you tell your insurer and find out if you can get coverage before purchasing a policy.
Must read: Ayahuasca tourism
Many tourists are going to Ecuador for ayahuasca trips, using legal psychedelics administered by local shamans to take a "spiritual tour." There is no effective way to vet ayahuasca tour operators, and it may be difficult to predict how the substances will affect you. Visitors have reported being robbed or assaulted while under the influence. Carefully look at your policy for explicit exclusions or language like "be aware of your surroundings," which could allow your insurer to refuse ayahuasca-related claims.
Back to top
Activities to add to your policy for Ecuador
Activities that are considered risky by insurers are often excluded from basic travel insurance policies. If you plan to get your adrenaline pumping while in Ecuador, check with your insurer to find out if you'll need to purchase additional coverage:
Boating and water sports. Ecuador's coastline and numerous rivers lend themselves to boating and water sports.
Hiking and mountaineering. Ecuador has several mountains over 18,000 feet that offer breathtaking views. Some insurers will have maximum altitude limits for mountain climbing, so check your policy before you leave.
Adventure sports. Ecuador's vibrant landscape provides opportunities for adventure sports such as bungee jumping and rock climbing. You may need to purchase additional coverage for these activities,
Who do I contact in an emergency?
Depending on the emergency, your best contact may be one or more of the following:
Your airline, employer or tour operator. For relevant issues it may be best to contact them first.
Your insurer. Your insurer should have a 24/7 helpline you can call for assistance.
Local emergency services. Familiarize yourself with the emergency numbers in your area. Call 911 in Quito and Ibarra, 112 in Guayaquil, Cuenca and Loja and 101 everywhere else in Ecuador. Make sure you get a police report for insurance purposes if you're the victim of a crime.
A US embassy or consulate. If you lose your passport, get into legal trouble or if there's a countrywide emergency, contact the closest US embassy or consulate.
Bottom line
Whether you're off to retrace Charles Darwin's footsteps across the Galápagos Islands or unwind on an eco-tour inland, a trip to Ecuador is bound to be a vacation full of beauty and wonder. Before you leave, pick up a travel insurance policy so you don't end up wondering how you're going to afford to replace that camera you lost at the airport.
Frequently asked questions
Back to top