Finder is committed to editorial independence. While we receive compensation when you click links to partners, they do not influence our opinions or reviews. Learn how we make money.
Travel insurance for Colombia
Get covered for any accidents on your South American adventure.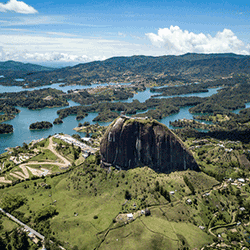 Thanks to a concerted effort by the Colombian government to increase the safety and security of travelers, Colombia has become a vibrant tourist destination. Many of the country's museums and galleries have been freshly renovated and its natural wonders are some of the most stunning in the world.
But while the country is generally safe, mishaps can happen anywhere. Before you leave, pick up a comprehensive travel insurance policy so you can relax knowing that if anything happens, you're covered.
Compare travel insurance plans
What travel risks should I look out for in Colombia?
While Colombia is generally a safe place to visit, there are certain risks you need to watch out for:
Crime: Don't hail taxis off the street and try not to travel alone. Only use ATMs in secured areas such as inside banks or hotels. Don't accept food, drinks, gum or cigarettes from strangers.
Disease: Be aware of the risk of yellow fever, malaria, Zika and other mosquito-borne diseases and visit a doctor immediately if you start to feel ill. Altitude sickness can occur and respiratory conditions may be exacerbated at heights. Drink boiled or bottled water and avoid ice cubes and undercooked foods.
Weather events: Colombia is at risk for natural disasters including active volcanoes, earthquakes, tsunamis, flooding and landslides. Check weather reports before you leave and delay your trip if a disaster is forecast.
Civil unrest: Tensions on the Colombian and Venezuelan border mean it can be closed for extended periods. Do not attempt this border crossing by land. Strikes may disrupt transport, such as recent strikes by taxi drivers protesting the use of Uber.
Terrorism: Conflicts continue between Colombian authorities and the various rebel groups operating in the country, many of whom use terrorist tactics. If there's a terrorist attack, you may have to cancel or delay your trip.
What does travel insurance cover?
If you're unfortunate enough to have to deal with any of the situations above, travel insurance can help:
Medical coverage. If you get sick or injured, medical bills can start to pile up quickly. A travel insurance policy can make sure you're covered for food poisoning, mosquito-borne illnesses, altitude sickness or injuries. Doctors and hospitals will require payment up front or confirmation of travel insurance health coverage before providing treatment.
Reimbursement for lost or stolen belongings. If your luggage is lost or your new camera is snatched while you're out taking pictures, your insurer can reimburse you.
Reimbursement for trip delays or cancellations. If civil unrest or terrorism cancel your trip, your insurer can reimburse you for your flight and any lost deposits or cancellation fees. If you get stuck in Colombia longer than expected when a sudden storm delays your flight, your insurer can pay to get you on a new one, plus cover any extra hotel nights.
24/7 access to help. For any other mishaps or disasters on your trip, most insurers will have a 24/7 helpline you can call for advice and assistance.
What doesn't travel insurance cover?
While exclusions can vary from plan to plan, there are some things you should avoid to make sure you don't end up with a denied claim:
Drinking or doing drugs. If you injure yourself or someone else while drunk or on drugs not prescribed by a doctor, your insurer can deny your claim.
Irresponsible behavior. If you leave your luggage unattended in a public place and it gets stolen, your insurer can deny your claim.
Ignoring travel advisories. The US Department of State advises against visiting certain areas of Colombia. Ignoring these warnings can lead to a denied claim.
Back to top
Are there specific activities that I should consider adding to my policy?
Some activities that are considered riskier by insurance companies won't automatically be covered on your policy. You'll want to call your insurance company to see if you need to add on coverage if they're on your itinerary:
Mountain climbing. The volcanoes and other peaks of Colombia can deliver the challenge climbers are after, and the country's rugged terrain is a magnet for visitors who want to get closer to nature. It's important to check how your policy covers climbing if you plan on doing it.
Adventure sports. If you've got your heart set on the likes of bungee jumping, skydiving or BASE jumping, look for a policy that covers adventure sports.
Photographing the scenery. If you're bringing expensive camera equipment on your trip to Colombia, check to see if the limit for stolen items is high enough to cover it if it gets stolen or damaged. If not, talk to your insurer about adding on coverage for your equipment.
Visiting rural areas. The standard of medical care at private hospitals in Bogotá and other major cities is reasonable, but care is considerably more limited in rural areas. It's a good idea to make sure you're covered for medical evacuation to a better hospital if you're visiting rural areas.
Who do I contact if something goes wrong?
Depending on the nature of your emergency, you may contact:
123. For police, fire or ambulance, dial 123.
Your insurer. Your insurer should have a 24/7 helpline to call if you need assistance.
A US embassy or consulate. If you lose your passport, get into trouble or if there's a countrywide emergency, contact the closest US embassy.
Travel tips for Colombia
Learn the language. The official language of Colombia is Spanish. While many locals will speak at least some English, learning a few words before you go will go a long way with blending in.
Visit the museums in Bogotá. If you're a history fan, the capital city is rich with museums.
Almost everything closes on holidays. Colombia has a lot of holidays, 11 of which are celebrated on Mondays. During these holidays, buses are crowded and restaurants and stores often close. Research ahead of time if you're traveling during a holiday so you can avoid being hungry or in need of any necessities when things close down.
Bottom line
Over the last few years, Colombia has become one of the hottest vacation spots in South America. Whether you're planning on climbing mountains or lounging on the beach with a good book, a travel insurance policy can make sure you come home with a lifetime of memories instead of a lifetime of debt.
Frequently asked questions
Back to top