Finder is committed to editorial independence. While we receive compensation when you click links to partners, they do not influence our opinions or reviews. Learn how we make money.
Travel insurance for Chile
From hiking Patagonia to wine tasting in Santiago, get covered for your Chilean adventure.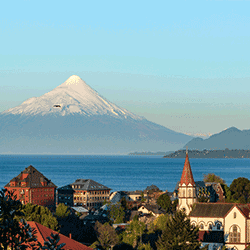 Chile is an adventurer's dream. Stretching from the Andes mountain range in the east to the Pacific Ocean in the west, it's rich with culture, adventure and famous curiosities like Easter Island. Make sure your dream vacation doesn't turn into a financial nightmare by getting the right travel insurance policy before you leave.
Compare travel insurance plans
What travel risks should I watch out for in Chile?
Chile is a safe, stable and well-developed country overall. Travelers are not advised to take additional safety precautions beyond the norm and insurers do not consider it a particularly risky spot. However, there are a few things to look out for:
Dangerous weather. Chile is a predominantly mountainous country, and weather conditions can be severe. Consult weather reports, pack sensibly and be prepared when venturing into national parks.
Protests and demonstrations. Large-scale protests, particularly in Santiago, may be an issue and can sometimes block streets and access to transportation. Visitors should avoid getting too close to large protests. Be especially wary around September 11, May 1 and March 29.
Political conflict. Politically motivated violence — between indigenous groups and authorities, for example — occurs in Chile. If there's an ongoing political conflict before your trip, you may need to delay your vacation.
Crime. Bag-snatching and pickpocketing are common, especially in crowded areas like on public transportation. Travelers sleeping on long-haul buses often report waking up to missing possessions.
Dangerous roads. Planning on driving in Chile? Make sure your insurance policy has health benefits and rental car insurance. Outside of cities, the roads are often poorly maintained and inadequately lit. And in mountainous areas, do not expect guardrails.
How can travel insurance protect me in Chile?
Even your best-laid plans can go awry. If they do, travel insurance can save you a lot of money.
Health coverage. If you get sick or injured in a foreign country, bills can pile up fast. A policy with adequate medical coverage can protect you from financial ramifications and get you care at a quality private hospital.
Coverage for lost or stolen items. If your luggage gets lost at the airport or your camera gets snatched by a thief, your insurer can reimburse you.
Coverage for cancellations or delays. If your trip gets delayed because of political unrest or you get stuck in Chile for an extra night due to inclement weather, your insurer can cover any costs. This includes getting you on a new flight, extra hotel nights or lost deposits.
Are there any travel insurance exclusions?
Before choosing a travel insurance policy, look for the exclusions — conditions where the insurer won't pay out. In Chile, some of those to watch for include:
Altitude limits and other conditions on trekking or rock climbing. Plan your climbs and choose a policy with conditions that work for them.
Reckless behavior. If you were injured as a result of your own reckless behavior, your insurer may not pay out.
Drinking or doing drugs. If you're injured or have your possessions stolen while drunk or on drugs, your insurer can deny your claim.
Traveling to dangerous areas. If you get sick or injured while traveling to an area that the US Department of State has issued an advisory against, your claim can be denied.
Back to top
Travel insurance extras to include when visiting Chile
Try to find a travel insurance policy that includes:
Rock climbing, trekking or mountaineering. You might need extra coverage if you plan on hiking or climbing. Check with your insurer if you plan to get out in nature.
Evacuation coverage. Chile has active volcanoes, regularly faces forest fires and flooding and is at risk of earthquakes and tsunamis. Travel insurance for evacuation and medical repatriation means that if disaster strikes, you can quickly return home — at no extra cost — whether or not you're injured.
Adventure activities. Bungee jumping, BASE jumping and kitesurfing are all popular in Chile. Unfortunately, most insurers won't cover these types of high-risk adventure activities. Try to find one that does.
Get your money in order before traveling to South America
What kind of medical care can I expect in Chile?
Chile has one of the world's most effective health care systems, but only Chilean residents and citizens are eligible for free health care at public hospitals. Visitors will need to pay their own expenses or have insurance.
Public hospitals (state hospitals) are more likely to be crowded and have longer waiting lists than private hospitals (clinics).
You can expect quality medical treatment in all cities and developed areas, though hospitals and clinics in rural areas often lack facilities and equipment. It's a good idea to get evacuation coverage if you'll be visiting a rural area. This will cover you if you need to be evacuated to a better hospital.
Getting travel insurance that pays up-front for medical emergencies may be a good idea if you're traveling on a budget and won't be able to cover out of pocket medical costs.
Who should I contact in the event of an emergency?
During your stay in Chile, always know who your lifeline will be if something goes wrong:
Your insurer. Most insurers have a 24/7 helpline you can call for assistance while traveling abroad.
Friends and family back home. Tell someone where you're going and consider making copies of your itinerary and sharing it among trusted friends and family.
The US embassy in Chile. Contact the embassy for missing passports, legal difficulties or in the event of a countrywide emergency.
Bottom line
From mountaineering in the Andes to photographing Easter Island, Chile is one of the world's most exciting vacation spots. Before you get on your flight, get a travel insurance policy to protect you from any mishaps on your trip.
Frequently asked questions
Back to top