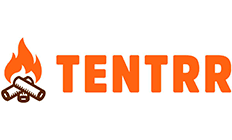 Tentrr promo codes
Save money on campsite rental — and leave your equipment behind, if you'd like.
Cancellation, refund and change policies
You can cancel or modify any Tentrr booking at least 72 hours prior to the reservation's start time. If you cancel within 72 hours, you'll be refunded 50% of the total cost.
Where does Tentrr have locations?
Tentrr has campsites available to book in the following states:
Alabama
Arizona
California
Colorado
Connecticut
Florida
Georgia
Idaho
Illinois
Kansas
Kentucky
Massachusetts
Maryland
Maine
Michigan
Minnesota
Missouri
Montana
North Carolina
New Hampshire
New Jersey
New Mexico
Nevada
New York
Oklahoma
Oregon
Pennsylvania
Rhode Island
South Carolina
South Dakota
Tennessee
Texas
Utah
Virginia
Vermont
Washington
Wisconsin
West Virginia
Wyoming
Top competitor coupon codes
Frequently asked questions