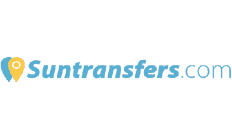 Suntransfers.com discount codes
Book private taxis or shared shuttles to and from 400+ terminals.
Reservation cancellation, refund and change policies
Reservations can be cancelled for a full refund at least 48 hours before the pickup date. But no refunds will be given for cancellations made within 48 hours of pickup.
If needed, you can make the first change to your reservation without penalty, as long as it's 48 hours before pickup. Any additional changes will incur a $16 service fee. If you request to change a reservation within 48 hours of pickup, Suntransfers.com reserves the right to cancel the contract.
What happens to my Suntransfers.com reservation if my flight is delayed?
If your flight is delayed, don't worry — Suntransfers.com will reschedule your transfer to the new arrival time, free of charge. And if it can't find an available vehicle to pick you up, you'll be refunded in full.
Top competitor coupon codes
Frequently asked questions