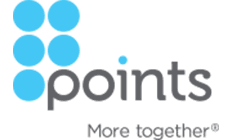 Points.com coupon codes
Track, redeem and exchange rewards.
What is the Points.com Loyalty Wallet?
Think of the Points.com Loyalty Wallet as a central hub for the rewards programs you participate in. It lets you connect and manage all of your points in once place, so you don't have to log into each account individually. Within the Loyalty Wallet, you can:
Track. Keep tabs on the perks and points you've earned.
Redeem. Cash in your points for gift cards from participating retailers.
Exchange. Transfer your points from one rewards program to another.
It's free to create an account with Points.com, which includes access to the Loyalty Wallet.
Frequently asked questions